Want to get in contact with Greta?
Just try it. You'll receive €5,- try out credits.
And the first minute is always free.
I'm the ONE Live your potential & in love- I am holding nourishing space and supporting you
Greta is available now
donwload the app to call now
My areas of expertise
Local guide: #Barcelona
Beauty & Health: #natural #Cleanse
Wellness: #Yoga #yin #Vinyasa #Meditation #Growth #spirituality
Kitchen & BBQ: #bake #sugarfree #Vegan #breakfast #Clean food #Fresh
Personal coaching: #depression #Healing #mindset #journal #Love #Communication #space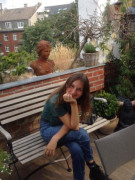 offline
$ 9.62 per hour
Greta Peters
Barcelona, Spain
Local time:
Greta is available now
my availability
| | | | | |
| --- | --- | --- | --- | --- |
| Sunday | 00:00 | - | 00:30 | (UTC+1) |
| Monday | 15:00 | - | 21:00 | (UTC+1) |
| Tuesday | 15:00 | - | 21:00 | (UTC+1) |
| Wednesday | 15:00 | - | 21:00 | (UTC+1) |
| Thursday | 15:00 | - | 21:00 | (UTC+1) |
| Friday | 15:00 | - | 21:00 | (UTC+1) |
| Saturday | 00:00 | - | 00:30 | (UTC+1) |
About me
Hey little soul,
I am Greta and I am currently living in Barcelona to study Design. After I finished high school I started traveling and healing myself of depression. Lots of countries and quite some time did it take to be where I am right now. Let's be honest there is more work to do, more growth to come always and that is a beautiful thing.
Through all the learnings I've been through I feel the calling to support others, share what my own experience has been like and just hold space.
I have been learning a lot about clean eating, holistic health and healing through whole foods which I would love to share as it has a massive connection with our emotional and mental health.
I am a yoga teacher as well and think that yoga and meditation are able to give us space to express and feel into ourselves. It's a great way to strengthen our body and mind to meet ourselves as well as others - connection.

In the end, it's just about coming back to love which we all have to relearn I think. Understanding where love is inside ourselves and having a clear mind will open up our heart towards everything around us too.

I am incredibly grateful if you are trusting me and especially that you are giving your self-permission to feel, be and heal. I am already proud of you.

All the light from Barcelona. I hope to share and spread love all over the planet soon.
I'm the ONE Live your potential & in love- I am holding nourishing space and supporting you
My areas of expertise
Local guide: #Barcelona
Beauty & Health: #natural #Cleanse
Wellness: #Yoga #yin #Vinyasa #Meditation #Growth #spirituality
Kitchen & BBQ: #bake #sugarfree #Vegan #breakfast #Clean food #Fresh
Personal coaching: #depression #Healing #mindset #journal #Love #Communication #space