Want to get in contact with Hagop?
Just try it. You'll receive €5,- try out credits.
And the first minute is always free.
I'm the ONE to help you become self aware
Hagop is available now
donwload the app to call now
My areas of expertise
Local guide: #Montreal
Personal coaching: #motivation #fear #Fear of Public Speaking #Finding yourself #intuition #psychedelics #Dreams #Goals #Anxiety #Loneliness #guilt #depression #self awareness
Business coaching: #passive income #investments #turn passion into income #employees #corporate structure #Real estate #financial freedom #Business plan
Consultancy: #architecture #Real estate #architecture school #construction #psychedelics #portfolio #personal branding
Wellness: #Meditation #Health #psychedelics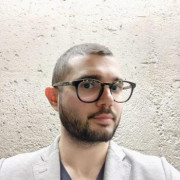 $ 18.99 per hour
Hagop Sarian
Montreal, Canada
Local time:
Hagop is available now
my availability
| | | | | |
| --- | --- | --- | --- | --- |
| Every day | 10:00 | - | 22:00 | (UTC-4) |
About me
http://www.hagopsarian.com/

My biggest passion is Architecture.
I grew up playing legos, studied at McGill school of Architecture, worked on construction sites and builder's offices. I am becoming a real estate broker now in Montreal.
I can help you build a portfolio, apply to Architecture school or consult in Architecture / Real estate.

I am also deeply passionate about self-awareness.
I explore the inner world along with the outer. We can heal ourselves from within. We can find out who we are.
I'm the ONE to help you become self aware
My areas of expertise
Local guide: #Montreal
Personal coaching: #motivation #fear #Fear of Public Speaking #Finding yourself #intuition #psychedelics #Dreams #Goals #Anxiety #Loneliness #guilt #depression #self awareness
Business coaching: #passive income #investments #turn passion into income #employees #corporate structure #Real estate #financial freedom #Business plan
Consultancy: #architecture #Real estate #architecture school #construction #psychedelics #portfolio #personal branding
Wellness: #Meditation #Health #psychedelics