Want to get in contact with Harrie?
Just try it. You'll receive €5,- try out credits.
And the first minute is always free.
Harrie van der Lubbe
Creative Developer
I'm the ONE that might be able to help you If you have difficult technical questions
Harrie is available now
donwload the app to call now
My areas of expertise
Local guide: #Jakarta #Karawaci
Music: #singing #classical #choir
Language: #dutch #english
Kitchen & BBQ: #bitterballen #homebrewing #Stoofvlees #Frietjes
Personal coaching: #a good personal conversation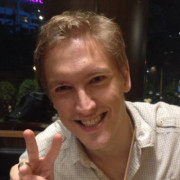 online
$ 31.73 per hour
Harrie van der Lubbe
Creative Developer
Tangerang, Indonesia
Local time:
Harrie is available now

my availability
| | | | | |
| --- | --- | --- | --- | --- |
| Every day | 00:00 | - | 23:59 | (UTC+7) |
video_hd

video_fullhd

video_4k

connection_3g

connection_4g

connection_5g

transport_bike

transport_motor

transport_car

transport_boat
About me
For already 6 years I have been living in Karawaci, on the outskirts of Jakarta. As an expat I have traveled around with the family, and have shown people around extensively in Jakarta, Bogor, Bandung and others. I can show you the places where you can have fun time with kids, night life, great diner spots both local and international, from food stalls to 5* hotels. The malls, the outdoors, and more.

As a creative developer geek I can help you figure out programming problems, and brainstorm functional and technical ideas. See me as a technical sparring partner.

On Quora most of my answers are about SCUBA Diving, as I am a scuba diving instructor. Need advice? Give me a call.
I'm the ONE that might be able to help you If you have difficult technical questions
My areas of expertise
Local guide: #Jakarta #Karawaci
Music: #singing #classical #choir
Language: #dutch #english
Kitchen & BBQ: #bitterballen #homebrewing #Stoofvlees #Frietjes
Personal coaching: #a good personal conversation
video_hd

video_fullhd

video_4k

connection_3g

connection_4g

connection_5g

transport_bike

transport_motor

transport_car

transport_boat