Want to get in contact with Lauren ?
Just try it. You'll receive €5,- try out credits.
And the first minute is always free.
Lauren Potgieter
Radiographer
I'm the ONE who you should choose to brighten your learning experiences
Lauren is available now
donwload the app to call now
My areas of expertise
Local guide: #Johannesburg #Citylife #Tourist Guide #Foreigner #Tourism #Bigspender #south africa
Beauty & Health: #Beauty guru #Beauty hacks #Facial #makeup #Lips #eyeshadow #Hair #skin care
Language: #english #Afrikaans #Titor #teacher
Kitchen & BBQ: #Cook up a storm #Cook #Food porn #Chef #Recipes
Personal coaching: #fitness coaching #Lady #coach #Shred #Strong is sexy #Gym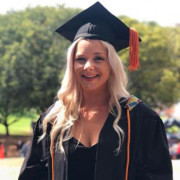 online
$ 12.00 per hour
Lauren Potgieter
Radiographer
City of Johannesburg Metropolitan Municipality, South Africa
Local time:
Lauren is available now
my availability
| | | | | |
| --- | --- | --- | --- | --- |
| Every day | 08:00 | - | 21:30 | (UTC+2) |
About me
I am 27 years old and I absolutely love the outdoors, although I have my addictive shopping moments ;) I am passionate about my animals (kids) and love to socialise with and host my friends!
I'm the ONE who you should choose to brighten your learning experiences
My areas of expertise
Local guide: #Johannesburg #Citylife #Tourist Guide #Foreigner #Tourism #Bigspender #south africa
Beauty & Health: #Beauty guru #Beauty hacks #Facial #makeup #Lips #eyeshadow #Hair #skin care
Language: #english #Afrikaans #Titor #teacher
Kitchen & BBQ: #Cook up a storm #Cook #Food porn #Chef #Recipes
Personal coaching: #fitness coaching #Lady #coach #Shred #Strong is sexy #Gym