Want to get in contact with Magdalena?
Just try it. You'll receive €5,- try out credits.
And the first minute is always free.
Magdalena Roman
#Marketing
I'm the ONE That can offer you business support and personal coaching.
Magdalena is available now
donwload the app to call now
My areas of expertise
Beauty & Health: #Eat Healthy #Vegeterian #Beauty remedies #Skin maintenence advice #Health #wellness #healthy #skin #Weight #beauty #Life style
Personal coaching: #Personal advice #Personal development #Personality building #About personal experience #Personal Goals #personal #advice #development #experience #Goals #expectations #Work life balance
Business coaching: #Business Coaching #Business management #Business Strategies #Business Skills #business #Work #Skills #Strategies #creation #Coaching #intelligence #balance #public speaking #Business plan
Language: #Learn Romanian #learn English #On-line conversation #On-line readings #We can do it together #Learn #language #Romanian #english #spanish #italian #online #readings #conversation
Consultancy: #Business ideas #Business structure #business profile #Business development #business objectives #branding #Marketing Plan #Marketing #PR #Mindset Management #business #Ideas #Structure #planning #profile #development #public #objectives #Goals #management #Business Intelligence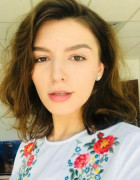 $ 66.87 per hour
Magdalena Roman
#Marketing
Paris, France
Local time:
Magdalena is available now
my availability
| | | | | |
| --- | --- | --- | --- | --- |
| Sunday | 12:00 | - | 19:00 | (UTC+2) |
| Monday | 12:00 | - | 21:00 | (UTC+2) |
| Tuesday | 12:00 | - | 21:00 | (UTC+2) |
| Wednesday | 12:00 | - | 21:00 | (UTC+2) |
| Thursday | 12:00 | - | 21:00 | (UTC+2) |
| Friday | 12:00 | - | 21:00 | (UTC+2) |
| Saturday | 12:00 | - | 19:00 | (UTC+2) |
About me
Hi! My name is Magdalena, I am a Romanian citizen born and raised in Bucharest, currently living in France. In 2017 I started my own company in my hometown and I managed it until a couple of months ago, when I decided to change my life and bought a one-way ticket to Paris. I took a leap of faith, and now I'm having the time of my life.

Professionally, I can describe myself as a startup enthusiast and marketer, passionate about building & defining businesses while challenging the status quo. 2,5 years track-record of defining new business strategies as a marketing consultant & co-founder, and over 4 years of experience in the Public Relations sector.

I'm an optimistic, caring and honest person, preoccupied of personal growth since I was a teenager. This led to a lot of personal research about subjects like: Philosophy, Arts and Personal Development. My passion for Psychology resulted into a 3 months internship in one of the best Psychotherapy clinics in my hometown, and I can say it was an experience that completely changed my interpersonal interactions and the way I deal with difficulties.

What I can teach you:

- How to identify your professional/personal skills and develop them;
- Information management;
- How to start your own business from scratch & what to expect along the way;
- How to identify potential collaborators/clients for your business;
- How to adapt to a new, competitive environment;
- How to deal with your partners/ colleagues/ employees;
- Time management and efficiency;
- How to keep track of everything that happens in your company; understanding the legal and accounting basic principles. Note: if you're from a non-EU country, please keep in mind that I will need a couple of days for specific research;
- How to deal with stress & pressure;
- How to organise your business and personal life;
- How to stay healthy while working, playing and enjoying life.

I do not give love advice, but if we get to know each other I might make an exception. ;)
I'm the ONE That can offer you business support and personal coaching.
My areas of expertise
Beauty & Health: #Eat Healthy #Vegeterian #Beauty remedies #Skin maintenence advice #Health #wellness #healthy #skin #Weight #beauty #Life style
Personal coaching: #Personal advice #Personal development #Personality building #About personal experience #Personal Goals #personal #advice #development #experience #Goals #expectations #Work life balance
Business coaching: #Business Coaching #Business management #Business Strategies #Business Skills #business #Work #Skills #Strategies #creation #Coaching #intelligence #balance #public speaking #Business plan
Language: #Learn Romanian #learn English #On-line conversation #On-line readings #We can do it together #Learn #language #Romanian #english #spanish #italian #online #readings #conversation
Consultancy: #Business ideas #Business structure #business profile #Business development #business objectives #branding #Marketing Plan #Marketing #PR #Mindset Management #business #Ideas #Structure #planning #profile #development #public #objectives #Goals #management #Business Intelligence