App-marketing
App-marketing is een begrip dat je niet dagelijks hoort, maar een heel belangrijk onderdeel van online marketing. Een groot deel van de bezoekers surft immers via apps.
Veel bedrijven zien een app als het ei van Columbus. Je lanceert een app en dit zorg vanzelf voor meer bezoekers en verkopen. Het merendeel van alle apps wordt echter nooit succesvol. Een app moet je namelijk ook promoten, oftewel app-marketing op toepassen!
In dit artikel leg ik uit welke vormen van app-marketing er allemaal zijn. Hiervoor gebruik ik het online marketing model van paid, owned & earned media.
Paid media: Hoe pas je app-marketing toe via betaalde media
Owned media: Hoe pas je app-marketing toe op je eigen kanalen, zoals je website en social media accounts
Earned media: Hoe pas je app-marketing toe via free publicity
Ook leg ik uit hoe je de resultaten van je app-marketing kan meten.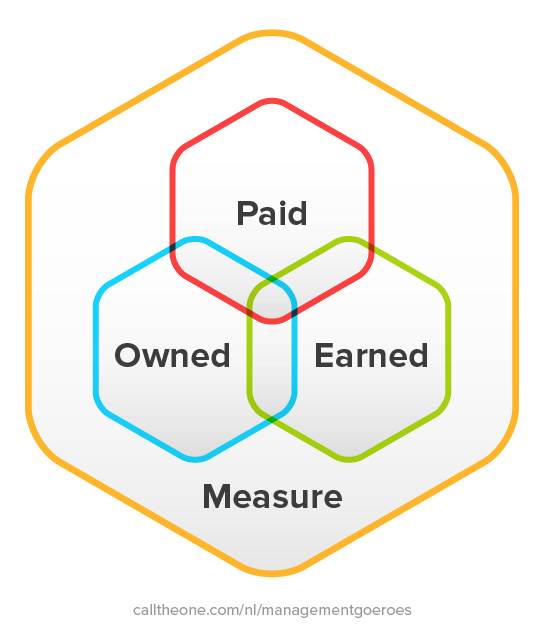 App-marketing via owned media
Ik begin met app-marketing via owned media. Met owned media worden de online kanalen bedoeld die je zelf beheert. Dat is natuurlijk je website, maar ook de verschillende social media kanalen die je als bedrijf bezit, zoals Facebook, Twitter en LinkedIn.
Vaak kiezen bedrijven ervoor om mobiele bezoekers van de website standaard op de app te wijzen, bijvoorbeeld via een popup. Deze bezoekers kunnen de app immers direct downloaden.
Je e-mailnieuwsbrief is ook een krachtig voorbeeld van owned media en moet je niet vergeten in te zetten. Vooral ook omdat e-mail tegenwoordig ook voornamelijk op mobiel wordt gelezen. Bezoekers kunnen vaak direct de app kunnen downloaden.
App-marketing via paid media
Succes kan je ook kopen. Dat is ook wat bedoeld wordt met app-marketing via paid media. Er zijn talloze kanalen waarop je verkeer kunt inkopen voor app-marketing. Voorbeelden zijn:
Facebook advertising - In Facebook ads heb je een speciale optie om app-downloads te genereren.
Google ads - Ook Google ads heeft een aparte optie om een app-installs campage te starten
Advertising netwerken - Er zijn aparte netwerken die gespecialiseerd zijn in het inkopen van verkeer via andere andere apps. Deze netwerken kunnen heel goedkoop hele grote hoeveelheden app-installs genereren.
Affiliate marketing - Geef een commissie per app-install en laat affiliates creatieve manieren verzinnen om jouw app te promoten.
Influencer marketing - Betaal een bekende Youtube-er of iemand met veel volgers op Instagram om jouw app onder de aandacht te brengen.
Wat heel belangrijk is wanneer je app-marketing via betaalde media gaat inzetten, is dat je de kwaliteit van je gebruikers per kanaal goed in de gaten houdt. Dit kan je bijvoorbeeld doen door tools als AppsFlyer of Adjust in je app te implementeren. Als je dit goed inricht, dan kan je per kanaal of zelfs per advertentie bijhouden wat de kwaliteit van de gekochte app-gebruikers is.
App-marketing via earned media
Met earned media wordt free publicity bedoeld. Dit is waar iedere marketeer op hoopt, maar meestal ook het moeilijkst om te realiseren.
Bedenk daarom vooraf of het genereren van earned media voor jouw app de juiste marketingstrategie is. Om publiciteit te genereren moet je app namelijk nieuwswaarde hebben. Als jouw app simpelweg een kopie is van de website, is het lastig om publiciteit te genereren.
Manieren om free publicity te genereren zijn:
Persberichten versturen
Journalisten benaderen of zij je willen interviewen of over je product willen schrijven
Influencers samples sturen van je producten
Ludieke acties verzinnen die viral kunnen gaan of opgepakt kunnen worden door de media
Winacties houden om likes en shares te genereren
Ik hoop dat dit artikel je inspiratie heeft gegeven om jouw app-marketing te verbeteren. Mocht je zelf nog leuke voorbeelden hebben hoe je een app effectief kunt promoten, laat dan vooral een reactie achter!