Balanced Scorecard
De Balanced Scorecard is in 1992 bedacht door Robert S. Kaplan en David P. Norton. De Balanced Scorecard zou in 70 procent van de Amerikaanse bedrijven worden gebruikt en is daarmee een van de meest gebruikte managementmodellen van de wereld.
Wat houdt de Balanced Scorecard in?
De Balanced Scorecard is een methode waarmee je de belangrijkste onderdelen van je bedrijf op een structurele wijze gaat meten en bijhouden. De meeste bedrijven kijken naar makkelijk meetbare Key Performance Indicators (KPI's) zoals omzet en marge en op het gebied van personeelsmanagement bijvoorbeeld naar ziekteverzuim. In de Balanced Scorecard ga je ook de minder makkelijk meetbare zaken proberen te meten. Denk dan bijvoorbeeld aan klanttevredenheid, klantloyaliteit en tevredenheid onder personeel. De Balanced Scorecard bestaat uit vier onderdelen. Robert Kaplan noemt dit 'perspectieven'. De vier perspectieven zijn:
Financieel
Afnemers
Interne processen
Leer en groei
Als je een Balanced scorecard gaat maken, moet je per perspectief kijken wat de belangrijkste KPI's zijn om het bedrijf zijn visie en strategie te behalen (of in ieder geval te consolideren).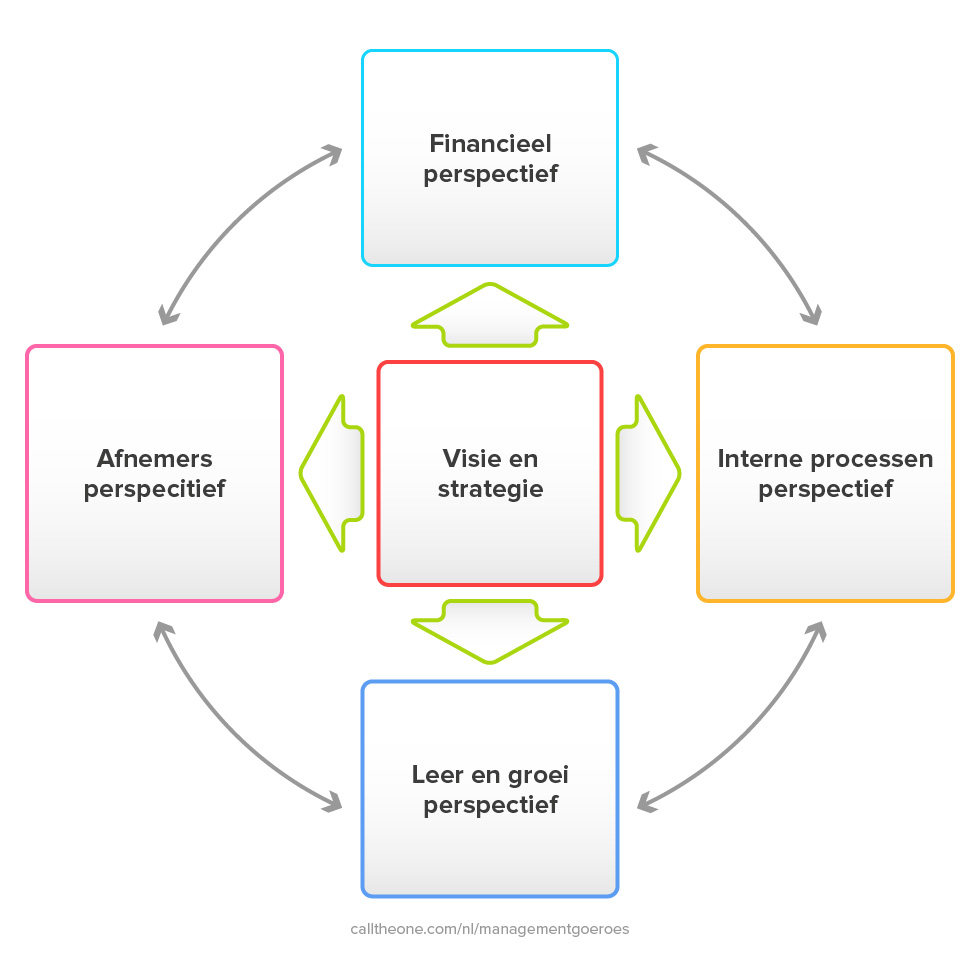 Waarom de Balanced Scorecard?
Volgens Kaplan zijn bedrijven die niet met de Balanced Scorecard werken vaak niet op de hoogte van de werkelijke prestaties die ze leveren. Als ze zaken gaan meten blijkt vaak dat de uitkomsten helemaal niet stroken met de strategische doelstellingen. Door de Balanced Scorecard te gebruiken kunnen managers heldere (en meetbare) doelen formuleren, waardoor strategie ook veel beter kan worden uitgevoerd.
De Balanced Scorecard zou volgens Kaplan inmiddels succesvol zijn ingezet in alle sectoren en culturen. Ook op landniveau zou de Balanced Scorecard ingezet kunnen worden.
De Balanced Scorecard moet volgens Kaplan vergeleken worden met de cockpit van een piloot. Een piloot kan ook niet zeggen dat hij vandaag alleen op de hoogte let, omdat hij vorige week al op het brandstofpijl en de week daarvoor op de hoogte heeft gelet. Een treffende metafoor. Een manager kan dit ook niet zeggen over de belangrijkste bedrijfsprocessen. Die moet ook een cockpit hebben waarop hij continue op de hoogte blijft en op tijd kan bijsturen. Die cockpit is de Balanced scorecard.
Balanced Scorecard maken
Als je een Balanced Scorecard gaat maken, is het idee dat de uiteindelijk strategie worden teruggebracht naar een actieplan op één A4tje. De kracht van de Balanced Scorecard is dat het de essentie van een bedrijf terugbrengt naar één behapbaar document. Robert S. Kaplan zegt dat er vier cruciale onderdelen zijn. Zoals hierboven al aangegeven wordt noemt hij dit 'perspectieven'.
We geven per perspectief een aantal voorbeelden:
Financieel perspectief - Omzet, winst, cashflow, liquiditeit, koers van de aandelen etc.
Afnemers perspectief - Hoe kijken de afnemers (klanten) naar mijn bedrijf? Zijn ze tevreden, hoe vaak komen ze terug, kan ik meer uit mijn klanten halen, etc.
Interne processen perspectief - Hoe gaat het met de werknemers van het bedrijf, zijn ze tevreden, hoe vaak zijn ze ziek, wat is het verloop. Gebruiken we het potentieel voldoende?
Leer en groei perspectief - Wat zijn de gevaren waar we als bedrijf beducht voor moeten zijn? Hoe zorgen we ervoor dat we in de toekomst concurrentie aankunnen?
Binnen bovenstaande onderdelen van de Balanced Scorecard ga je identificeren wat de belangrijkste onderdelen zijn, en voor ieder onderdeel ga je een of meerdere KPI's definiëren. Dit verschilt uiteraard bijzonder per bedrijfstak of zelfs per afdeling.
Zaken waar je slecht op scoort of die erg belangrijk zijn voor de strategie van het bedrijf probeer je te verbeteren. Zaken waar je goed op scoort probeer je te consolideren. Zaak is dat alle punten uiteindelijk een voldoende halen, vandaar de naam Balanced Scorecard.