Blue ocean strategy canvas
Het blue ocean strategy canvas is een model waarmee je producten of bedrijven kan vergelijken. Het is een van de belangrijkste modellen uit Blue ocean strategy, het beroemde strategieboek uit 2005.
Met de strategy canvas kan je een analyses maken, maar daarnaast is het direct een actie-framework. Als je de strategy canvas hebt uitgewerkt is in één oogopslag duidelijk wat de overeenkomsten en de verschillen tussen jouw bedrijf of product en de concurrentie zijn. Ook is direct te zien wat je zou moeten verbeteren.
Op de horizontale as plaats je de belangrijkste  parameters voor het speciefieke product of bedrijf dat je wil analyseren. Op de verticale geef je aan of deze waarde hoog of laag is bij het bedrijf dat je onderzoekt.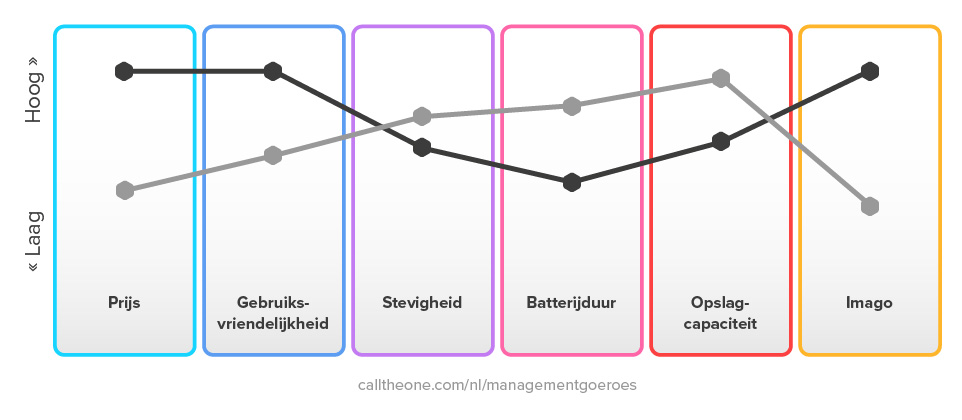 Blue ocean strategy canvas voorbeeld. Hier vergelijken wij 2 Smartphones).
Deze parameters kan je bijvoorbeeld bedenken tijdens een brainstorm. Je kunt gerust 8 tot 10 parameters kiezen. Zorg er wel voor dat je alleen parameters toevoegt die er echt toe doen, anders krijg je een vertekend beeld. Het nadeel van de Blue ocean strategy canvas is namelijk dat er geen waarde aan de parameter wordt meegegeven.
Verwar de Blue ocean strategy canvas niet met het Business model canvas van Osterwalder.
Blue ocean strategy canvas voorbeeld
Hierboven tonen we een strategy canvas voorbeeld. Ik heb (uit mijn hoofd en met fictieve data) een iPhone vergeleken met een high end toestel van een mindere fabrikant (Huawei ofzo). Als je het model bekijkt dan is direct duidelijk dat op veel punten de iPhone minder goed scoort dan het andere toestel. Alleen op het gebied van gebruiksvriendelijkheid en image moet het andere toestel het dik afleggen. Hier zou het bedrijf zich op moeten focussen om het te verbeteren. In bovenstaand voorbeeld vergelijk ik twee producten. Vaak wordt de Blue ocean strategy canvas ook gebruikt om meer dan twee producten te vergelijken. Zoals ik hierboven al aangeef kan je de strategy canvas gebruiken producten te vergelijken, maar de canvas is ook uitstekend te gebruiken om verschillende bedrijven te vergelijken.