Build, Measure, Learn Cycle - Lean Startup
De 'Build, Measure, Learn Cycle' is het belangrijkste model van de Lean Startup Methode. Hij komt uit het boek The Lean Startup van Eric Ries uit 2011. Wat houdt de Build, Measure, Lean Cycle precies in?
Build - maak snel een prototype of ontwikkel een andere methode waarmee je je hypothese snel en accuraat kan testen.
Measure - meet de resultaten
Learn - leer van de resultaten. Hierdoor krijg je nieuwe ideeën om je product of dienst te verbeteren
Hierna herhaal je deze drie stappen (dit is de Cycle). Een belangrijk onderdeel van de Lean Startup Methode is dat het bedrijf dat bovenstaand proces het snelst weet te herhalen uiteindelijk zal winnen.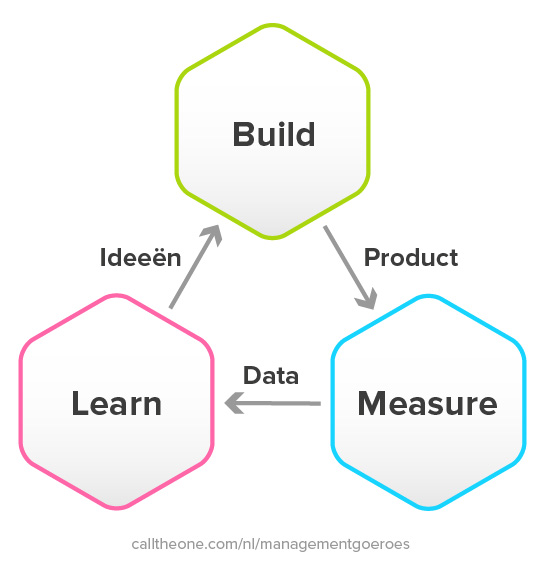 Een voorbeeld van het testen van een hypothese volgens Build, Measure, Learn Cycle
Klanten die bij een bedrijf waren afgehaakt werden benaderen, men kwamen er achter dat een klant was weggegaan omdat het bedrijf geen app voor de PC had. In plaats van direct zo'n app te ontwikkelen besloten ze een button op de site te zetten met 'Download de PC app' (stap één Build). Op deze manier konden ze direct zien (testen) of werkelijk een significant aantal bezoekers behoefte had aan een dergelijke app, of dat ze beter hun energie ergens anders in konden steken.
In deze tijd kunnen we eigenlijk ieder idee uitvoeren. Er zijn technisch gezien weinig dingen die niet kunnen. De grote vraag is alleen wat ga je wel, en wat ga je niet doen? Bedrijven maken misschien niet direct verlies als niet alle projecten aansluiten bij de klant, maar denk aan de opportunity costs die er zijn. Wat had het bedrijf kunnen verdienen als de aandacht niet in de verkeerde projecten was gestopt.
Stap twee is dat je voordat het project start heel goed definieert hoe je de prestaties gaat meten. Je stelt een hypothese en gaat testen of deze wel of niet correct is. Stap twee is Measure.
Stap drie is leren (Learn). Ook al wordt de hypothese ontkracht. Zo lang je er maar van leert is het goed.
Pivits
Vervolgens herhaalt deze cyclus zich. Zoals ik hierboven al schrijf zal volgens Eric Ries het bedrijf dat deze cyclus het snelst weet te herhalen uiteindelijk winnen. Eric Ries noemt dit proces een Pivot. De pivot is eigenlijk een hypothese (simpel voorbeeld: gaat de conversie omhoog als ik grotere buttons plaats). Je voert het uit op één pagina van je website, meet het, analyseert het resultaat, komt tot de conclusie dat het wel of niet zo is. Is de pivot correct, dan voer je het daarna door in andere delen van je website. Hierna ga je dit weer meten, analyseren, en komt tot de conclusie dat de overall conversie ook omhoog of omlaag is gaan.
Pivot = een verandering van strategie, zonder van visie te veranderen.
Dit klikt allemaal vrij straight forward, maar het is een feit dat bij de meeste bedrijven er veel meer energie wordt gestopt in het ontwikkelen van projecten dan aan het meten en leren van de ontwikkeling. Volgens Ries zal over tien jaar onze hele manier van denken hoe bedrijven zijn opgebouwd veranderd zijn, en staat we met zijn methode slechts aan het begin van deze verandering.