Gantt chart

De Gantt chart is een methode waarmee je op een grafische wijze je planning inzichtelijk kunt maken. De Gantt chart wordt vaak bij projectmanagement toegepast. Het grote voordeel van een Gantt chart ten opzichte van andere methoden is dat je in één oogopslag kunt zien welke afhankelijkheden er zijn, wanneer bepaalde taken starten en af zijn.
In dit artikel leggen we uit hoe je een Gantt chart kunt maken en geven we een eenvoudig voorbeeld.
Gantt chart maken
Een Gantt chart maken is vrij eenvoudig. Op de verticale as zet je de verschillende onderdelen waar een project uit bestaat. Op de horizontale as zet je een tijdlijn. Ik gebruik hier het voorbeeld van het organiseren van een feest. Het is zaterdag 10 uur en je wil 's avonds een feest houden. Dat vraagt wat planning. In de eerste stap ga je inventariseren wat er moet gebeuren om het feest te houden. Daarna kijk je per punt hoeveel tijd het kost om dit te realiseren (inclusief reistijd). Hierna heb je bijvoorbeeld de volgende lijst (we houden het eenvoudig):
taart bakken (2 uur)
drank kopen (2 uur)
drank koelen (1,5 uur)
gasten uitnodigen (5 minuten)
tafels huren (2 uur)
Daarna ga je inventariseren welke beperkingen en wensen er zijn. Nu blijkt bijvoorbeeld dat het verhuurbedrijf maar tot 12 uur open is. Tijdens het taart bakken kan je niet weg en de gasten moet je zo snel mogelijk uitnodigen. Je start de Gantt chart altijd met het punt dat je als eerste gaat uitvoeren. In dit geval dus gasten uitnodigen.
Gantt chart voorbeeld
Het Gantt chart voorbeeld zal er dan als volgt uit komen te zien. Als je alle tijd bij elkaar optelt denk je dat je om 5 over half 6 klaar zal zijn. Sommige processen kunnen echter gelijkertijd plaatsvinden, zoals het koelen van de drank en het bakken van de taart. Doordat je dit goed gepland hebt bespaar je 1,5 uur en ben je om 5 over 4 klaar.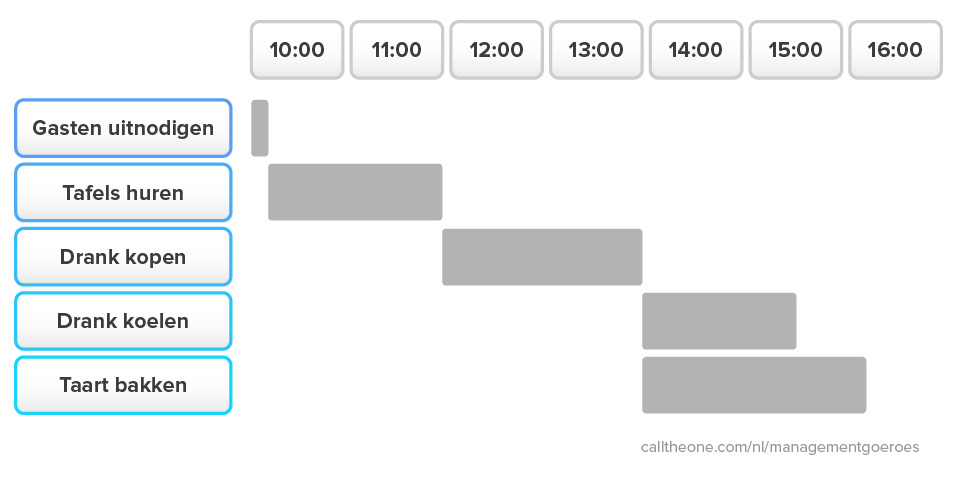 Nu is bovenstaande Gantt chart voorbeeld natuurlijk dodelijk eenvoudig, maar je kunt je voorstellen dat een groot softwareproject dat een jaar ontwikkeltijd in beslag neemt een heel ander verhaal is. Door op tijd te analyseren welke zaken als eerste moeten worden gedaan kan je veel tijd besparen. Je moet er in ieder geval voor zorgen dat je start met de punten die:
voor het meeste oponthoud zorgen of
het langste duren, of
waarvan de resources het schaarst zijn
Zelf een Gantt chart maken
Er zijn online veel tooltjes beschikbaar waarmee je een Gantt chart kan maken. Veel projectmanagers maken het ook in Excel. Ieder kolom staat dan voor een bepaalde tijdseenheid (dag, week of maand). Een handige tool om je projecten mee te managen en vervolgens direct in een Gantt chart te zetten is Placker. Bekijk Placker hier >>
Uitgebreide Gantt chart maken
Zoals ik al schreef is bovenstaande Gantt chart voorbeeld heel eenvoudig. Je kunt ook een veel uitgebreidere Gantt chart maken. Bij complexe projecten kan je er voor kiezen om naast de eerste kolom met de verschillende taken nog een aantal kolommen te vullen met aanvullende informatie. Denk dan bijvoorbeeld aan:
de persoon of het team dat de taak gaat uitvoeren
een hoofdstuknummer van het projectplan waarin de taak gedetailleerd staat beschreven
de verwachte start- en einddatum
de tijd dat je verwacht dat de taak zal duren
het percentage dat de taak volbracht is
het aantal dagen dat het nog duurt voordat een taak volbracht is
etc.
Deze extra informatie kunnen kan een complexe chart overzichtelijker maken. Het kan er echter ook voor zorgen dat de kracht van de Gantt chart (het feit dat hij zo eenvoudig is) verloren gaat.