Seth Godin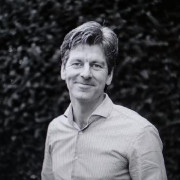 Seth Godin (1960) is een zeer actief auteur, blogger en ondernemer. Sinds 1993 heeft Seth Godin ieder jaar minimaal een boek geschreven. In totaal zijn het er nu 17. Seth Godin is groot geworden met zijn internetbedrijf Yoyodyne, dat hij in 1995 startte. Yoyodyne deed aan 'permission marketing'. Ze gebruikten spelletjes om bedrijven te promoten. In 1998 verkocht Seth Godin Yoyodyne voor 30 miljoen dollar aan Yahoo.
De belangrijkste ideeën van Seth Godin
Seth Godin gelooft dat de tijd dat marketeers (doormiddel van TV) zomaar iedereen konden bereiken voorbij is. Consumenten krijgen steeds meer macht, daarom moeten marketeers meer respect hebben. Je mag consumenten niet ongevraagd lastigvallen of  misleiden. Marketeers moeten hun beloften nakomen. Televisiereclame noemt Seth Godin 'interruptie marketing'. Seth Godin gelooft in 'permissie marketing'. Hierin kan de consument kan participeren, het is relevant en persoonlijk.
Marketeers moeten aandacht verdienen. Wat ze aanbieden moet zo goed zijn dat er vanzelf een 'buzz' ontstaat. Seth Godin noemt degene die het idee verspreidt 'Sneezers' (niezers) die de ideeën als een virus (viral) verspreiden. Ideeën die goed genoeg zijn om 'viral' te gaan noemt Seth Godin een 'purple cow'.
Seth Godin schrijft veel over het internet. Hierdoor zijn de ideeën in zijn eerdere boeken misschien al wat verouderd, maar toen in 2001 bijvoorbeeld Unleashing the Ideavirus uitkwam waren zijn ideeën zeer vernieuwend. Seth Godin voorzag toen bijvoorbeeld al de kracht van Social Media en Affiliate Marketing.
Seth Godin als ondernemer
In 2006 richtte Seth Godin Squidoo op. Op Squidoo kunnen bezoekers zelf eenvoudig een website maken. Succesvolle sites krijgen de helft van de opbrengsten en 5 procent van de winst gaat naar een goed doel. Squidoo staat in de top 500 van websites met het meeste verkeer ter wereld.