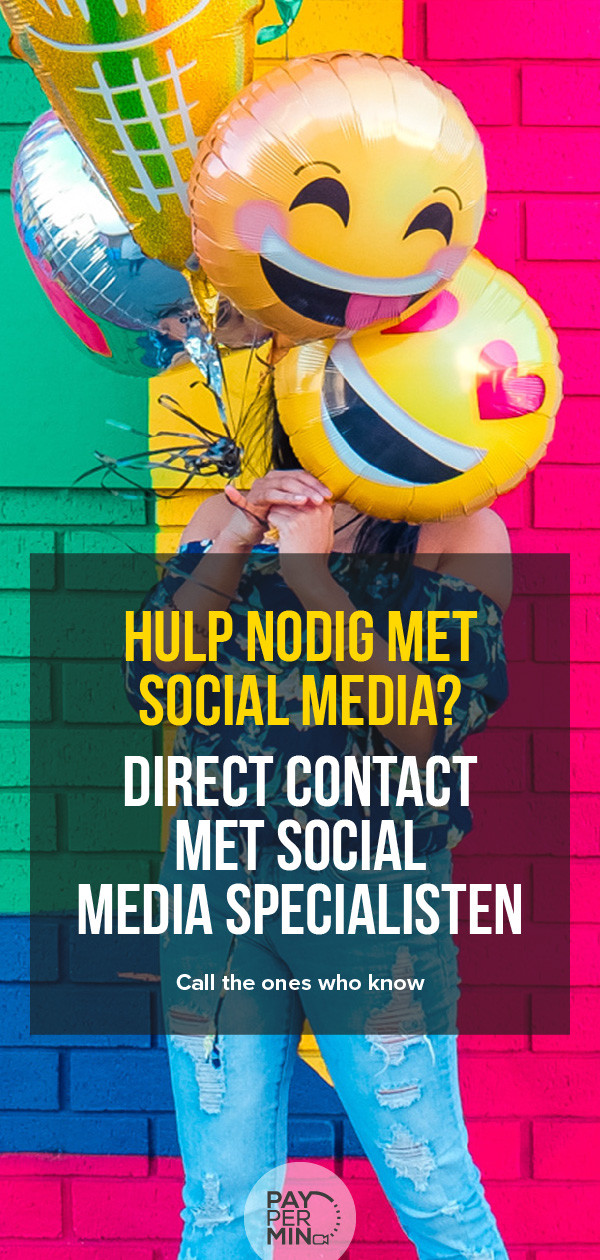 Er zijn bij Call the One diverse Social Media specialisten aangesloten van over de hele wereld die jou direct te woord kunnen staan. Door middel van een live video interactie kun je jouw vragen stellen aan de door jou gekozen Social Media expert. Een Social Media campagne opstellen kan namelijk knap lastig zijn zonder de benodigde kennis en social media tools. Gelukkig zijn er voor jou de CallTheONE experts die jou kunnen helpen met jouw lastige vragen.
Call The One is een van de meest eenvoudige, snelle en goedkope manieren om advies te krijgen over jouw problemen met betrekking tot een goede Social Media strategie. Het mooie van dit concept is dat je alleen maar op de "Bel mij" functie hoeft te klikken om contact te krijgen met een door jou gekozen Social Media expert. En wanneer de geselecteerde Social Media specialist niet aan jouw eisen voldoet hang je gewoon op en kies je de volgende bij CalltheONE aangesloten Social Media expert om antwoord te krijgen.
Social Media expert nodig? Call The One!
Het vinden van de juiste Social Media expert is makkelijker gezegd dan gedaan. Hoewel er tegenwoordig een hele generatie van jonge communicatie- en marketing professionals zijn opgeleid in Social Media is het knap lastig om de juiste Social Media specialist te vinden. Dit hoeft echter niet, via Call the One kun je een aangesloten expert benaderen, en wanneer deze niet voldoet aan jouw eisen bel je gewoon de volgende aangesloten expert zonder dat hier de hoofdprijs voor betaald hoeft te worden.
Een bij CallTheONE aangesloten social media expert is gespecialiseerd in het zakelijk inzetten van de diverse Social Media netwerken. Hierbij kun je denken aan Twitter, Instagram, LinkedIn en Facebook. Daarbij kan de Social Media specialist jou voorzien van advies over de inzet van Social Media (tools) voor jouw bedrijf, maar hij zou dit advies ook direct kunnen uitvoeren.
Waar kan een Social Media specialist jou bij helpen?
Een Social Media specialist kan jou bij diverse Social Media gerelateerde zaken helpen. Zo kan hij je van dienst zijn in:
Het geven van Social Media training
Helpen bij het bepalen van een Social Media strategie
Geven van Social Media tips
Social media monitoring
Social media plan voorbeeld geven
Helpen bij een Social Media Analyse voor jouw bedrijf
Tips geven met betrekking tot social media software
Social media engagement creëren
Een social media expert kan een bedrijf helpen met het creëren van meer zichtbaarheid op Social Media. Hierbij probeert de Social Media expert voor jou te kijken waar de doelgroep van jouw organisatie zich bevindt, hier kan hij dan een Social Media plan voor ontwikkelen, waarbij hij een gerichte communicatiestrategie ontwikkeld voor de doelgroep. Dit Social Media marketing plan kan dan door jou worden uitgevoerd of jouw medewerkers.
Wat kun je van een TheONE expert verwachten?
Er komt veel bij kijken wanneer je zelf de Social Media van je website oppakt. Hiervoor heb je namelijk een degelijke kennis nodig over de manier waarop Social Media platforms denken te werken. Wanneer je zonder enige kennis van zaken zomaar begint te delen, schrijven of liken kan dit op de korte termijn leiden tot
Een vermindering van de waardering van klanten/doelgroep voor jouw bedrijf
Social Media accounts kunnen opgevat worden als spam (negatief)
Foute doelgroepbenadering
Natuurlijk zijn er nog vele andere aspecten waarmee een Social Media expert jou mee kan helpen bijvoorbeeld met influencer marketing. Voor elk probleem is namelijk de oplossing dichterbij dan je denkt. Bel daarom een Social Media expert door te klikken op de ""Bel mij" knop. CallTheONE experts staan namelijk direct voor jou klaar via live video interactie!