Chris Anderson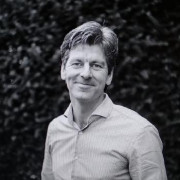 Chris Anderson (1961) was van 2001 tot 2012 hoofdredacteur van Wired magazine, een leidend blad en website over internet. Chris Anderson werd in 2006 wereldberoemd met zijn boek The long tail. The long tail gaat over de theorie van Chris Anderson dat door de komst van internet er een verschuiving plaatsvindt in koopgedrag. De beroemde 20 / 80 regel dat 80 procent van de omzet en winst wordt bereikt door 20 procent van de producten geldt volgens Chris Anderson niet meer. Lees meer over The long tail.
Chris Anderson is geboren in Groot Brittannië, maar verhuisde toen hij vijf was naar Amerika. Hij startte zijn carriere als wetenschapper en later als redacteur voor o.a. Science, Nature en the Economist. In 2001 werd hij hoofdredacteur van Wired.
Andere boeken van Chris Anderson
In 2009 bracht Chris Anderson Free uit. Free gaat over de kracht van iets (tijdelijk) gratis weggeven, en hoe dit een product kan helpen een hit te worden. Het boek zelf is ook tijdelijk gratis te downloaden geweest.
In 2012 is het derde boek van Chris Anderson uitgekomen. Het boek heet Makers en gaat over crowdsourcing en 3D printing, en hoe dit de wereld zal veranderen. Begin volgend jaar komt Makers ook in het Nederlands op de markt. Wij zijn erg benieuwd of Chris Anderson gelijk gaat krijgen. Uiteraard kunnen we dit pas over een aantal jaar met zekerheid zeggen.
Video van Chris Anderson
Voor als je nog wat tijd over hebt, bekijk dan onderstaande video met Chris Anderson over zijn boek 'Makers'.
Gerelateerde artikelen
Laat meer zien
Populaire artikelen
Laat meer zien
Recente artikelen
Laat meer zien
Long tail experts die je kunnen adviseren
Online marketeer
Ik ben The ONE
Who knows about management & online marketing strategy. Call me for free!
growth hacker and digital strategy
Ik ben The ONE
seasoned growth hacker with 8 years experience
Digital strategist
Ik ben The ONE
Reaching the right people in the right place with digital marketing.
Health & Marketing
Ik ben The ONE
voor Online Marketing, Voedingsadvies & Sport begeleiding / coaching
Digital marketing
Ik ben The ONE
with a long experience of life.