Intrapreneur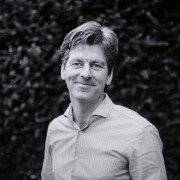 Het woord intrapreneur is afgeleid van het woord entrepreneur, wat ondernemer betekent. Een ondernemer is zelfstandig, een intrapreneur is dat niet. Een intrapreneur is in loondienst, maar doet wel soortgelijk werk als een entrepreneur. Hij onderneemt dus binnen een groter bedrijf.
Steeds meer bedrijven laten een deel van hun personeel werken alsof ze zelfstandig zijn. Vooral bij het ontwikkelen van nieuwe producten of diensten kan dit goed werken, omdat de intrapreneur vaak bijvoorbeeld wel kan profiteren van het netwerk van het grote bedrijf, maar geen last  heeft van bureaucratie en afhankelijkheden die bij projecten die binnen het bedrijf worden uitgewerkt vaak wel meespelen.
Gerelateerde artikelen
Populaire artikelen
Laat meer zien
Direct contact met een professional
Online marketeer
Ik ben The ONE
Who knows about management & online marketing strategy. Call me for free!
Computer training
Ik ben The ONE
Computer trainer and consultant
Small Business Owner
Ik ben The ONE
who can help you get the job DONE!
Changing Lives
Ik ben The ONE
Coach & Teacher Transforming Lives Through Personal & Professional Development
psicologa comunicacional
Ik ben The ONE
soy de personalidad reparadora, por lo que tratare de ayudarte en todo hasta llegar a los objetivos, tu logro tambien sera el mio :)