Reactieve marketing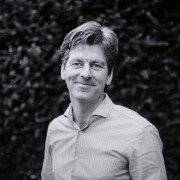 Het begrip reactieve marketing komt uit het 5 niveaus van klantgerichtheid model van marketinggoeroe Philip Kotler. Het is het tweede niveau van klantgerichtheid dat een bedrijf kan hebben. Bij reactieve marketing verkoopt een bedrijf een product en geeft de klant de mogelijkheid om te bellen als hij of zij vragen heeft. Je verleent dus service door middel van een helpdesk. Voorbeelden van bedrijven die aan reactie marketing doen zijn telefoon- en kabelmaatschappijen. Als je meer service van ze wil, dan moet je hiervoor betalen.
Gerelateerde artikelen
Populaire artikelen
Laat meer zien
Direct contact met klantenservice deskundigen
Multiple businesses
Ik ben The ONE
business, health and life coach
marketing manager
Ik ben The ONE
Be the change you want to see.
Professional Remote Freelancer
Ik ben The ONE
who is here to support you
On-Page SEO
Ik ben The ONE
to help rank well on search engines without a big price tag
the Fashion Expert
Ik ben The ONE
you call to reach your greatest self; from personal image to business brand.