Steven van Belleghem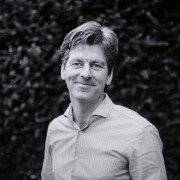 De Belg Steven van Belleghem is in mijn ogen zowel een trendwatcher als managementgoeroe. Zijn doel is je ogen te openen wat er in de wereld om ons heen gebeurt, of staat te gebeuren. In zijn live-performances laat veel voorbeelden van technische ontwikkelingen zien. Toen wij hem zagen spreken ging het voornamelijk over The internet of things, waarvoor hij duidelijk maakte dat het merendeel van de apparaten dat van internet gebruik maakt straks geen computers meer zijn, maar b.v. huishoudelijke apparaten. Momenteel zijn fabrikanten druk bezig tv's op internet aan te sluiten (smart tv's), de volgende zal waarschijnlijk je Nespresso apparaat zijn die 'smart' wordt, en bijhoudt hoeveel koffie je nog hebt en direct nieuwe bestelt (waar kan ik hem halen?). Daarna volgt je koelkast. Kijk er niet raar van op als dit over 5 tot 7 jaar al realiteit is. Ook liet hij zien welke overnames Google de laatste jaren heeft gedaan en wat ze daar mee van plan zouden kunnen zijn. Dan gaat het vooral over robotica, artificial intelligence en drones.
Volgens Steven van Belleghem is Techniek nog NET iets dommer dan wij. Maar niet lang meer.
Naast zijn eye-openers spreekt van Belleghem ook over de menselijke kant van technologie. Als voorbeeld noemt hij Eneco die haar call center medewerkers de mogelijkheid geeft bloemen te sturen aan mensen waarmee ze een leuk gesprek hebben gehad. Flower Power noemen ze dat daar. In plaats van customer satisfaction, you must delight your customers zei Philip Kotler al in de jaren '80. De kosten hiervoor zijn vaak betrekkelijk laag, maar de goodwill die je er mee kweekt is vaak vele malen hoger. Dit is ook waar zijn laatste boek over gaat.
Steven van Belleghem heeft drie boeken geschreven: The Conversation Manager en The Conversation Company. Zijn laatste boek heet When Digital Becomes Human.    
Gerelateerde artikelen
Populaire artikelen
Laat meer zien
Direct contact met een professional voor advies
Online marketeer
Ik ben The ONE
Who knows about management & online marketing strategy. Call me for free!
Small Business Owner
Ik ben The ONE
who can help you get the job DONE!
Changing Lives
Ik ben The ONE
Coach & Teacher Transforming Lives Through Personal & Professional Development
Artist/student
Ik ben The ONE
Im the one Jill of all trades with a knack for creativity and logic
the Fashion Expert
Ik ben The ONE
you call to reach your greatest self; from personal image to business brand.