Upper funnel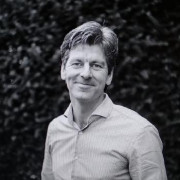 Upper funnel is een online marketing term. Het maakt onderdeel uit van het bekende sales funnel model. Dit is het proces dat een klant doorloopt voordat deze tot een aankoop overgaat.
Met upper funnel worden bezoekers aangemerkt die nog de oriëntatiefase zitten van het aankoopproces. Funnel is Engels voor trechter. Upper funnel bezoekers zitten nog bovenin de trechter. Ze moeten nog door de trechter heen voordat ze converteren tot klant.
Als een adverteerder zich richt op upper funnel traffic, dan zijn dit dus bezoekers waarvan het vermoeden bestaat dat ze iets bij de klant willen kopen, maar slechts een klein gedeelte zal uiteindelijk daadwerkelijk tot een aankoop overgaan.
Upper funnel zou je eigenlijk als alternatief kunnen zien voor het bekendere marketingbegrip "branding".
Voorbeelden upper funnel traffic
Voorbeelden van upper funnel traffic is bijvoorbeeld een adverteerder die een banner plaatst op een foodblog. Het blog heeft waarschijnlijk veel terugkerende bezoekers die niet direct koop-bereid zijn. Echter een klein gedeelte van de bezoekers zal geïnteresseerd raken in het product en op een later moment het product aanschaffen.
Bij business-to-business worden upper funnel klanten ook wel suspects genoemd. De term hangt nauw samen met het AIDA model.
Gerelateerde artikelen
Laat meer zien
Populaire artikelen
Laat meer zien
Recente artikelen
Laat meer zien
Direct advies van online marketing professionals
Online marketeer
Ik ben The ONE
Who knows about management & online marketing strategy. Call me for free!
Digital marketing
Ik ben The ONE
with a long experience of life.
Account Manager
Ik ben The ONE
who can help you to optimize your google ads account in max. 45 minutes
Social Media Leader
Ik ben The ONE
to provide optimal service for all your business inquiries.
Videos and FB ads
Ik ben The ONE
I'm the ONE to call in regards to anything to do with video, music, or FB ads