Warren Buffett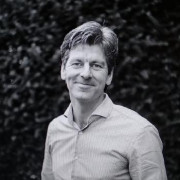 Warren Buffett (1930) staat bekend als de beste belegger ter wereld. Zijn vermogen wordt geschat op ruim 70 miljard dollar. Zijn investeringsbedrijf heet Berkshire Hathaway, waarvan hij 38 procent van de aandelen bezit.
Berkshire Hathaway is onder ander de grootste aandeelhouder van Coca Cola. Ook bezit Warren Buffett grote hoeveelheden aandelen Gillette, Procter & Gamble, IBM en American Express.
Investeringsprincipes Warren Buffett
Warren Buffett heeft vier investeringsprincipes die hij altijd volgt. Deze zijn als volgt:
Investeer alleen in bedrijven die je snapt - Warren Buffett investeert bijvoorbeeld niet in kleine tech-startups.
Het bedrijf moeten al een stabiel businessmodel hebben. De waarde van het bedrijf moet niet gebaseerd zijn op toekomstige groei.
Het management moet stabiel en betrouwbaar zijn.
Het bedrijf moet laaggeprijsd zijn - Warren Buffett investeert graag als de markt laag staat. Een van zijn bekendste uitspraken is Be fearful when others are greedy and greedy when others are fearful.
Sociaal bewogen belegger
Warren Buffett is de laatste jaren regelmatig in het nieuws geweest. Zo heeft hij aangekondigd dat hij bijna zijn hele vermogen aan goede doelen gaat schenken. Ook is hij een fel tegenstander van excessieve beloningen en steunde hij president Obama in een voorstel om de belasting voor de aller rijkste te verhogen (de wet werd niet aangenomen).
Gerelateerde artikelen
Populaire artikelen
Laat meer zien
Recente artikelen
Laat meer zien
Direct advies over beleggen van professionals
Online marketeer
Ik ben The ONE
Who knows about management & online marketing strategy. Call me for free!
Cryptocurrency
Ik ben The ONE
I am the one who will never die
Studying engineering
Ik ben The ONE
I'm the one who can teach you math, forex trading and bodyweight training
video, drum,invest
Ik ben The ONE
I'm the ONE who play drum, video, ride horse and cook Pasta!
Pro investor
Ik ben The ONE
To come to for anything you need. If its on my list, I'm an expert. Hands down.