Design advies krijg je van designers op TheONE. Zij kunnen je inspireren op vele gebieden. Wil jij een nieuwe website, logo, huisstijl, standbouw of een design advies voor de inrichting van je nieuwe huis? Misschien heb je wel een designstoel in huis en wil je dolgraag weten van welke ontwerper deze is. TheONE designers zijn direct beschikbaar en kunnen je op afstand helpen via een Live Videoverbinding.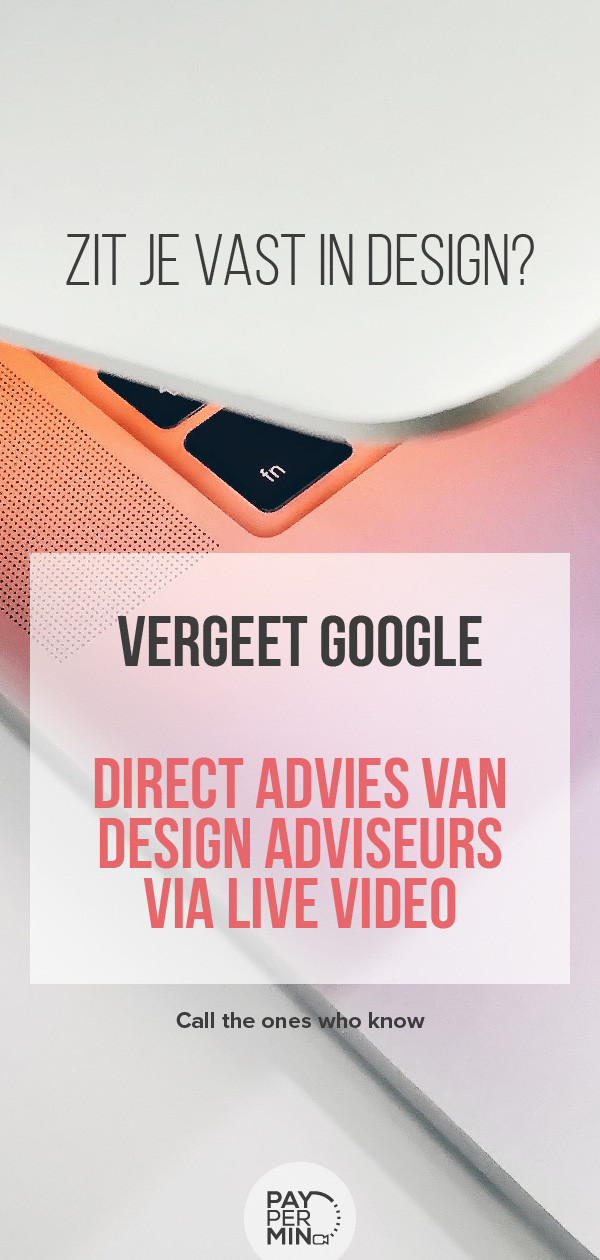 Design advies op maat
Designers zijn creatief en origineel. Het zijn eigenlijk toegepaste kunstenaars. De meeste werken digitaal, maar er zijn ook designers die nog alles met de hand doen. Dus op TheONE vind je van Photoshop en Autocad kunstenaars tot ouderwetse handenarbeid kunstenaars.
Wil jij een nieuwe kast laten ontwerpen, of wil je jouw ideeën voor je nieuwe beursstand laten visualiseren? Designers durven de meest creatieve uitdagingen aan en kunnen jou adviseren.
Design advies op afstand
Alle design adviseurs binnen TheONE werken op afstand via een Live Videoverbinding. Dat scheelt niet alleen veel reistijd, maar is ook efficiënter. Via schermdelen kun je altijd op afstand zien wat de designers creëren en eventueel het ontwerp bijsturen.
Waarvoor kun je bij design adviseurs van TheONE terecht?
Eigenlijk is geen vraag onmogelijk voor de ontwerpers van TheONE. Dat komt omdat er designers zijn aangesloten van over de hele wereld, dus er is altijd wel een ontwerper die aan jouw vraag kan voldoen. Wat kun je zoal vragen?
Het ontwerpen van logo's, flyers of complete huisstijlen
Het ontwerpen van meubels
Het ontwerpen van de inrichting van je huis of tuin
Het ontwerpen van een beursstand
Het ontwerpen van promotiemateriaal
Het ontwerpen van producten of kleding
Maar je kunt ook om software advies vragen zoals over Photoshop en Illustrator.
Designers zijn creatief dus meestal zullen ze snel inspiratie geven als jij iets ontworpen wilt hebben. Soms kunnen ze zelf een snelle schets tekenen en binnen korte tijd doorsturen. Bel direct en vindt de creatieven die bij jou passen.
Wat kosten designers op TheONE?
Elke designer mag zelf bepalen hoeveel hij of zij kost. In principe betaal je per minuut waarvan de eerste minuut gratis is, maar als je andere prijsafspraken wilt maken ben jij en de designer hier vrij in.
Dankzij de schermdeel functionaliteit kun je altijd meekijken op het scherm van de ontwerper en zelf de art-directie voeren. Soms kan een ontwerper dan meer doelgericht maken wat jij voor ogen hebt. Hoe jullie willen samenwerken is aan jullie. TheONE faciliteert alleen het contact, de rest is aan jullie.
Download TheONE expert app
Als je TheONE expert app download kun je altijd en overal wanneer jij dat wilt meekijken met de designer. Zo gaat er nooit tijd verloren omdat je elkaar niet kunt spreken. Inschrijven is gratis en misschien wordt je zelf ook gebeld voor jouw expertise!