Leren schrijven door te doen
Menigeen droomt ervan om ooit nog eens een boek te schrijven en ik was daar geen uitzondering op. Maar hoe leer je schrijven en wat komt daar bij kijken? Naarmate ik meer ben gaan schrijven ben ik gaan geloven dat leren schrijven een kwestie van veel doen is. Je pen op het papier zetten of je vingers op het toetsenbord en doorgaan.
Het kan alleen wel handig zijn om een paar tips voor ogen te houden om je hiermee veel tegenslag en frustratie te besparen. En een kleine les in story telling kan ook nooit kwaad. Iedereen heeft zijn of haar eigen aanpak om te leren schrijven en ik ben geen goeroe op dit gebied, maar ik kan wel met je delen hoe ik het heb aangepakt en nog steeds aanpak.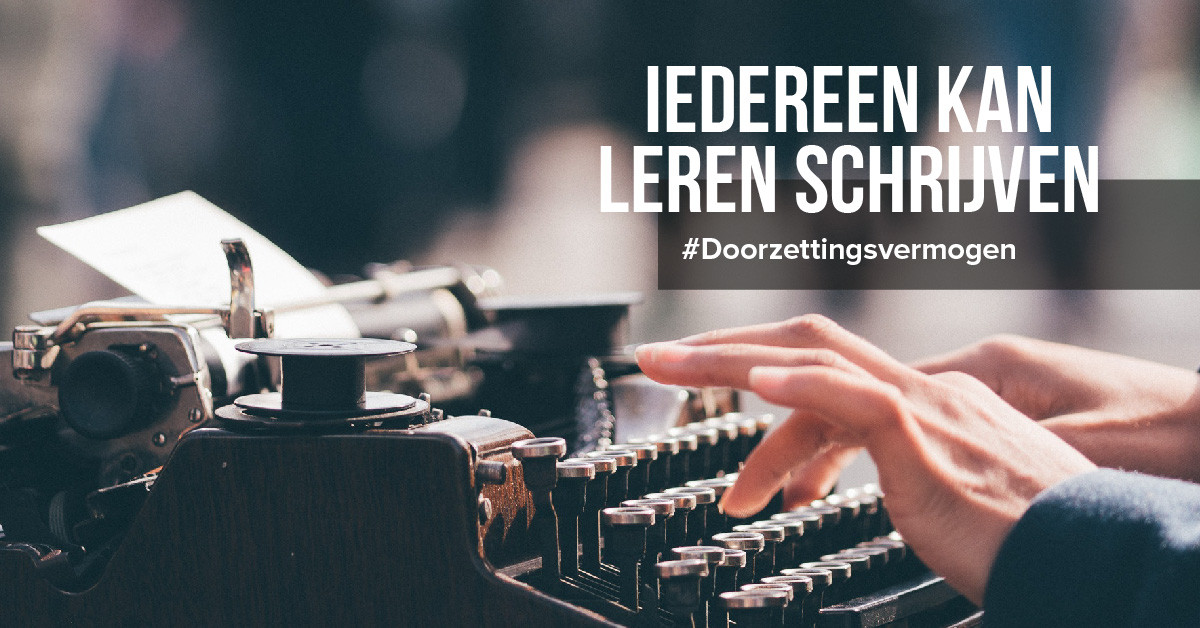 Drie tips voor als je begint met schrijven
Schrijven is al het vertellen van een verhaal. Als kun je nog zo boeiend vertellen, als het onderwerp niet leuk is, wordt het lastig voor jouw publiek om hun aandacht erbij te houden. Daarom is mijn eerste tip:
TIP 1: Kies een onderwerp waar je zelf passie over hebt en toets of andere hier ook een passie voor zouden kunnen hebben.
Ook als je onderwerp niet zo boeiend is, kun je het natuurlijk altijd boeiend maken. Belangrijker dan een boeiend onderwerp is echter de boodschap die je wilt overbrengen. Wat is het dat je wilt dan de lezer mee krijgt of onthoud na het lezen van jouw boek of artikel?
TIP 2: Hou altijd de hoofdboodschap die je wilt overbrengen voor ogen en vindt en schrijf over die voorbeelden, anekdotes, meningen of feiten die jouw boodschap kracht bij zetten.
Als je begint met schrijven, blijf dan schrijven tot je vingers zeer doen. De kunst daarna is om te schrappen tot overblijft wat echt goed is. Soms is het voorbeeld goed, maar komt het niet lekker over en soms is de anekdote, mening of het feit niet heel sterk, maar door de manier van vertellen versterkt het toch je hoofdboodschap.
TIP 3: Durf meer dan de helft van wat je geschreven hebt te deleten. Van de duizend woorden die je schrijft zijn er misschien maar 500 nodig om de lezer duidelijk te maken wat je bedoeld. Minder is altijd beter.
Meaningful profit > Ik Ben niet alleen op de wereld.
In 2010 schreef ik in 2 weken tijd circa 230 pagina's over hoe ik de ideale onderneming voor mij zag. Ik had eigenlijk helemaal geen intentie om er een boek van te maken en het ontstond omdat ik als ondernemer gefrustreerde was dat veel van mijn toenmalige medewerkers mijn ideaal beeld niet helemaal begrepen. Door alle facetten op papier te zetten hoopte ik dan men na het lezen beter zou begrijpen welke revolutie ik binnen ondernemingsland wilde creëren. Gaandeweg vormde zich in mijn ogen een boek en toen het klaar was had ik maar 1 gedachte: En nu?
Schrappen en schrijven
Ik was bang om het aan ook maar iemand te laten lezen, want wie was ik? Toch raapte ik mijn moed bij elkaar en gaf het manuscript aan 2 vreemden en 2 bekenden. De dagen slopen voorbij en toen ik 5 dagen later de eerste feedback kreeg bleek ik nog een lange weg te gaan te hebben voordat er een leesbaar boek uit zou komen. De lezer moest zich letterlijk door de pagina's heen worstelen om er iets van te begrijpen. Dat werd dus schrappen en herschrijven!
Met de hulp van Wassili Zafiris en Aranka van der Pol besloten we de boodschap te behouden, maar de indeling compleet overhoop te gooien. Elk voorbeeld en elke anekdote, mening en feit werd onder een vergrootglas gelegd en meer dan de helft werd vervangen door betere content.
Het kan altijd beter
8 maanden later stond er een tweede versie en dit begon al aardig een boek te vormen. Omdat we alle drie druk waren en het boekproject een tussendoor project was, konden we er slechts een keer in de zoveel tijd een volle week aan besteden. Nadat we na een paar weken weer bij elkaar kwamen begonnen we ons boek weer van voor tot achter te lezen en kwamen unaniem tot dezelfde conclusie. Dit kan beter!
Weer besloten we alle onderwerpen te toetsen aan het hoofdonderwerp en alles weg te laten of te vervangen voor betere inhoud. Hoofdstukken werden omgegooid en honderden uren aan schrijfwerk werd in een middag vernietigd om vervolgens weer overnieuw te doen.
Drie maal is scheepsrecht
De derde versie was een versie die ons trots maakte. Niet dat we al klaar waren, maar het was een leesbaar helder verhaal geworden. Nog eenmaal bespraken we alle inhoud en op een punt en een komma na kon het boek opgemaakt worden.
Schrijven is veel doen en durven schrappen om weer opnieuw te doen. Als jij ook wilt leren schrijven of als je tips van andere professionele schrijvers wilt, neem dan direct contact op met een van de schrijvers op TheONE.