Alopecia, Hoe Ermee te Leven?
Alopecia is een medische aandoening waarbij vrouwen hun haar verliezen. Er is geen directe manier om Alopecia te genezen. Coaching kan echter erg helpen om met Alopecia om te gaan. Ik heb een prachtig verhaal hoe een vrouw met Alopecia door middel van coaching is geholpen. Ik wil het graag met jullie delen.
Jaren geleden werkte een prachtige jongedame binnen mijn onderneming. Donker zwarte glanzende lange haren altijd meer dan verzorgd en modieus gekleed. Als ze 6 centimeter langer was geweest had ze zeker op de cover kunnen komen als model in de Vogue.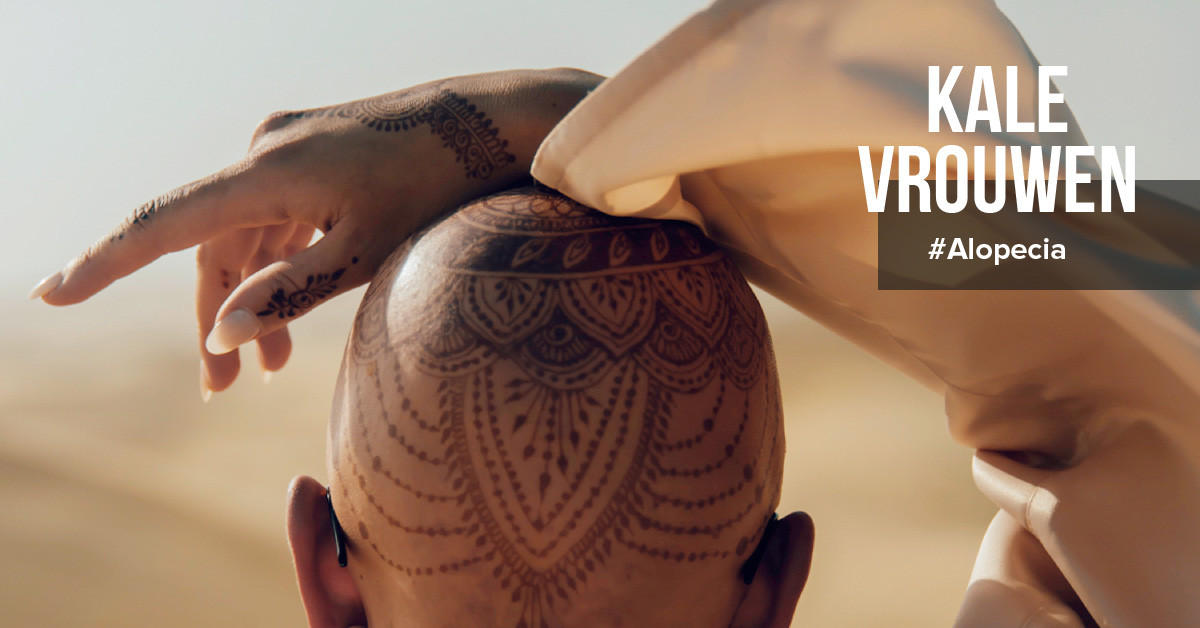 Op een dag meldde ze zich ziek. Maagklachten en het zou wel weer over gaan. Tot de klachten aan bleven houden en ze op dag bekende dat het helemaal haar maag niet was. Er was alopecia geconstateerd. In rap tempo verloor ze hele stukken haar en de kale plekken waren her en der een paar vierkante centimeter. Ze kon het op dat moment nog verhullen, maar 2 weken later was haar hoofdhuid van meters afstand te zien.
Ze durfde de straat niet meer op en klantcontact of zelfs contact met collega's was haar te veel. Ze voelde zich een monster en niet lang daarna zat er niets anders op dan de paar haren die nog over waren af te scheren.
Helaas bracht dit ook thuis de nodige complicaties. Haar modieuze en uiterlijk georiënteerde vriend kon niet meer sexueel opgewonden worden als zij naast hem lag. De vraag was of ze alsjeblieft samen een pruik konden kopen zoals haar eigen haar er voorheen uit zag. Die zou ze dan 's avond op kunnen zetten zodat er ook in de slaapkamer weer passie kon komen. Het arme meisje ging emotioneel door een hel.
Na 6 weken ziektewet hadden we contact. Ze vertelde dat ze nog zeker maanden niet zou kunnen werken en ook de psychologen en artsen hadden haar afgeraden om nog iets te gaan doen. Omdat ik ook persoonlijk heel goed contact met haar had smeekte ik haar om voordat ze hiertoe zou besluiten, eerst de dialoog aan zou gaan. Ik zal niet ontkennen dat ik veel manipulatieve en psychologische druk heb uitgeoefend om haar na veel weerstand de volgende dag op kantoor te krijgen. Een druk die ik overigens in bijna alle gevallen ten strengste afkeur en nalaat.
Wat er in het gesprek precies besproken is kan ik niet in dit artikel kwijt. Dat blijft tussen ons. Wel kan ik zeggen dat coaching onderwerpen als eigenwaarde, zelfvertrouwen en intenties ter sprake kwamen. Tegen het dringende advies van al die doktoren, psychologen en haar vriendje in, verscheen ze de volgende dag op haar werk. Kaal en fragiel, maar met een levenslustige blik in haar ogen. 2 dagen later dumpte ze haar vriend met wie ze al 7 jaar samen was en toen begon voor haar het leven.
De maandag daarop kwam ze totaal onverwachts in een nieuwe stijl kleren. Het hele weekend had ze besteed om haar garderobe een rigoureuze update te geven. In een stoere leren broek met bijpassend shirt, nieuwe makeup and een stoere kale kop liep ze om 9 uur stralend door de deur. Collega's draaide hun hoofd om van de schoonheid en energie die voorbij liep. Wat een prachtvrouw!
Alopecia | Wonderen kunnen gebeuren
Ze is geen dag meer ziek geweest, belde alle afspraken met psychologen af en een vriendin die bij de Vogue werkte merkte dat er een nieuwe energie was ontstaan. Een nieuwe vrouw. Sterk, krachtig en vooral zichzelf. 8 weken later stond ze op de cover van de Vogue. Kaal en met 4 pagina's foto rapportage, inclusief diepgaand artikelen dat je veel meer bent dan lang, kort of geen haar op je hoofd.
Tot slot: 2 jaar later gebeurde het onvoorstelbare. Niemand weet hoe Alopecia ontstaat en niemand weet hoe je het kunt genezen. Wat ik na deze ervaring begin te geloven is dat als jij goed in je vel zit, uiterlijk er niet alles toe doet en je gezond leeft, wonderen kunnen gebeuren. Inclusief de nieuwe vriend die ze nu heeft waarmee ze gelukkiger dan ooit is.