Deepselling
Het begrip deepselling wordt vrijwel altijd samen gebruikt met de begrippen cross- en upselling. Alle drie de begrippen hebben hetzelfde doel: meer omzet uit dezelfde klant halen. Over het algemeen is het namelijk makkelijker (en dus goedkoper) om iets aan een bestaande klant te verkopen dan aan een nieuwe. De klant kent je bedrijf al, en je weet wie de DMU's zijn. Ook is het veel makkelijk om contact te krijgen met een bestaande klant, dan wanneer je koude acquisitie moet plegen.
Terug naar deepselling. Bij deepselling ga je meer van hetzelfde product aan de klant verkopen. Dus in plaats van één product, probeer je er twee of drie te slijten.
Bij upselling ga je proberen een duurder product te verkopen, en bij cross selling ga je proberen een ander of aanvullend product aan dezelfde klant te verkopen.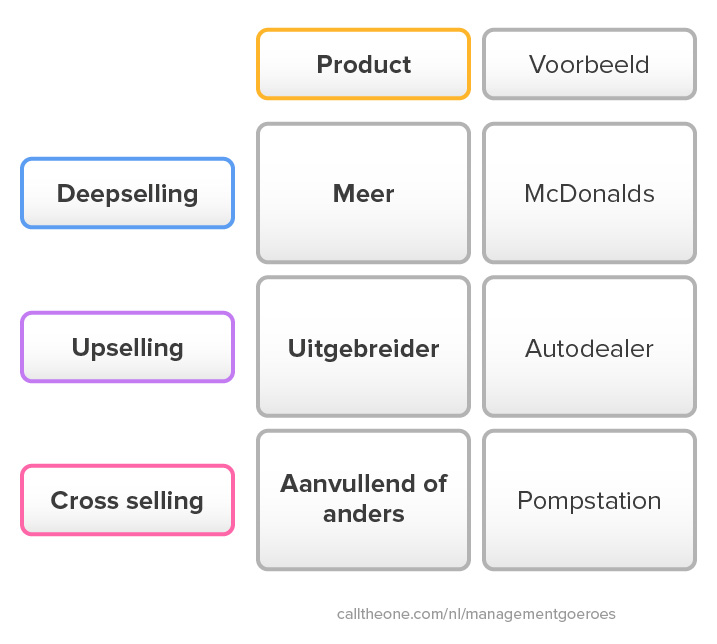 Voorbeelden van deepselling in de B2C markt:
Enkele voorbeeld van deepselling zijn in de B2C markt zijn: De tweede product halve prijs. Wie kent de voorbeelden niet uit de supermarkt?
Als je als snackbar toch patat aan het bakken bent, dan kan je goedkoper is een extra groot portie naar verhouding goedkoper dan het kleine bakje. De snackbar is dan aan het deepsellen! Bij de grootse patatbakker die wij kennen (McDonalds) doen ze ook niet anders. Super size je menu voor maar 1 euro is een typisch voorbeeld van deepselling.
Voorbeelden van deepselling in de B2B markt:
Vooral voor producten waarbij de opstartkosten hoog zijn is deepselling interessant. In de markt voor drukwerk zijn de kosten voor 1000 extra flyers marginaal ten opzichte van de tijd dat het kost om de persen aan te zetten. 500 flyers laten drukken kost 500 euro, en 5000 flyers 1000 euro. Eigenlijk kunnen alle vormen van bulkkorting gezien worden als deepselling.
Begrijpelijkerwijs worden deep- cross en upselling wordt vaak door elkaar gehaald. Omdat de verschillen tussen upselling en deepselling marginaal zijn wordt het begrip deepselling ook vaak onder het kopje upselling gestopt.
Deepselling alleen door korting?
Je ziet aan de voorbeelden wel dat deepselling vaak gepaard gaat met het geven van een korting. De klant moet immers een incentive hebben om in één keer meer van hetzelfde te kopen (vaak meer dan dat hij op dat moment nodig heeft). Bij cross- en upselling zie je dat er meer op de behoefte van een klant wordt ingespeeld (u koopt een stofzuiger, neem ook direct extra stofzuigerzakken mee), terwijl bij deepselling toch vooral op de emotie (hebberigheid) van de consument wordt ingespeeld, waardoor hij meer koopt dan anders. Als jij nog voorbeelden weet van deepselling waar dit niet het geval is, laat dan vooral een reactie achter!