De kunst van effectiever communiceren
Communicatie is vaak het grootste probleem binnen de oplossing. Dat heeft weinig te maken met de intentie achter wat we communiceren. Het heeft te maken met de vertaling tussen zender en ontvanger. We zijn geneigd te geloven dat als we beide dezelfde taal spreken, we ook beide dezelfde woorden en zinsstructuur gebruiken. We geloven ook vaak dat het ene woord voor jou hetzelfde betekent als voor het andere. Communicatiedeskundigen leren je het tegenovergestelde zodat je effectiever kunt communiceren.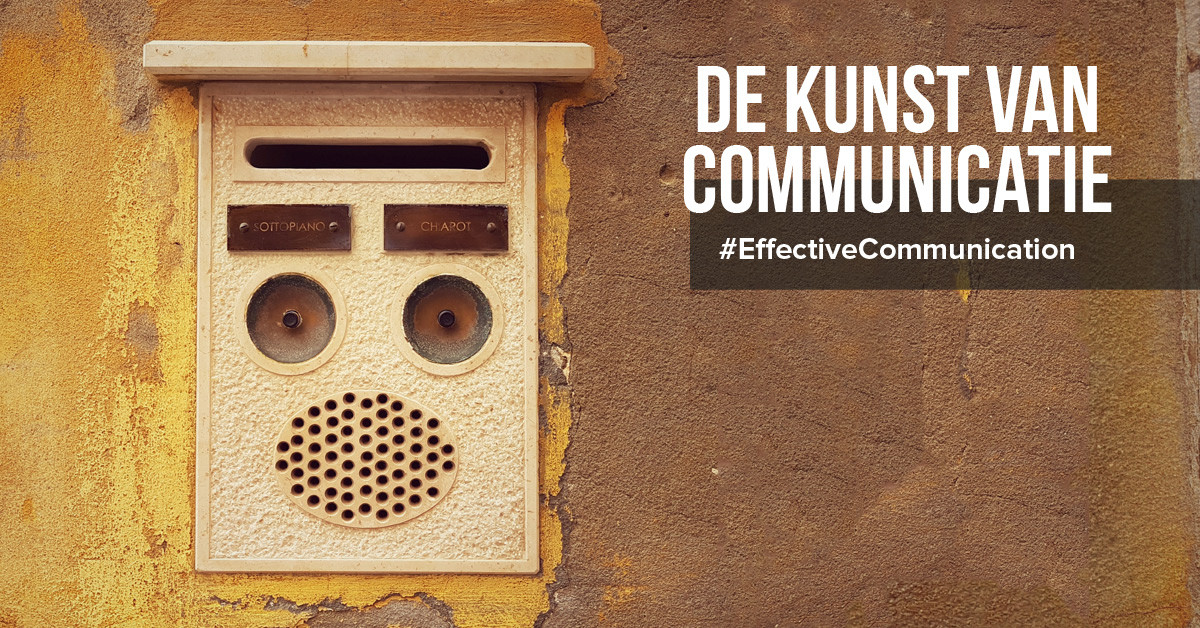 Communicatiedeskundigen hebben de kunst van het communiceren bestudeerd, zodat een boodschap effectiever kan worden overgedragen en begrepen. Voel jij je vaak verkeerd begrepen of begrijpen anderen jou vaak verkeerd? Dan kan een communicatiedeskundige inzicht verschaffen. Ze zijn onmiddellijk beschikbaar via een live videoverbinding op TheONE.
Communicatie en betekenisgeving zijn altijd verbonden
Om goed te begrijpen waar communicatie over gaat, is het belangrijk om te weten dat we bewust en onbewust betekenis geven aan alles wat we horen, zien en voelen. In een fractie van een seconde geven we betekenis aan een woord, een handeling, een uitdrukking of een aanraking. Maar dat betekent niet dat onze betekenis de juiste is! Dit is waar de uitdaging van communicatie begint.
Er zijn vier soorten communicatie
Verbale communicatie
Visuele communicatie
Fysieke communicatie
Grafische communicatie
De verschijning van elk van deze vier wordt grotendeels bepaald door drie factoren
Culturele achtergrond
Niveau van opleiding en woordenschat
Individuele denkstijlen
Communicatiedeskundigen houden rekening met de verschillende vormen van communicatie en de invloed die deze factoren kunnen hebben.
Intentioneel luisteren
Er kan een groot verschil ontstaan ​​tussen wat iemand zegt of laat zien en de intentie erachter. Woede en boze woorden kunnen bijvoorbeeld een teken zijn van machteloosheid of verdriet. En zeggen dat je iets niet wilt kan een teken van schaamte of twijfel kan zijn.
Communicatiedeskundigen beheersen het vermogen om de ware bedoeling achter visuele, verbale, fysieke of grafische communicatie te achterhalen. Door coaching van een communicatiecoach via TheONE, leer je de communicatie onder de knie te krijgen.
Werkelijke intenties overbrengen kan lastig zijn
Omdat we vaak onze eigen zinsstructuur en woordkeuze als standaard nemen, kunnen we erg gefrustreerd raken als anderen ons niet begrijpen. Zeker omdat het zo logisch voor onszelf klinkt. Wat kan daar voor een ander moeilijk zijn? Maar de kunst is om de taal van iemand anders te spreken als je goed begrepen wilt worden. Communicatiedeskundigen zijn hier bekwaam in en hebben aandacht voor de volgende communicatiestijlen om de taal van de ontvanger te spreken:
Gebruik van woorden: zoals grof, zacht, beledigend of timide
Snelheid en ritme van spraak: zoals langzaam, snel, zingend of staccato
Fysieke houding: als bewegelijk, hangend, rechtopstaand of ingezakt
Stijl: Zoals symbolisch, feitelijk en analytisch, poëtisch, verhalend of kort en to the point
Structuur: zoals chaotisch of gestructureerd
Communicatiedeskundigen bij TheONE zijn onmiddellijk beschikbaar om meer te vertellen en jouw communicatievaardigheden te verbeteren. Soms kunnen kleine veranderingen in jouw communicatiestijl grote gevolgen hebben. Bel daarom via een Live Video-verbinding met een coach naar keuze. De eerste minuut is gratis en dan betaal je voor elke minuut zolang de oproep duurt.