Want to get in contact with Themba?
Just try it. You'll receive €5,- try out credits.
And the first minute is always free.
Themba Mtunja
Computer Technician
I'm the ONE Person who loves to helps others
Themba is available now
donwload the app to call now
My areas of expertise
Local guide: #Kempton Park #Midrand #Centurion #Vereeniging #Fourways #Randburg #Tembisa #Sebokeng #Cosmo City #Bloubosrand #Northriding
Wellness: #Meditation
Language: #Xhosa #Sesotho #setswana #Isizulu
Kitchen & BBQ: #Braai tips
IT & Electronics: #Fixing computers #Replace parts #Install softwares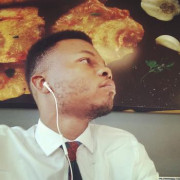 online
$ 5.00 per hour
Themba Mtunja
Computer Technician
East Rand, South Africa
Local time:
Themba is available now
my availability
| | | | | |
| --- | --- | --- | --- | --- |
| Every day | 07:00 | - | 22:00 | (UTC+2) |
About me
I do photography... I love traveling... I love to learn from other cultures and also love to teach... I have actually taught English in Zimbabwe for two years... I am a poet... A lover of art and music... I love computers as well. People's smiles makes me happy... Making people smile makes me happier.
I'm the ONE Person who loves to helps others
My areas of expertise
Local guide: #Kempton Park #Midrand #Centurion #Vereeniging #Fourways #Randburg #Tembisa #Sebokeng #Cosmo City #Bloubosrand #Northriding
Wellness: #Meditation
Language: #Xhosa #Sesotho #setswana #Isizulu
Kitchen & BBQ: #Braai tips
IT & Electronics: #Fixing computers #Replace parts #Install softwares