Want to get in contact with Vicki?
Just try it. You'll receive €5,- try out credits.
And the first minute is always free.
I'm the ONE from Merseyside, United Kingdom
Vicki is available now
donwload the app to call now
My areas of expertise
Local guide: #Liverpool #Art and Craft Supplies
Arts & crafts: #Supplies #Fabric #Enamel #Spray Paint #Art Supplies #Craft Supplies
Kitchen & BBQ: #Cook #Chef #Caribbean and Nigerian Food
Business coaching: #Art and Craft Supplies #Trade shows #Home decor supplies #Base metal supplies #Jewellery Supplies #Precious metal supplies #Bouillon dealers
Teaching: #Product design #Lasercutting #Adobe Suite #AutoCad 2D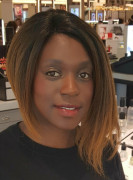 online
$ 11.14 per hour
Vicki Opomu
Merseyside, United Kingdom
Local time:
Vicki is available now
my availability
| | | | | |
| --- | --- | --- | --- | --- |
| Every day | 08:00 | - | 16:00 | (UTC+1) |
About me
I am a creative mixed artist/designer who loves getting to know about creative events, music, food and trade shows. I many years of experience within the customer service retail sector (fashion, DIY art/craft Supplies). I have good working knowledge (better than your average person) of art/craft and arts supplies and where to get it for your business or just in general. My background as a maker is furniture/silversmith training from Birmingham. Now, settling in Liverpool with my own creative studio. I run creative workshops here and across the country in my freelance work. Main workshop subjects: Marble Art, Lasercut block printing, Abstract Lino cut,Resin jewellery and much more. Experimental workshops for beginners and intermediate.
I'm the ONE from Merseyside, United Kingdom
My areas of expertise
Local guide: #Liverpool #Art and Craft Supplies
Arts & crafts: #Supplies #Fabric #Enamel #Spray Paint #Art Supplies #Craft Supplies
Kitchen & BBQ: #Cook #Chef #Caribbean and Nigerian Food
Business coaching: #Art and Craft Supplies #Trade shows #Home decor supplies #Base metal supplies #Jewellery Supplies #Precious metal supplies #Bouillon dealers
Teaching: #Product design #Lasercutting #Adobe Suite #AutoCad 2D