Intrapreneur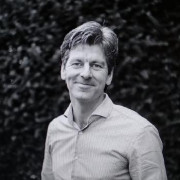 Het woord intrapreneur is afgeleid van het woord entrepreneur, wat ondernemer betekent. Een ondernemer is zelfstandig, een intrapreneur is dat niet. Een intrapreneur is in loondienst, maar doet wel soortgelijk werk als een entrepreneur. Hij onderneemt dus binnen een groter bedrijf.
Steeds meer bedrijven laten een deel van hun personeel werken alsof ze zelfstandig zijn. Vooral bij het ontwikkelen van nieuwe producten of diensten kan dit goed werken, omdat de intrapreneur vaak bijvoorbeeld wel kan profiteren van het netwerk van het grote bedrijf, maar geen last  heeft van bureaucratie en afhankelijkheden die bij projecten die binnen het bedrijf worden uitgewerkt vaak wel meespelen.
Gerelateerde artikelen
Populaire artikelen
Laat meer zien
Direct contact met een professional
Online marketeer
Ik ben The ONE
Who knows about management & online marketing strategy. Call me for free!
Multiple businesses
Ik ben The ONE
business, health and life coach
R & D Engineer
Ik ben The ONE
Doctorate in Mechanical and Energy Engineering specialized in Innovations!!!!
Archaeologist
Ik ben The ONE
tanışmakta fayda var.. Galiba birbirimizden çok şey öğreneceğiz.
Gift Shop Owner
Ik ben The ONE
to jumpstart and scale your next personal or professional project.