Lokale gidsen in Stockholm vertellen je graag alles over deze prachtige stad via een Live Videoverbinding. Ben jij op zoek naar een leuk hotel, een gezellig restaurant of wil je weten wat de beste musea in Stockholm zijn? De lokale gidsen wonen in Stockholm en kunnen je alles vertellen. Ze kunnen zelfs naar een locatie in Stockholm gaan en jou op afstand via hun Smartphone mee laten kijken!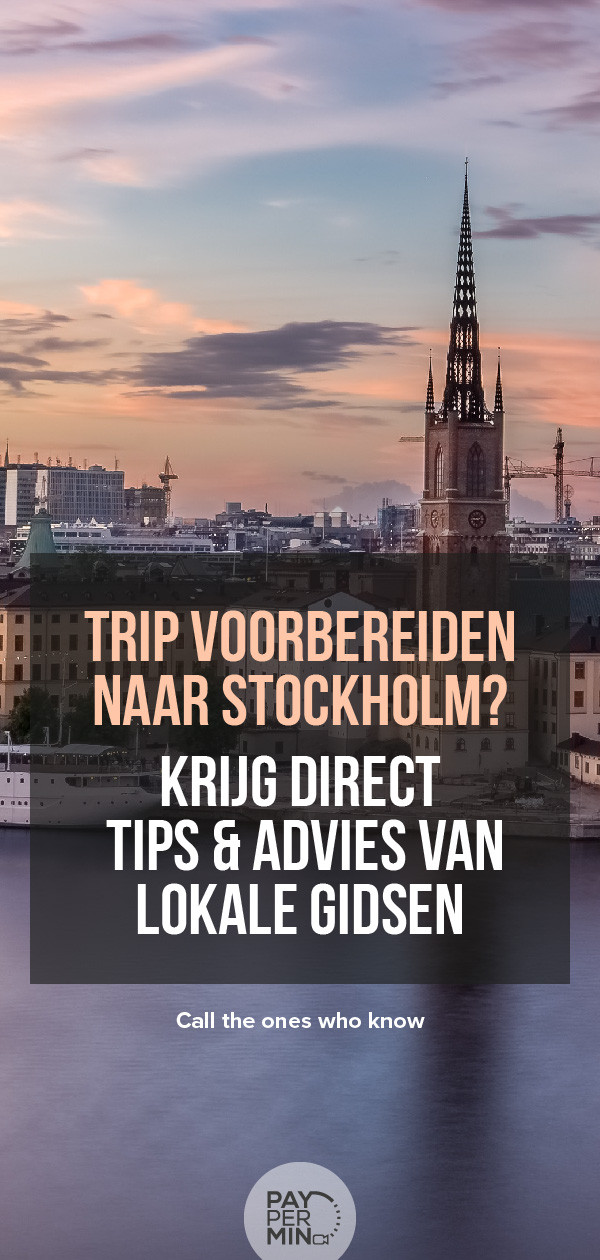 Stockholm is de hoofdstad van Zweden en onder andere bekend van het Kungliga Slottet Royal Palace en het Nobel Museum. Met 14 eilanden en meer dan 50 bruggen is er veel te beleven in Stockholm en kun je er lange wandelingen maken. Veerbootjes brengen je van eiland naar eiland waar je volop restaurants en entertainment kunt vinden.
Ga jij voor de eerste keer een weekend naar Stockholm dan is het verstandig om goed voorbereid te zijn. De lokale gidsen wonen in Stockholm en kunnen daarom vooraf alles vertellen wat jij wilt weten.
Lokale gidsen in Stockholm | De voordelen van TheONE
Als lokale inwoner van Stockholm weet je alles van je stad. Waar zijn de leuke festivals, goede restaurants en welke hotels zijn aan te bevelen. Veel van deze informatie staat ook op Internet, maar die informatie is niet altijd actueel. Soms wordt informatie over Stockholm ook mooier vertelt dan de waarheid is. Dat komt omdat de schrijvers betaald worden om iets te promoten. Binnen CallTheONE worden gidsen alleen door jou betaald en dan ook nog eens een klein bedrag per minuut. Dat zorgt dat ze eerlijk en oprecht hun informatie willen delen.
Lokale gidsen in Stockholm | Wat kun je zoal vragen?
Lokale gidsen in Stockholm weten veel over hun stad. Sommige wonen er al hun hele leven. Dingen die je gidsen op CallTheONE zoals kunt vragen zijn:
Is Stockholm altijd veilig?
Waar vind je in Stockholm een leuk en gezellig restaurant?
Wat is een goed hotel voor een redelijke prijs?
Waar kun je in Stockholm het beste heen met Kinderen?
Hoe reis je in Stockholm van de ene naar de andere locatie?
Wat zijn interessante Musea in Stockholm?
Lokale inwoners in Stockholm helpen Expats
Als Expat in Stockholm wil je snel integreren. Lokale gidsen kunnen je de weg wijzen waar je moet zijn. Zoek je een woning of een tijdelijke flat? Lokale inwoners van Stockholm kunnen voor jou een woning bezichtigen terwijl jij meekijkt via de Smartphone. Dat scheelt jou veel reistijd en zij weten of de woning op een goede locatie ligt.
Contact met inwoners van Stockholm via de computer of Smartphone
Je kunt via de computer een Live Videoverbinding opzetten met een lokale inwoner van Stockholm, maar dat kan ook via TheONE expert app. Met 1 druk op de knop maak je verbinding en om zeker te weten dat je de juiste persoon aan de lijn krijgt is de eerste minuut bellen altijd gratis.