Iedereen leer op een eigen manier en dat vraagt om bijles van een persoon die jou begrijpt. Op CallTheONE zijn bijlesleraren scheikunde van over de hele wereld online om jou bijles te geven. Bekijk de profielen, kies de bijlesleraar die bij je past en bel via de Live Videoverbinding. De eerste minuut is gratis, want je wilt eerst even kennis maken. Daarna betaal je automatisch per minuut.
Je betaald geen abonnementskosten en alleen zolang als je bijles duurt. Heb je een korte vraag dan betaal je dus ook minder. Via de videoverbinding kun je elkaar zien dus je kunt leren waar een wanneer jij wilt.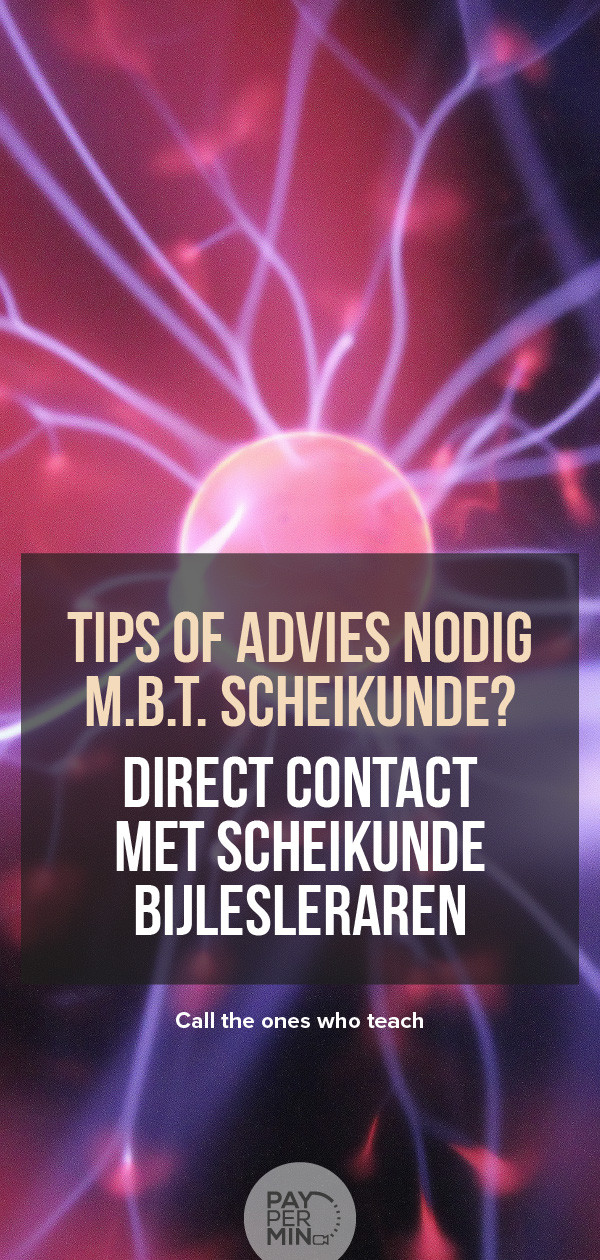 Veel studenten hebben moeite met Scheikunde. Zeker als je meer aanleg voor talen heb of erg creatief bent aangelegd, kunnen exacte vakken zoals Scheikunde lastig zijn. Bijlesleraren kunnen je hierbij helpen. Ze geven tips, adviezen en uitleg in jouw tempo zodat jij leert wat jij wilt weten. Ze kunnen je ook helpen om je voor te bereiden op je examen.
Via CallTheONE krijg je bijles op afstand. Dat scheelt voor jou en de bijlesleraar reistijd en kosten. Bijles via videobellen is daarom een van de goedkoopste manieren van bijles en voor iedereen betaalbaar.
De voordelen van Scheikunde bijles via CallTheONE
Je hebt een ruime keuze uit Scheikundedocenten zodat je altijd wel iemand vindt die je direct kan helpen. Zoek je een man of een vrouw of wil je bijles in een andere taal? Op CallTheONE zijn er bijlesleraren van uit meer dan 80 landen.
Wat kun je verwachten van Scheikunde bijles op CallTheONE?
Bijles in jouw tempo
Bijles wanneer en waar jij wilt
Bijles op jouw wensen afgestemd
Scheikunde bijles via TheONE expert app
Met TheONE expert app heb jij jouw Scheikunde bijlesleraar altijd bij je. Even bellen via de Live videoverbinding, je vraag stellen, antwoord en uitleg krijgen en je kunt weer verder. Dat is het voordeel van betalen per minuut. Je betaalt nooit meer dan nodig.
Geen maandelijkse abonnementskosten of de aanschaf van lesboeken
Bij CallTheONE heb je geen maandelijkse abonnementskosten of inschrijfkosten. Dankzij schermdelen hoef je ook geen dure lesboeken aan te schaffen. Je kijkt gewoon mee op het scherm van je docent. Snel, eenvoudig en zonder bijkomende kosten.
Huiswerkbegeleiding Scheikunde voor elk niveau
Door de hoeveelheid Scheikunde docenten is er altijd iemand beschikbaar die jou op jouw niveau huiswerkbegeleiding kan geven. Bel direct met een van de vele huiswerkbegeleiders die online zijn en ervaar het gemak.