Zoek je hulp op afstand bij IT of Elektronica? Monteurs, engineers, developers en IT specialisten zijn altijd direct beschikbaar via een live video-interactie. Kleine vragen kunnen direct beantwoord worden en grote problemen kunnen makkelijk opgelost worden. Je betaalt per minuut, dus jij beslist of het antwoord je geld waard is.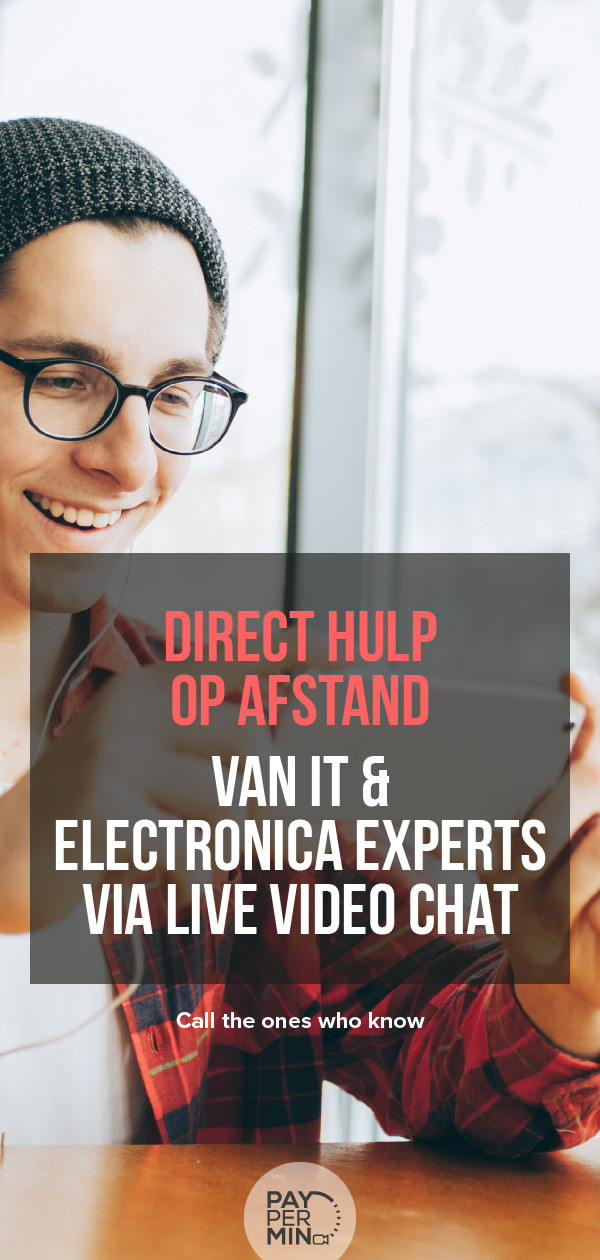 Experts in de IT en Elektronica hebben zich aangemeld om alle vragen te beantwoorden met betrekking tot hun expertise. Zo kun je gemakkelijk, snel en op een voordelige wijze contact hebben met experts welke precies weten hoe ze je het beste kunnen verder helpen. Als TheONE volgens jou niet over de juiste kennis beschikt, kun je direct een andere expert contacteren.
Jij hebt de keuze uit alle experts, Download de app en druk op de "Bel Mij" knop om direct contact te krijgen met TheONE die jij hebt uitgekozen. Zo krijg je direct hulp op afstand en hoef je niet urenlang op zoek te gaan naar het geschikte antwoord op jouw vraag of probleem.
Laat je helpen op afstand door een expert! Waarom?
Snel antwoord op jouw vraag of probleem
Hulp op afstand voor tijd en kostenbesparing!
TheOne's kunnen jou direct voorzien van hulp op afstand
Hulp op afstand voor IT en Electronica? Maak gebruik van de expertise van TheOne
Wil je hulp op afstand omdat je een vraag of een probleem hebt met betrekking op het gebied van IT & Elektronica? Gebruik dan de expertise van TheONE die expert is in zijn vakgebied. Vind de geschikte expert die jou kan helpen bij jouw vraag of probleem. Zo kan je gericht hulp krijgen van een expert die jou hiermee kan helpen op afstand. De experts waar je uit kunt kiezen hebben kennis van informatica tot elektronica met hierbij kennis van de nieuwste technologieën.
Waar gaan TheOne's jou mee verder helpen?
De uitgekozen ONE kun jij contacteren wanneer je vragen of problemen hebt omtrent IT & Elektronica. Dit zijn vrij brede begrippen met verschillende invalshoeken. Hieronder staat kort weergegeven waar je o.a. hulp op afstand voor kunt krijgen:
Hulp rondom ICT gerelateerde zaken
Hulp op afstand bij technische zaken
Hulp bij data, data-analyse en dataverwerking
Hulp bij installatie van software, hardware e.d
Voor vragen over Televisie, PC, mobiele telefoons en andere apparaten
Problemen rondom besturingssystemen MacOS, Linux of Windows
De experts kunnen je daarnaast nog hulp op afstand bieden bij andere mogelijke vragen of problemen. Zoek een The ONE expert door te zoeken op een specifieke hashtag zodat jij direct op afstand geholpen kunt worden.
Pc hulp op afstand nodig? Wacht niet langer! Bel direct!
Een veelvoorkomend probleem is dat mensen vragen of problemen hebben met hun computer, dit is natuurlijk erg logisch, aangezien veel mensen een PC hebben. Heb je een vraag of probleem met jouw pc? Met PC hulp op afstand kun je tijd, moeite en frustratie besparen, The ONE experts met de juiste hashtags kunnen jou hiervan namelijk behoeden. Zoek direct contact op met een expert om zo snel, goedkoop en gemakkelijk antwoord te krijgen op jouw vraag of om jouw probleem op te lossen. Gaat het om een specifiek besturingssysteem op je PC? De experts van TheONE zijn ook in staat om jou hierbij te helpen.
Hulp op afstand bij windows 10
Ben jij op zoek naar windows hulp op afstand? Dan ben je bij TheONE op het juiste adres. Hulp op afstand bij windows 10 kun je namelijk direct krijgen door te drukken op de "Bel Mij" knop bij de expert die hier gespecialiseerd in is. Met de hulp op afstand bij Windows 10 service van The ONE kun je veel sneller en makkelijker jouw vraag beantwoord krijgen, daarnaast hoeft een gesprek niet lang te duren. Zo kan een groot probleem vrij snel opgelost worden met de juiste hulp. Bespaar moeite, tijd en frustratie door direct contact op te nemen met een geschikte TheONE expert.