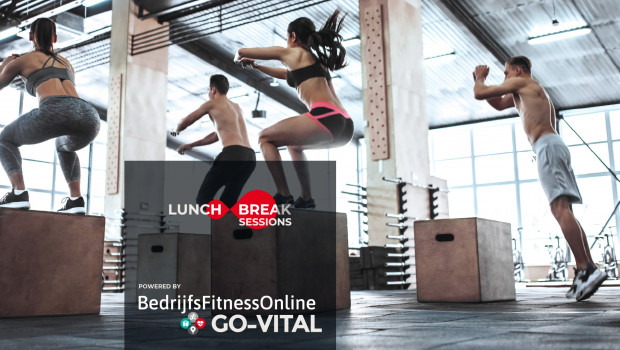 count: inscrites Langue: Dutch
This Online Class has no minimum attendance.
About this class
HIIT staat voor High Intensity Interval Training. Het trainingsprincipe van HIIT is dat je door middel van intervals in een korte tijdsduur een intensieve inspanning levert. Met een HIIT training wissel je intensieve oefeningen af met minder intensieve oefeningen of rust. Deze oefeningen worden met het totale lichaam uitgevoerd (Total-Body) en dit in een combinatie van zowel kracht als hartslag verhogende aspecten. Voordeel van de les is dat je door de trainingsvorm in relatief korte tijd jouw gewenste resultaten kan behalen. De lessen duren 30 min. 
Who is this lesson for
Alle medewerkers die tijdens de lunch zin hebben om te werken aan hun vitaliteit. Aangeboden door BedrijfsFitnessOnline | Go-Vital in samenwerking met SportCity.
What's in it for the attendee.
Een leuke en laagdrempelige online sportles die bij zal dragen aan je vitaliteit.
Why you should follow HIIT online groepsles
Je leert de juiste hoeveelheid kracht, snelheid en coördinatie te gebruiken die nodig is voor efficient sporten.
In 30 minuten een intensieve les om je energieniveau op te krikken, zodat je de rest van de dag goed doorkomt en je met veel energie weer aan de gang kan.
Informations supplémentaires
Kijk snel op https://go-vital.nl/online-lessen en schrijf je snel in voor een van onze volgende gratis online sportlessen.
Leuk dat je met ons meedeed vandaag en we hopen je snel weer te zien om te werken aan je vitaliteit.