Meditatie voor beginners begint op CallTheONE. Verschillende meditatie coaches en goeroes begeleiden jou op afstand om je meditatie techniek te verbeteren. Ze maken gebruik van Live Video Interactie. Hierbij hoef jij je camera niet aan te hebben als ze jou begeleiden. Je betaald de meditatiesessie automatisch per minuut en de eerste minuut is gratis om eerst kennis te maken.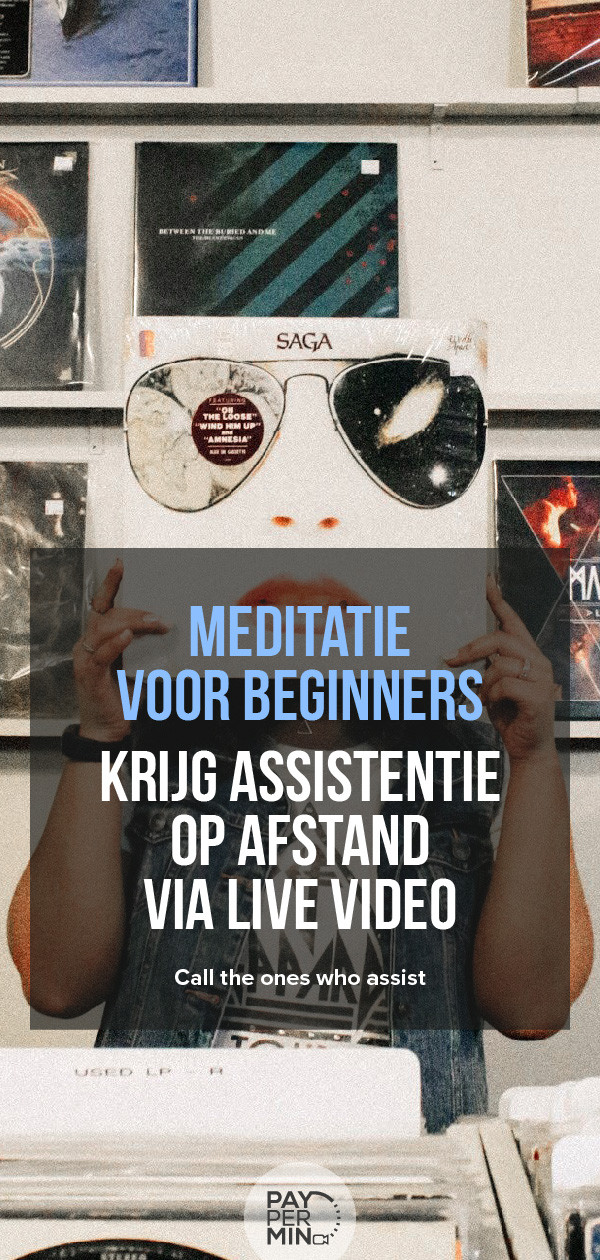 Meditatie heeft vele verschijningsvormen en meditatie kun je lang of kort doen. Men gelooft dat meditatie uit het hindoeïsme en boeddhisme voortkomt, maar dat is onzeker. Bij meditatie wil je lichaam en geest in balans brengen en dat is waarschijnlijk een wens die minsten zo oud is als de mensheid zelf.
Net als geloof en yoga heeft ook meditatie verschillende stromingen die allemaal op TheONE vertegenwoordigd zijn. Voor de een werkt een andere vorm van meditatie beter dan voor een ander.
Waarom is meditatie goed voor iedereen?
Ook al zijn velen het niet eens welke vorm van meditatie het beste werkt, is er wel overeenstemming over de voordelen van frequente meditatie. De bewezen voordelen zijn ten minste:
Een betere bloedcirculatie en lagere bloeddruk
Een lagere hartslag
Minder stress en angst en mentale stabiliteit
Een gevoel van tevredenheid en rust
Meditatie kan per individu nog veel meer voordelen opleveren. Een meditatie coach kan je hier in een persoonlijk gesprek nog veel meer over vertellen.
Waarom meditatie met een coach op afstand via TheONE?
Als meditatie in verschillende vormen als zo oud is als de mensheid dan voegt TheONE daar de laatste technologische ontwikkeling aan toe. Meditatie via Live Video Chat met een meditatie goeroe. Natuurlijk kun je een mooi gecomponeerde YouTube meditatie video opzetten, maar wat doe je met je vragen? En wat als het niet lukt om die rust te vinden waar meditatie voor bedoeld is? Dan is er een meditatiecoach die je direct te woord staat.
Mediteren onder begeleiding heeft ten minste de volgende voordelen
Je kunt persoonlijke stembegeleiding krijgen van een ervaren meditatiegoeroe
Hij of zij let op je houding en ademhaling. Ademhaling is cruciaal bij meditatie!
Binnen korte tijd weet je welke meditatievorm het beste bij je past en kun je het zelf
Je betaald alleen per minuut en dat is goedkoper dan een cursus
Veel gemaakte fouten bij mediteren
Mediteren is eenvoudig en iedereen kan het, maar de media lijkt er een circus van gemaakt te hebben wat je allemaal wel en niet mag en moet doen. Veel voorkomende mispercepties over meditatie zijn:
Je moet je gedachten in bedwang houden!
Dit is compleet het tegenovergestelde van de essentie van meditatie. Laat je gedachten stromen en accepteer dat je ze hebt. Ze mogen er zijn!
Meditatie leer je door de jaren heen.!
Onzin. Meditatie is een moment voor jezelf nemen. Dat kan nu beginnen.
Zonder de juiste ademhaling heeft meditatie geen zin!
Dit is zoiets als: Zonder voetbalschoenen kan ik niet voetballen. Nonsens dus!
Om te mediteren moet ik alleen zijn.!
Het klopt dat sommige mensen snel afgeleid zijn, maar soms is het voor die mensen juist beter om te beginnen met mediteren in een drukke ruimte.
Waarom betalen voor een meditatie coach?
TheONE verplicht je tot niets. Meditatie coaches kunnen je wel meer en beter uitleggen dan een simpel stukje tekst wat meditatie voor jou kan doen en betekenen. Omdat je per minuut betaald weet je zelf wanneer je genoeg informatie hebt en het gesprek wilt beëindigen. Hoe je het ook bekijkt, het is altijd goedkoper dan een meditatie training volgen.