Zelfvertrouwen kun je leren
Vroeg of laat krijgt iedereen wel eens het gevoel dat je niet zeker bent over jezelf. Vinden mensen of vrienden mij of mijn ideeën leuk of niet, kan ik iets wel of juist niet en zo voorts. Hele gezonde vragen omdat het wel heel raar zou zijn als je ineens in een boeing 747 stap met het idee dat je het vliegtuig zomaar kunt besturen. Twijfel over jezelf is gezond mits je het niet overdrijft. Maar wanneer wordt twijfelen over je eigen kunnen een probleem en verlies je jouw zelfvertrouwen?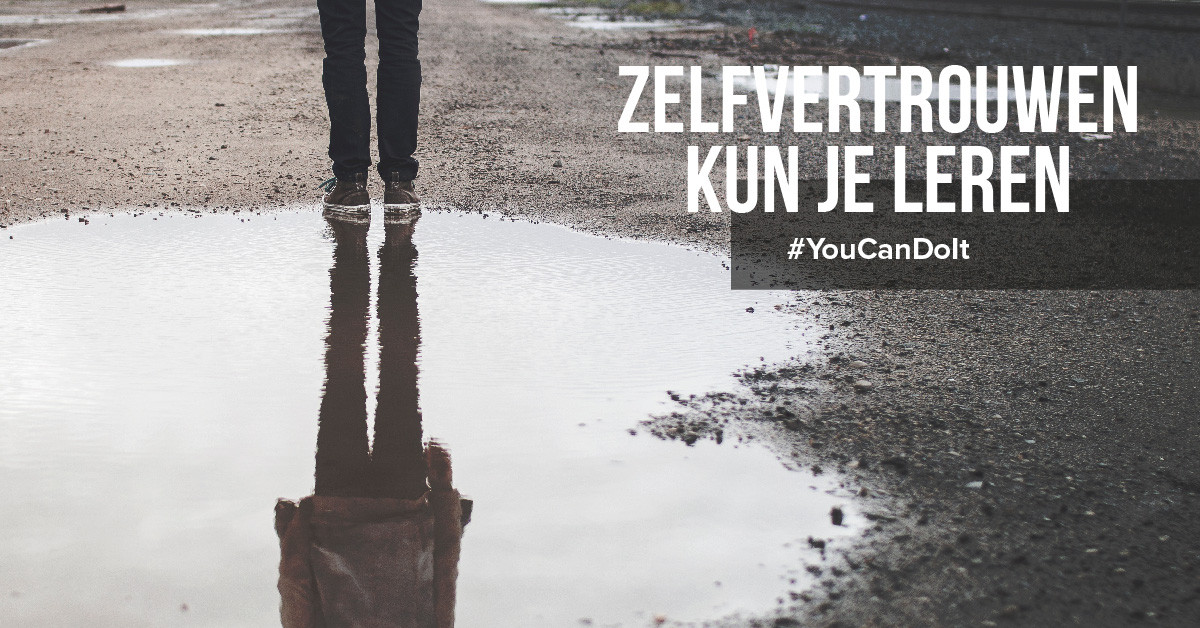 Zelfvertrouwen is te leren
Er is een groot verschil tussen zelfvertrouwen en eigenwaarde. Dat is belangrijk om te beseffen als je gelooft dat je geen zelfvertrouwen hebt. Zelfvertrouwen én eigenwaarde zijn te leren, maar laat ik eerst vertellen wat het verschil tussen eigenwaarde en zelfvertrouwen is.
zelfvertrouwen: Je weet zeker dat je bijvoorbeeld de afwas kunt doen, kunt praten of kunt lopen. Je vertrouwt jezelf onbewust 100% dat het het kunt. Dat is zelfvertrouwen.

eigenwaarde: Dit gaat over de waardering voor jezelf. Waardeer jij hoe je er uit ziet, je loopt, je praat of hoe aardig je naar mensen bent? Mag iemand zoals jij, van jezelf waardering krijgen voor wie je bent in plaats voor wat je allemaal wel en niet kunt? Dat is eigenwaarde.
Zelfvertrouwen kan ook een valkuil zijn
Als je morgen de Mount Everest op wilt lopen zonder voorbereiding omdat jij denkt dat jij dit wel even kunt, ga je dood. Klinkt erg hard, maar het is ook een statistisch feit. Zelfvertrouwen kan namelijk omslaan in overmoed. Dat zou het laatste moeten zijn dat we willen.
Het tegenovergestelde is als we bijvoorbeeld een moeder zijn die van een kind hoort dat je een slechte moeder bent. De extreme situaties dat dit een waarheid is, zijn sporadisch maar menig moeder kan toch gaan twijfelen. Ongeacht of het kind gelijk heeft over de situatie kun je het ook als volgt zien:
Voorbeeld: Je loopt gedurende je hele leven gemiddeld slechts 500 stappen per dag, je bent 30 jaar en hebt dus ongeveer 5.5 miljoen stappen gezet. Maar op een dag struikel je en iemand zegt dat je echt niet kunt lopen. Je bent de slechtste loper allertijden. Je bent immers gestruikeld! Zegt die ene misstap dan iets over hoe jij kunt lopen? Of valt die misstap in het niets bij het enorme aantal stappen dat je al eerder hebt gezet? Hoeveel keer moet je struikelen voordat het een feit wordt dat je echt niet kunt lopen?
Het verlies van zelfvertrouwen oplossen
Door vaak tegen jezelf te vertellen dat je iets toch niet kunt verlies je in veel gevallen uiteindelijk het zelfvertrouwen in de meest kleine dingen. Dit kan ook gebeuren als je partner dit elke dag tegen jou verteld. Op ten duur kun je zelfs gaan geloven dat iedereen in de wereld beter in alles is dan jij. Als jij denkt dat je jouw zelfvertrouwen aan het verliezen bent is de hulp van een life coach of mental coach meer dan raadzaam. Samen onderzoek je of het zelfvertrouwen of eigenwaarde is zodat je daar aan kunt werken. Maar het kan ook een verlaagde weerbaarheid zijn waardoor jij aan jezelf gaat twijfelen. Een coach laat je inzien wat je bedacht hebt en wat op feiten is gebaseerd. Bij TheONE is de eerste minuut contact gratis zodat je eerst even kennis kunt maken. Wees nieuwsgierig en bel...