Want to get in contact with Aldon?
Just try it. You'll receive €5,- try out credits.
And the first minute is always free.
Aldon Plaatjie
Architecture
I'm the ONE I work hard to imprve the loves of those around me
Aldon is available now
donwload the app to call now
My areas of expertise
Local guide: #sightseeing
Wellness: #Alternative
Language: #English Afrikaans
Personal coaching: #career coaching
Arts & crafts: #architecture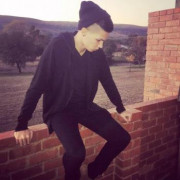 online
$ 17.06 per hour
Aldon Plaatjie
Architecture
Pretoria, South Africa
Local time:
Aldon is available now
my availability
| | | | | |
| --- | --- | --- | --- | --- |
| Every day | 08:00 | - | 17:00 | (UTC+2) |
About me
ive spend much of life mastering the architectural studies field. im currently finishing my 2masters in the field. i believe in the collective and sharing of knowledge to allow for the constant, that is Change.
I'm the ONE I work hard to imprve the loves of those around me
My areas of expertise
Local guide: #sightseeing
Wellness: #Alternative
Language: #English Afrikaans
Personal coaching: #career coaching
Arts & crafts: #architecture