Want to get in contact with Apipanpong?
Just try it. You'll receive €5,- try out credits.
And the first minute is always free.
I'm the ONE from Ko Chang District, Thailand
Apipanpong is available now
donwload the app to call now
My areas of expertise
Local guide: #Koh Chang and Bangkok Thailand
Kitchen & BBQ: #Cooking Thai food
Teaching: #Teaching Thai language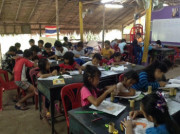 $ 268.96 per hour
Apipanpong Ubonmaung
Ko Chang District, Thailand
Local time:
Apipanpong is available now
my availability
| | | | | |
| --- | --- | --- | --- | --- |
| Sunday | - | | | |
| Monday | 08:00 | - | 18:00 | (UTC+7) |
| Tuesday | 08:00 | - | 18:00 | (UTC+7) |
| Wednesday | 08:00 | - | 18:00 | (UTC+7) |
| Thursday | 08:00 | - | 18:00 | (UTC+7) |
| Friday | 08:00 | - | 18:00 | (UTC+7) |
| Saturday | - | | | |
About me
I am Apipanpong Ubonmaung, for almost 10 years the principal of the Cambodian Kids Care Center in Koh Chang. We provide a safe, nurturing environment, food and schooling to 50 children on Koh Chang, Thailand

Cambodians Kids Care goal is to give these children free education for a better tomorrow. A hand up, not a hand out. Our costs are minimal, but we do need help from generous people like you to continue this valuable work. Our school is a non profit organization and receives no support from the state but survives on contributions from visiting tourists and other people out of good will to support the children's needs and running costs.

For donations you can call me (use the button call me now or send a request) and you can donate by the minute that I show you around with live video at the Kids Centre or anywhere on the island.

For donations by bank please kindly transfer your contributions to the below bank account.

Bank: Bangkok Bank
Branch: Koh Chang Trat Branch
Address:
9/8/1 Moo 4, Koh Chang District
Trat Province 23170 Thailand
Swift Code: BKKBTHBK
Account Name: Studybuddies Foundation Koh Chang
Account No: 741-002548-5


Background information:
Cambodian workers make up something like 70% of the service and construction workers on the beautiful island of Koh Chang, Thailand. Some of these workers do not yet have their work papers and this means that their children cannot attend Thai schools. Without CKC, children aged 4 - 16 years are left in the tin and plastic-sheet huts they call home for up to 10 hours alone or taken along to construction sites or other dangerous work places. CKC transport these children to and from school, we feed them a hot meal every day and we give them a chance to break the poverty cycle by giving them an education.
I'm the ONE from Ko Chang District, Thailand
My areas of expertise
Local guide: #Koh Chang and Bangkok Thailand
Kitchen & BBQ: #Cooking Thai food
Teaching: #Teaching Thai language