Gerard Way se suma a la lista de Speakers en el festival Emerge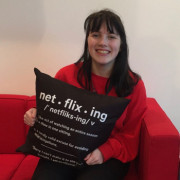 22-05-2019
lectura en 4 min
Gerard Way ha sido añadido recientemente a la lista de Speakers para el festival Las Vegas Emerge.
Lo ha anunciado hoy en su Instagram.
El festival celebra "La intersección de la justicia social, el arte y la música".
El festival tiene lugar el 31 de mayo y el 1 de junio en el Hard Rock Hotel de Las Vegas.
Las entradas para el evento ya están a la venta.
Echa un vistazo al anuncio de Gerard Way en el post de Instagram a continuación y háganos saber su opinión sobre los medios de comunicación social o calificando este artículo a continuación.
Artículos relacionados
Artículos populares
Mostrar más
Contacto instantáneo con Músicos & cantantes
Student and Writer
Yo soy The ONE
who's passionate about music, writing, and dance.
Retail
Yo soy The ONE
who goes to every concert I can.
Music-based Writer
Yo soy The ONE
who is always there to share an enthusiasm for music and living in the moment.
📖
Yo soy The ONE
who wants to make living easy for others
Medical Receptionist
Yo soy The ONE
from Oahu Hawaii