Want to get in contact with Hanna?
Just try it. You'll receive €5,- try out credits.
And the first minute is always free.
I'm the ONE who will fly your language skills to another level.
Hanna is available now
donwload the app to call now
My areas of expertise
Teaching: #english #Literature #culture
Language: #Englisch #english #italian #Russian #Polish #Ukrainian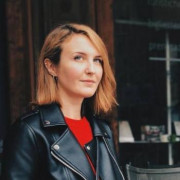 $ 5.57 per hour
Hanna Barabakh
Metropolitan City of Milan, Italy
Local time:
Hanna is available now
my availability
| | | | | |
| --- | --- | --- | --- | --- |
| Every day | 08:00 | - | 21:00 | (UTC+2) |
video_hd

connection_3g

connection_4g
About me
Hey there,
I'm a diplomaed language teacher, social activist and certified intercultural facilitator from Lviv, Ukraine. There is an enormous number of things in life that are interesting to me, among my favourite areas are art, literature, philosophy, society and travelling. I'm a huge fan of music, cinematography and theatre as well: so in case there's any concert, exciting film or performance in town - people know where to find me.
Once Henry Miller, an American writer, said: "To make living itself an art, that is the goal". Since I've discovered the quote, I started living by it: learning, thinking and creating.
Here to teach you languages and expand your horizons: English, Italian, Polish, Russian, Ukrainian - choose any, and feel free to call me!
I'm the ONE who will fly your language skills to another level.
My areas of expertise
Teaching: #english #Literature #culture
Language: #Englisch #english #italian #Russian #Polish #Ukrainian
video_hd

connection_3g

connection_4g