Want to get in contact with Nahomy?
Just try it. You'll receive €5,- try out credits.
And the first minute is always free.
Nahomy Delpino
nutricionista
I'm the ONE what you want you have it / lo que quieres lo tienes.
Nahomy is available now
donwload the app to call now
My areas of expertise
Local guide: #Miramar florida
Beauty & Health: #tutallanomidetubelleza #organic #Amorpropio #Macronutriments #Health #healthy body and mind #Love life #Fitness Motivation
Food/health: #Healthy alternatives #Healthy foods #organic sport food #Vegan diet
Language: #Spanish #English #Swedish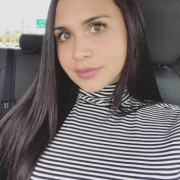 online
$ 50.00 per hour
Nahomy Delpino
nutricionista
Miami-Dade County, United States
Local time:
Nahomy is available now
my availability
| | | | | |
| --- | --- | --- | --- | --- |
| Sunday | - | | | |
| Monday | 08:00 | - | 20:30 | (UTC-4) |
| Tuesday | 08:00 | - | 21:00 | (UTC-4) |
| Wednesday | 08:00 | - | 21:00 | (UTC-4) |
| Thursday | 08:00 | - | 21:00 | (UTC-4) |
| Friday | 08:00 | - | 21:00 | (UTC-4) |
| Saturday | - | | | |
About me
durante toda mi vida tuve problemas con el sobrepeso. haciendo millones de dietas, probe miles de opciones para poder adelgazar. me mataba de hambre y luego venian nuevamente los atracones; este proceso en mi fue probablemente en gran parte de la adolescencia.

de tantos intentos y fracasos llegue a mi peso ideal, el dia que entendi que primero debo amarme en cualquier presentacion y condicion.

estudie nutricion y es como hoy en dia me encuentro en un cuerpo saludable y una condicion fisica que me hace feliz!. en donde me permito comer lo que quiera cuando quiera sin lamentarme o sentir culpa. solo hay que saber como hacerlo.

yo te voy a ayudar con planes alimenticios de acuerdo a tu ritmo de vida.

inglish tradution

During my whole life I had problems with being overweight. making millions of diets, try thousands of options to lose weight. I was starving and then binge eating again; this process in me was probably largely adolescent.

of so many attempts and failures I reach my ideal weight, the day I understood that first I must love myself in any presentation and condition.

I studied nutrition and it is like today I am in a healthy body and a physical condition that makes me happy !. where I allow myself to eat whatever I want whenever I want without regretting or feeling guilty. you just have to know how to do it.

I am going to help you with food plans according to your rhythm of life.
I'm the ONE what you want you have it / lo que quieres lo tienes.
My areas of expertise
Local guide: #Miramar florida
Beauty & Health: #tutallanomidetubelleza #organic #Amorpropio #Macronutriments #Health #healthy body and mind #Love life #Fitness Motivation
Food/health: #Healthy alternatives #Healthy foods #organic sport food #Vegan diet
Language: #Spanish #English #Swedish