Comprehensive Technical SEO Audit with SE Ranking
When promoting a website, you have to be sure that all the technical aspects are taken care of and nothing is stopping you from getting attention in the search. Sometimes valuable web pages are accidentally blocked from crawling, your content gets duplicated, or redirect chains slow down the loading process—these issues, along with many others, can be the reasons why a website doesn't get the attention it deserves.
To avoid critical problems, you should regularly check your website against major technical parameters and identify the areas that need to be improved or immediately fixed. Using an SEO website audit tool by SE Ranking is one of the ways to make this task easier because it divides the technical issues it finds by category and severity, shows tips on how to fix them, and allows for automatic report scheduling.
In this post, we'll explain how to conduct an in-depth site audit with the help of SE Ranking. Before we dive into the process, let's say a few words about why it's so important for a healthy SEO strategy.
What is a website audit and why do you need it
A site audit is a checkup of all the factors that affect how visitors interact with the site's pages and how search engines perceive them. An audit can differ in complexity and number of metrics, but it always pursues the same goal—checking a website against technical SEO parameters and analyzing what weak spots damage, or might damage, search visibility, and user experience.
Without regular technical audits, you're rolling the dice and depriving yourself of valuable insights about how your website is doing in terms of loading speed, security, HTML tags, code files, and other SEO aspects.
With a helpful website audit tool, you can:
identify problems before they inflict ranking and traffic losses
learn about the most vulnerable areas to focus on
easily compare the results and control how the issues get fixed
generate reports to share with colleagues or clients
Now that you know how fundamental a site's health checkup is, let's see how you can audit a website in SE Ranking.
How to run a comprehensive website audit in SE Ranking
SE Ranking's technical audit tool is packed with data—it analyzes 110 parameters across 19 categories, visualizes the findings, and allows you to set custom preferences about what issues and pages to check. Let's see how it works.
1. Launching a website audit in SE Ranking
You can analyze any website right after you create a project in SE Ranking: if you enable the Website Audit option at the set-up step, the tool will run automatically. Or, you can select an existing project, then go to the Website Audit section, and start the analysis manually. While crawling your site's pages, the tool will show the progress bar, and when it's done, you'll receive a report via email.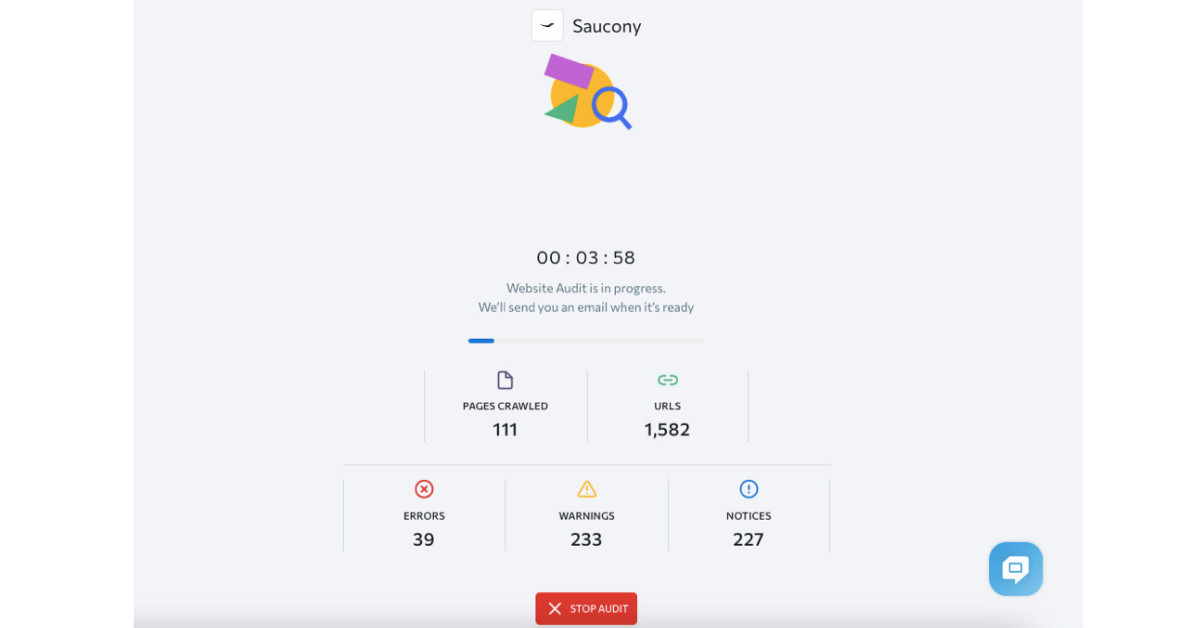 2. Analyzing site's general health score
Before showing you detailed information on issues that have been identified, the Website Audit tool provides you with an overview of your site's health:
It calculates the health score taking into account the number of problems and their severity (having plenty of minor issues is better than having several critical issues).
It shows the top-5 most common issues and their distribution by category. You can also see how many notices, warnings, and errors were found in each category to set priorities on what to fix first.
It shows the Core Web Vitals score for desktop and mobile. These metrics, which are fundamental for user experience, are conveniently visualized in bars colored by performance level.
Other important statistics presented in Overview include the number of indexed and non-indexed pages, link attribute values, directives of the meta robots tag, HTTP status codes, and server response time.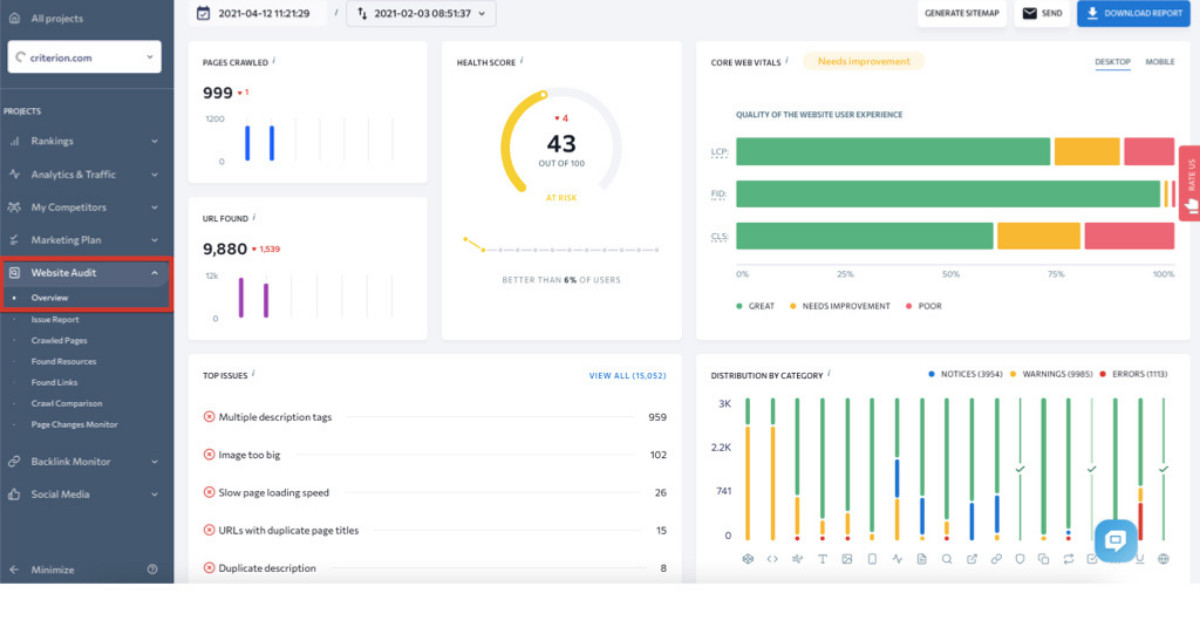 Note that most lists and graphs are clickable: you can get transferred to a more detailed analysis of a parameter you're interested in.
3. Getting into details of technical issues
When you get an idea of the problems your website suffers from, it's time to dig deeper into those problems and develop a plan to fix them. In SE Ranking's Website Audit, the Issue Report section provides full disclosure of various issues, pages where they were detected, and actions you need to take.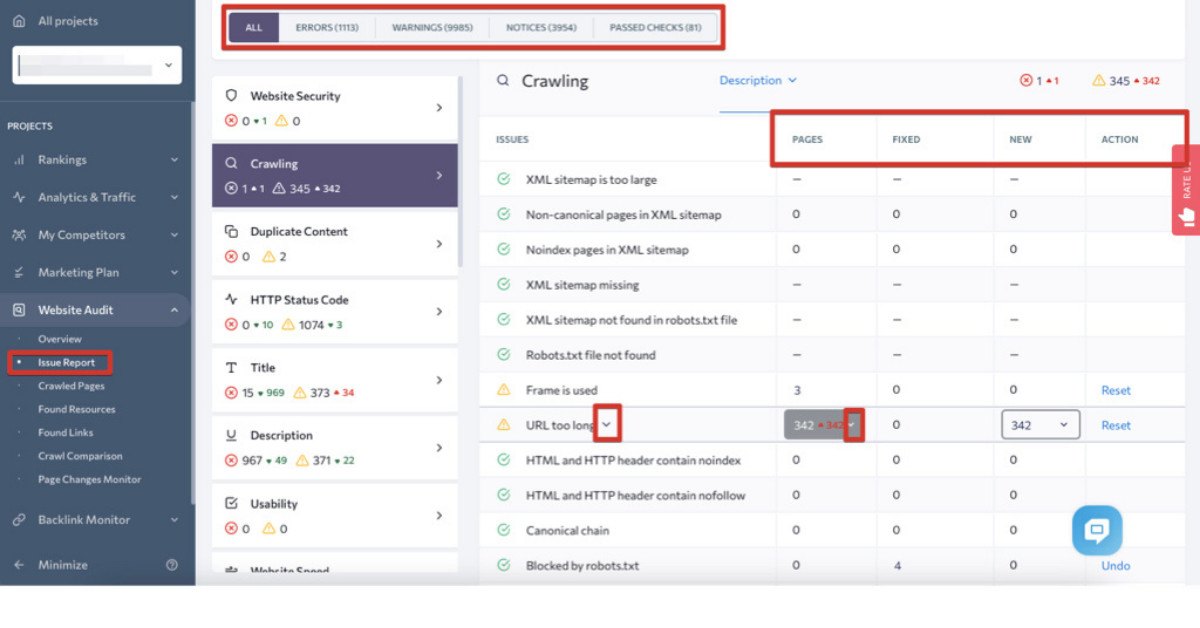 Here, you have 19 categories, each related to a particular SEO aspect and containing a list of issues. Below the table, you'll see types of problems and can filter the data by issue severity. Passed checks indicate the areas that don't have any problems, notices require minor improvements, warnings tell about more harmful issues, and errors need the most urgent attention.
The issue report also shows you a full list of pages where each problem was identified, as well as your progress (the number of fixed pages and newly found issues).
When you click on the name of an issue, you'll see its description and a short recommendation on how to fix it. And when you click on the number in the Pages column, you'll explore the list of URLs with a particular problem: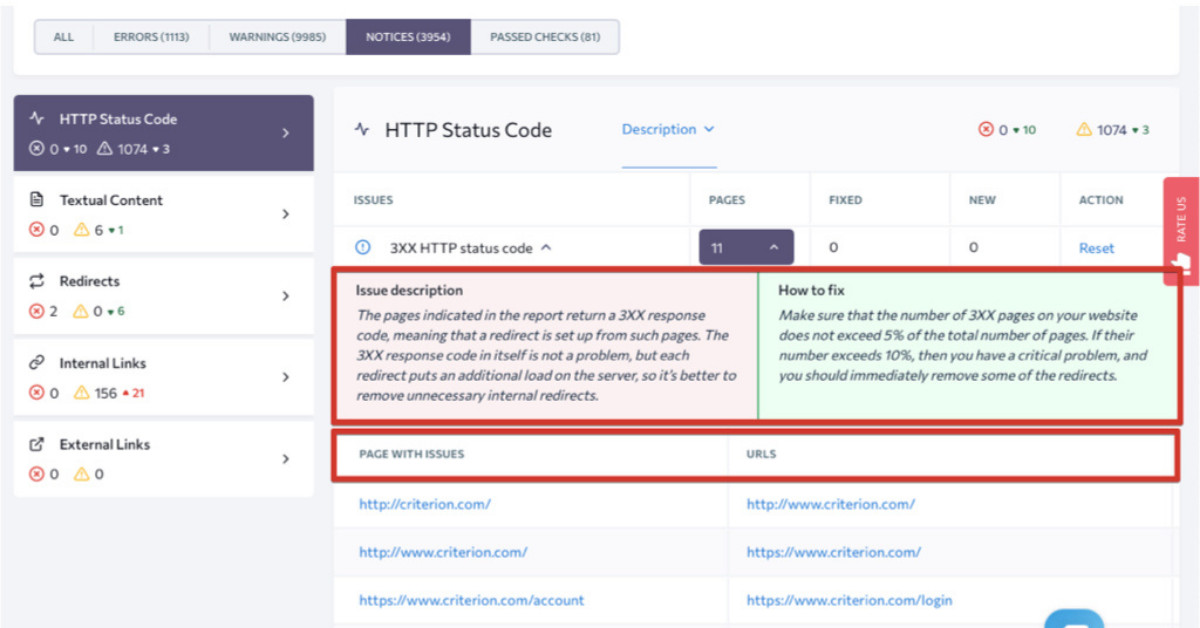 Here are a few examples of issues you can detect and track with the help of this technical audit tool:
Security. It's crucial to check if your website still has some content loaded via HTTP instead of HTTPS, or your TLS certificate uses outdated encryption or is about to expire.
Loading speed. Besides Core Web Vitals metrics, you can check which pages contain uncompressed content or are too big in size.
Crawling. Learn if everything is correct in your sitemap, robots.txt file, directives for X-Robots-Tag, etc.
Links. Monitor if your pages have internal links pointing to them, and whether those links are nofollowed and have appropriate anchor texts.
Localization. If you work on a multilingual site, you need to make sure the hreflang attribute is used correctly on each page version.
Content and tags. The tool also informs you about missing header tags, duplicate title and description tags, and other aspects.
In the Crawled Pages section, you can view audit results by page. Choose what columns you want to be displayed and set filters for narrowing your analysis. For instance, you can filter your redirects to see if there are no redirect chains or if a permanent redirect is set as a temporary one.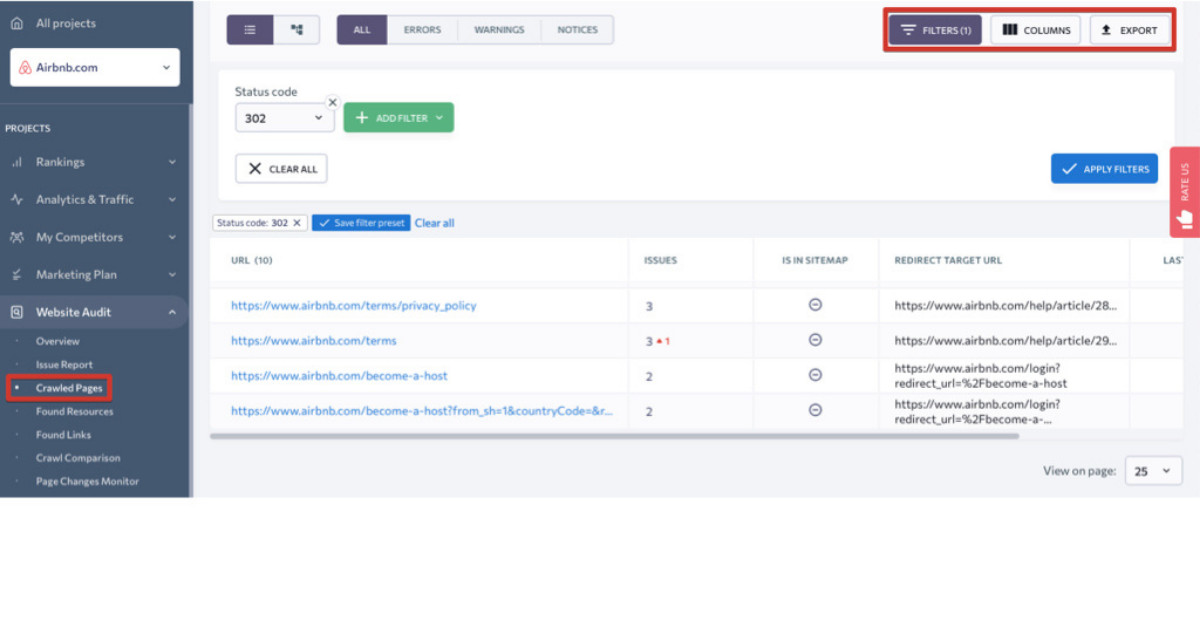 The tool also allows you to check all found links (by status code, anchor, attribute values, and other parameters), and all found resources (images and JavaScript or CSS files). These sections will come in handy when you need to check your links or files in detail—for example, to make sure that there aren't any resources blocking page loading time, orany important links blocked from crawling.
4. Comparing several site audits
Identifying technical problems on your website is one thing, but solving issues and tracking the progress is an entirely different thing. If you run website audits regularly, you'll have all the data at your disposal to control how the issues are fixed and synchronize these processes with ranking checks to see what brings you real improvements.
SE Ranking's Website Audit features the Crawl Comparison section where you can see a detailed breakdown of any two audits. It gives an overview of how many issues were fixed and then shows the results of all parameters.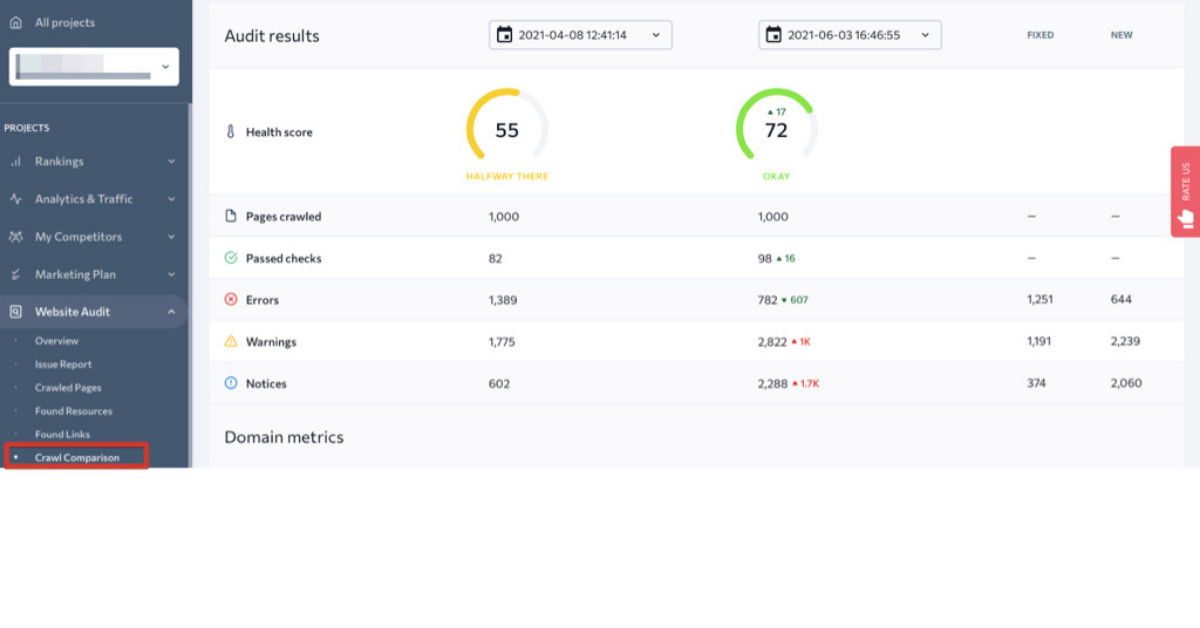 Audit comparison is helpful for both internal and external processes. You can keep track of the situation, spot newly detected issues before they harm your website, and remind colleagues about fixing that needs to be done. Additionally, you can show the results to your clients so that they understand if the website is moving in the right direction.
5. Monitoring changes on web pages
Besides checking your website against major SEO parameters, you might also want to track changes made to some of your most important pages. SE Ranking's Page Changes Monitor allows you to add pages, see the change log, and notifies you about any page edits.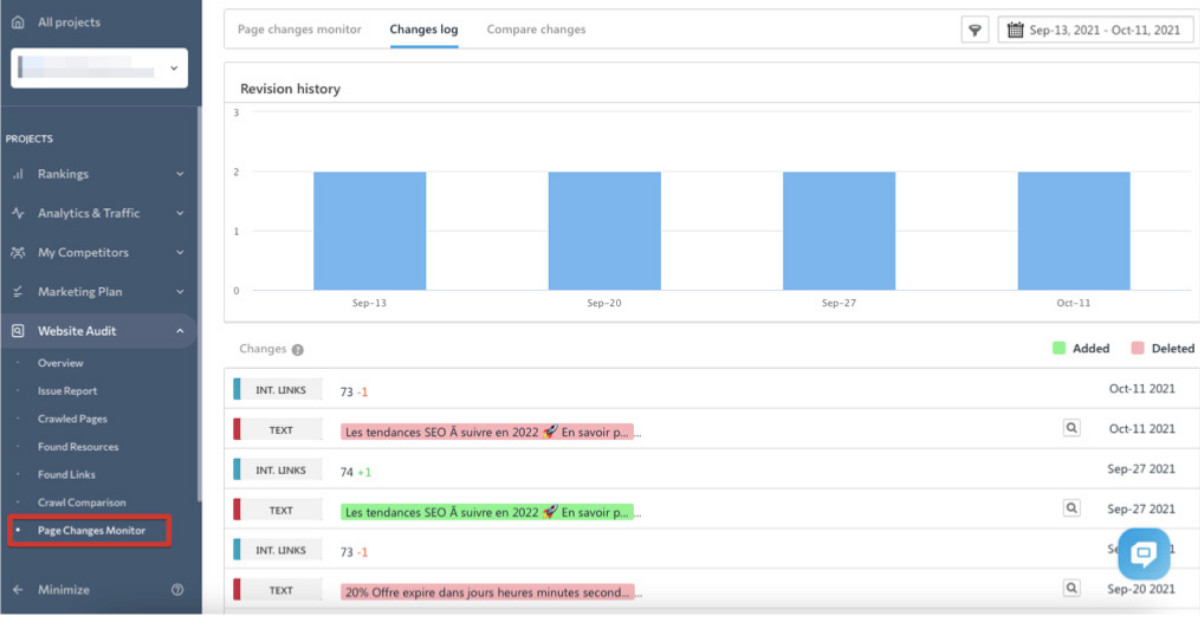 Monitoring changes on a page will help you eliminate mistakes. Someone with access to your pages might remove the target keyword or change title or description tags—if you don't spot this on time, it might negatively affect your rankings. Plus, you can add a competitor site and monitor how they work with their key pages.
The tool checks page content, tags, indexing status, link modifications, and the robots.txt file. It also helps prevent hacking attacks as it detects any malicious code changes.
To sum up
To perform well in the SEO game, you need to regularly audit your website and make sure there aren't any technical parameters that sabotage its performance. Complex site analysis tools are a godsend: they will help you keep up with your strategy by identifying all the problems, notifying you about them, and guiding you through how to fix them.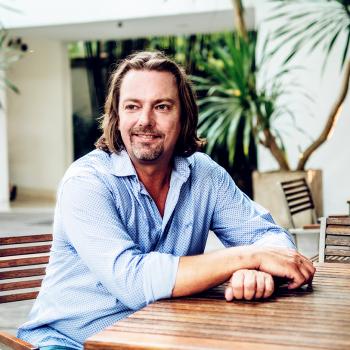 Ben Steenstra
05-11-2021 8 mins read
Related articles
Show more
Related Marketers
Jose Pallas

Digital strategist

€ 0,37 pm

Izrrael Sandrea

Digital Marketing

€ 2,00 pm

Van Koenig Tatari

Ecommerce Specialist

€ 0,33 pm

Harrie van der Lubbe

Creative Developer

Free

Jose W.

Digital marketing

€ 2,50 pm

Rick De Vlieger

Online marketeer

€ 2,83 pm
Show more