online
€ 1,42 pm
Marcela Cmarkova
LifestyleCoaching
Denver County, United States
Local time:
Marcela is available now
English Proficient
Hungarian Conversational
Dutch Proficient
Slovak Native

my availability
| | | | | |
| --- | --- | --- | --- | --- |
| Sunday | - | | | |
| Monday | 08:00 | - | 18:00 | (UTC-7) |
| Tuesday | 08:00 | - | 18:00 | (UTC-7) |
| Wednesday | 08:00 | - | 18:00 | (UTC-7) |
| Thursday | 08:00 | - | 18:00 | (UTC-7) |
| Friday | 08:00 | - | 18:00 | (UTC-7) |
| Saturday | - | | | |
I'm the ONE to transform your body and mind"
My introduction offer:
first 15 minutes for free
15 minutes left
My areas of expertise
Local people

Sports & fitness trainers

Fitness Motivation
Fitness support
Fitness Trainer
Weight loss
quickworkout
clean eating
Consistency
bodyweightconditioning
Weightlifting
motivation
mind muscle connection
dietfree
active lifestyle
fat burning
Health
junk food
personal fitness trainer
Injury prevention
Easy training
Calisthenics
vitality

Food & health trainers

balanced nutrition
weight management
Meal plan
meal prep
diet plan
Sustainability
fit lifestyle
Fat Loss
Gym diet
Healthy lifestyle
Lifestyle vs diet
Exercise
Recipes
You are what you eat
Intermittent Fasting
balance
carbs

Life coaches

abusive relationships
Body positivity
Communication
positive mindset
Mindfulness
Love yourself coaching

Yoga & meditation teachers

Positive thinking
awareness
awakening
balance
Food habits
Healthy body
Healthy mind
Wellbeing
self love
Self care
Peaceful mindset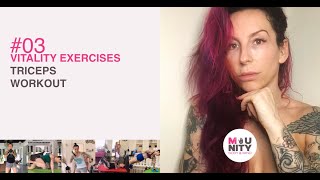 About me
"Don't be upset with the results you don't get from the things you don't do" - ShaunT-

Yes! Nowadays we are blasted with perfect insta-pictures of chiseled and lean bodies. We all want to look just like them, but what we don't realize is that the majority of those pictures are photoshopped or otherwise enhanced. They are not REAL.

I understand the desire to look a certain way. And I also understand the frustration when you keep failing in achieving that look. After weeks or months of pure torture, you give up and you go back to your old lifestyle. And every time you fail, it is getting harder and harder to start again. Because you know you are going to fail. I've been there as well.

You need to find a sustainable lifestyle. Once you find that, you will never have to worry about dieting or punishing yourself for eating too much ever again!

I'm a busy mom of 2 girls and 3 furry babies and I teach my clients how they can easily adapt to a healthy, sustainable lifestyle.
I'm an HR Professional, Personal Trainer and Vitality Coach. I've been in the fitness and wellness industry for 20 years (next to my HR job). I understand human behaviour, I understand you.

Leaving my HR career behind and focusing full-time on physical and mental health 10 years ago was one of my best decisions ever!

I'm on a mission to create a world where people are striving for physical and mental health instead of chasing a picture of so-called 'beauty standards'.
Happiness, vitality, health, resilient mind - it's a FEELING, not the way you look.

Mental and physical health is the fundament for inner peace and happiness. My passion and mission is to help you to transform your body, mind and your inner state.

I strive to teach people that "healthy" isn't expensive or complicated.
I strive to teach people that healthy means 'having a healthy mindset and healthy body!'
I strive to teach people to be MORE human and less perfect.

So what can I do for you?

1-on-1 sessions with:
Personalized workout plans that fits your lifestyle
Small changes in your eating habits (no diets, no deprivation, no starvation, no supplements - just normal food you eat every day slightly adjusted)
Identify and overcome your challenges and motivate you to stay committed, positive and consistent
Make you more resilient against life challenges and changes

What do you get?
A healthy, vital and resilient mind and body that can face any challenges, obstacles or changes you might face.

When would you like to start?
Latest Articles