Thomas Cook or Thomas Crook?
After 178 years, travel agency Thomas Cook went bankrupt. According to the experts and the recent management, it was due to everything. The weather, the investors who recently invested over 800 million, the competition, the legacy, and so on. It's due to everything but the mismanagement of the entire management. Why is that? Because they did everything by the book precisely as it should be. Or was that exactly what they shouldn't have done in this disruptive market?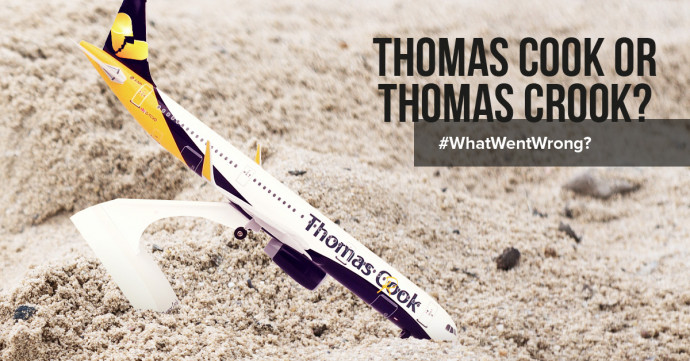 Less than four weeks ago, I was talking to the former Nordic director of sales of Thomas Cook. I was surprised that the company was still alive, because who would walk into an old-fashioned physical travel agency to book a trip? He told me that the travel industry is very conservative and that it takes some time for them to realize that change is needed.
By now, it is already too late to change, and hundreds of thousands of travelers, 21,000 employees, and a multitude of suppliers are severely unlucky. Too bad, after 178 years, the curtain has fallen for the once so innovative Thomas Cook. Or should we call them Thomas Crook from now on?
A money-guzzling dinosaur
The dinosaur Thomas Cook has been doing poorly for years. In 2011, with a debt of 2 billion pounds, they managed to prevent bankruptcy by issuing new shares for almost 500 million pounds and by taking out a loan with a consortium of banks. A few years later, the debt had been reduced by only 400 million pounds, and so they still had the same problem.

With the arrival of the new CEO Mr. Fankhauser in 2014, the tide should turn. The fact that he was rewarded with 8.3 million pounds until last month and that more than 20 million pounds were paid at the full management, is seen as the most normal thing in the world. After all, what is a few million if you have a debt of a few billion?
The focus was not on salary standardization, but on reducing costs and raising new capital with the help of their largest shareholder from China called Fosun. Last August, they managed to raise a sloppy £800 million to invest in the ailing Thomas Cook. Unfortunately, only four weeks later, this turned out to be insufficient, and they needed to beg for another £200 million. When nobody wanted to invest that money, the current investors and opposing banks were blamed, and the curtain fell for Thomas Cook.
Is there anything to blame on the management of Thomas Cook?
Can the board of directors be blamed for something, or were they indeed external circumstances that prevented Thomas Cook from surviving? We're not talking about whether it's ethical for a CEO to claim more than a million dollars a year for this breach of performance. It's about whether they've done the right things to prevent this misery.

I see the following picture in front of me: Several tailor-made suits are sitting around the table while their private drivers start their lunch in the garage. One tailor-made suit emphasizes the seriousness of the situation, which is confirmed by another tailor-made suit. "Drastic action is needed if we are to survive", says one of the tailor-made suits. "We have to create a new reorganization plan, and we have to do it right away!" one of the tailor-made suits roars while the third bottle of Dom Perignon is pulled open.
The decision is made, and even before the private drivers drop them off at home, a memo has already been sent out to close dozens of the more than 550 branches of Thomas Cook. In the months that followed, several firing rounds followed here and there, and each supplier was persuaded to halve the already low margin to be reduced to a minimum.
In the subsequent meetings of tailor-made suits, one of them dares to suggest that their bonuses might have to be raised a little, because thanks to their resolute action, there is a rising trend in the company again. There is indeed a trend from a lot of losses to a little less of a lot of losses, but the trend is there. The rest of the tailor-made suits think it's still too early to explain this to their shareholders and employees and vote against. They just have to deal with the million this year.
Where did it go wrong with Thomas Cook?
Thomas Cook was a company with a turnover of more than £10 billion that served more than 19 million customers. They had a world-famous name and access to the world's largest investors that they favored. With 21,000 employees, they also had access to one of the largest think tanks for travel industry innovation and inspiration. Imagine if the Airbnb boys were in charge of Thomas Cook in their early years. Would they have talked about cutting costs or would they innovate the business?

In 2014, a devastating report on Thomas Cook was written by employee Mr. Green. He stated that every company in crisis meets the following criteria, including Thomas Cook:
No focus on the online business and a shitty online customer experience
No omnichannel experience
No knowledge of digital media within the board of directors
No culture of digitization within the company
A silo approach that makes a digital strategy almost impossible to implement
This was in 2014, and what have the gentlemen achieved here? Nothing! If with all your capital, knowledge, skills, and network, you are not able to work on the above criteria with a salary of more than one million dollars per year in 4 years' time, then you are a crook. Then you are literally robbing people from their jobs.
But even if they had worked on the above points, it probably wouldn't have been enough. For that, they had been lacking behind for too long. Other competitors were way ahead of them, and if you're going to do the same, it's hard to catch up with the competition.
What should Thomas Cook have done?
What Thomas Cook should have done is radically change course. If your old business model doesn't work anymore, it's time for something radically new. In a radically changing disruptive market, there is a need for revolutionary ideas, instead of reducing costs with micromanagement and sub-optimization.

Thomas Cook had all the cards to come up with the most disruptive idea and even wipe Airbnb off the map, but they did nothing. Google for trends, check the newspapers or ask any employee to get inspiration for innovation. But they did nothing radical. In recent years, Thomas Cook has only been busy reorganizing and cutting costs rather than to innovate.
The destruction of Thomas Cook's capital
Statistically, there should have been a few people among the staff who had a life-saving idea. With more than 21,000 skilled employees, a few of these life-saving ideas must have reached the boardroom. But the board members were not entrepreneurs and not focussed on something new. They were not innovators and certainly not pioneers.

They followed the book, and the books they studied in 1960 teaches that in times of crisis, you have to make cutbacks. Just leave everything as it is and wait until the tide returns. Unfortunately, the books of generation 2019 show something completely different. Namely: Those who do not innovate in a disruptive way will die. And if you are dying, cutting costs is at most a postponement of execution.
Every day, thousands of people pitch their innovative business plans to hundreds and maybe even thousands of investors. 99.9% receive a 'no' on request. If Thomas Cook's tailor-made suits hadn't been able to embrace ideas from their own employees and partners, they could at least have made a contest for the best idea within the travel industry. I'm sure there would have been someone within their 19 million customers who had the golden egg in his hands, but not the opportunities and access to knowledge and investment capital that Thomas Cook used to have.
By not using the creativity of their employees, customers, their vast network and capital providers, the management has destroyed capital. To pay yourself over a million dollars a year, while killing one of the most innovative companies. That's what you call Thomas Crooks, who hopefully will never get back to work and perhaps even have to go to jail.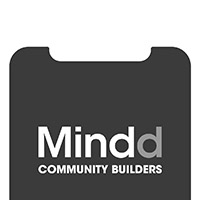 Mindd
30-09-2019 8 mins read
Related articles
Show more
23 business coaches and mentors available
Robyn Keet

Business Strategist

€ 0,44 pm

Mahmoud Zaitoun

Banking, Investments

€ 0,05 pm
Show more