Local Guides in Koh Chang
Koh Chang is a Thai island in the Gulf of Thailand, near the Cambodian border. The island will always have a warm place in our hearts because this is where the first idea about TheONE was born. One of our founders has been visiting this beautiful island since 2001 and knows all the ins and outs.
Are you looking for a quiet holiday destination where you can choose from great luxury, a backpacker's cabin on the beach, or an overnight stay in a tent on a small uninhabited island? In that case, Koh Chang is the place where you want to be.
For more information, you can contact a local guide on Koh Chang via TheONE. You can call via live video interaction, so you can have a look via the camera of their Smartphone and explore the beautiful island from a distance.
Koh Chang | Unspoiled nature
The first thing you notice about Koh Chang when you arrive with one of the ferries are the colossal mountains of almost 1 kilometer high. Chang means Elephant in Thai and from a certain angle seen from the sea, you could see the silhouette of an elephant's back.
Once on the island, you will be immediately overwhelmed by the unspoiled nature. The steep and winding mountain road immediately gives you a beautiful view over nature and you imagine yourself in an undiscovered jungle.
Many tourists choose to go hiking on Koh Chang, but it is strongly recommended to do this always under the guidance of a local guide. Several times people have been lost for days and have only just been found in time by the rescue team.
More than 52 islands around Koh Chang
Koh Chang is part of a protected nature reserve with more than 52 islands. Only a few islands are inhabited. Koh Kood and Koh Mak are the two largest islands after Koh Chang. These can be reached by ferry or speedboat.
Koh Chang | Something for everyone
After arriving by Ferry you can turn left to the north-east side of the island or right to the south-west side. Most of the tourists choose the south-west side because that's where most of the villages are located and you can see the sunset.
The north-east side is a lot cheaper to stay and much quieter. Most resorts have a swimming pool and there are several smaller and larger waterfalls within walking distance to visit.
White Sand
On the south-west side, real tourism begins in White Sand. Over the years it has been filled with resorts and hotels and the wide beach sometimes offers just enough space for everyone. In White Sand, you'll find the most - modern - shops, the private hospital, and the largest collection of bars.
White Sand hotel recommendations:
Koh Chang Hut A small hotel with balconies overlooking the sea. Clean, tidy, and simply furnished but close to the beach.
Klong Prao
A few kilometers further than White Sand lies Klong Prao. The beach is considered one of the most beautiful beaches of Koh Chang. It is quiet and you can walk far into the sea without encountering rocks or stones.
There are a few luxury resorts that are interspersed with idyllic wooden huts that can be rented for little money. Do not expect running water, a shower, or toilet in these huts. Klong Prao also has the largest temple on the island.
Klong Prao hotel recommendations
Santhiya Tree Koh Chang Resort Luxurious and directly by the sea. Spacious rooms, some directly on one of the several pools. The hotel is located a few kilometers from the main road, so a moped or taxi is usually desired.
The Dewa Beautiful spacious rooms around the pool and some private with perfect service. This hotel is luxurious and modern and fully equipped.
Kai Bae
The next village is Kai Bae. In recent years some very luxurious hotels have been built here as well. This attracts the more tranquil tourist who likes to spend the whole day on a bed at the pool or beach to read a book.
Kai Bae hotel recommendations
Garden resort A cozy and affordable resort with a swimming pool and spacious rooms within walking distance of the sea.
Gaya Puri One of the more beautiful hotels on Koh Chang with two swimming pools and direct access to the sea. Very spacious luxury rooms, some with a private pool. Excellent service.
AWA One of the more luxurious and modern hotels on Koh Chang with a very long pool. Located by the sea, this is a fine hotel to escape the hustle and bustle.
If you are in Kai Bae it is also worth visiting Cabana for a swim in the pool or a special sunset. You can also enjoy lunch and chill out.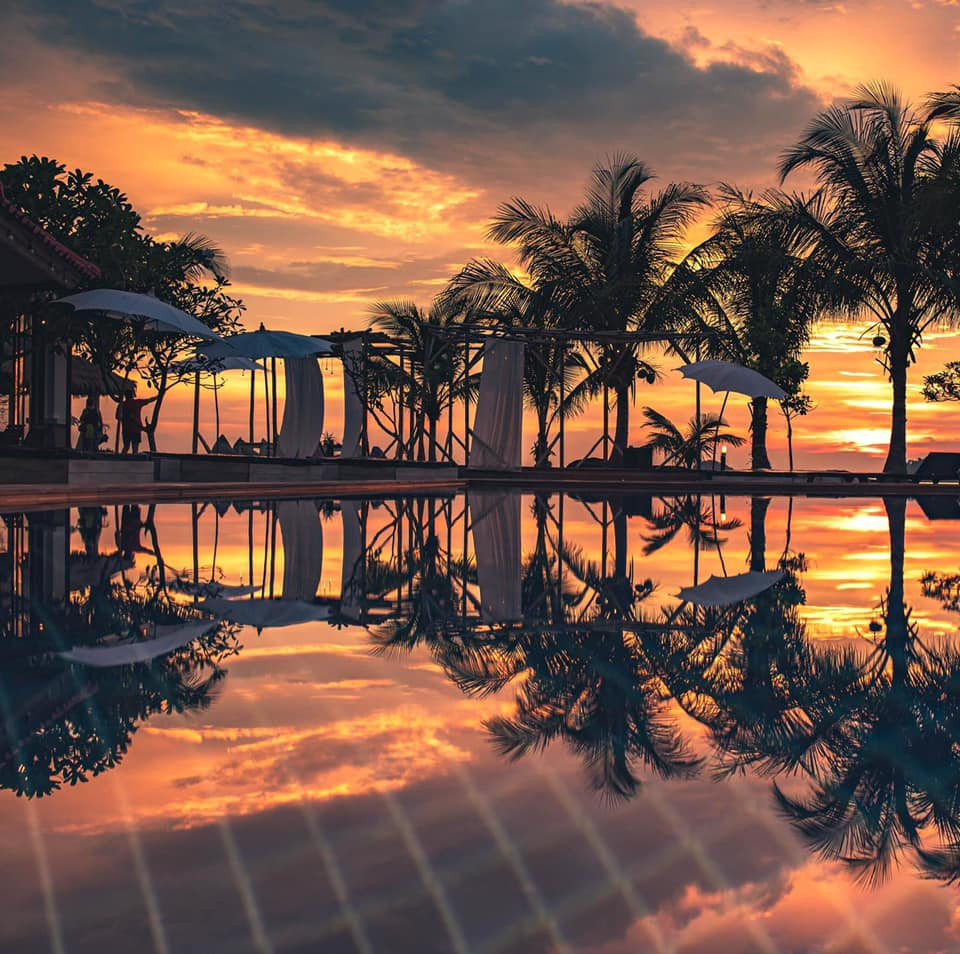 Cabana is hidden behind the Coral resort where they share the same entrance. If you walk inside you'll see a sign with "Guest only" but you can ignore it.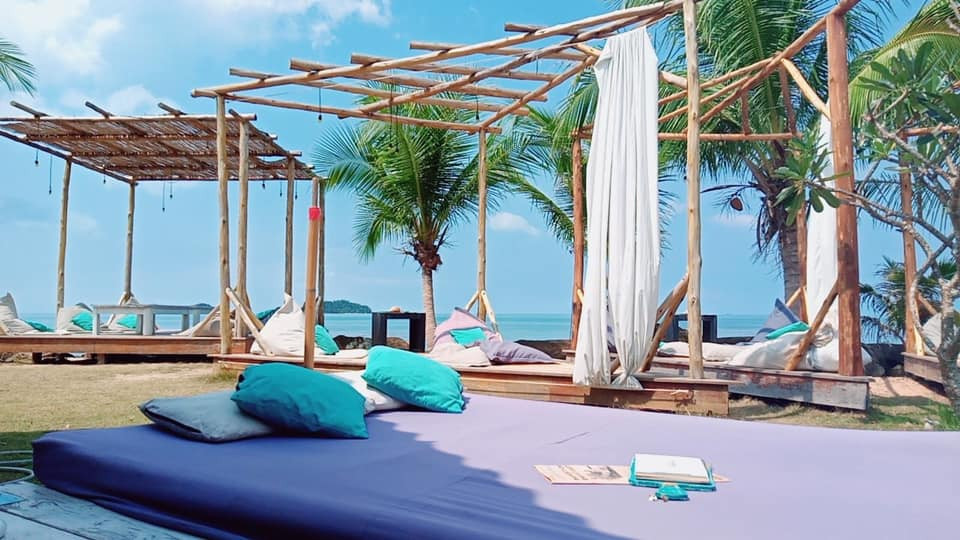 Lonely Beach
Lonely Beach was originally a backpacker village. Small bungalows and in the evening loud music from the street or one of the full-moon parties characterize the vibe. There is a little beach, but that is compensated in the evening with lots of live music and nice little restaurants.
Bang Bao
At the west of the island, you can find Bang Bao. Here you will find the pier with the boat to Koh Kood and Koh Mak and the local market is open every day. The smell of fresh fish and typical Thai meals will immediately greet you and the many restaurants all overlook the beautiful bay of Bang Bao. Few tourists stay in Bang Bao because of the limited offer of resorts.
Bang Bao hotel recommendations
Buddha View A cozy resort with a few simple but nice and clean rooms. Fantastic service and beautiful views over the Bang Bao Bay. Also recommended to go for dinner or lunch!
High season in Koh Chang
The tourist season starts in mid-December and ends after Songkran in April. Actually, it is only really full of tourists from Christmas and the first week after New Year's Eve.
In this period there can be long queues for the ferry and it is sometimes difficult to find a place to sleep if you have not booked in advance. Renting a motorbike can also be difficult, but during the day there are plenty of taxis to take you wherever you want.
Excursions to Koh Chang
There is a lot to do on Koh Chang except for cultural sights. Many people book a diving trip or go day or night fishing at sea, but there is more to do. For example:
Jungle Trekking / Hiking
Canoe trips for an hour or a few days
Quad ride
Tree Top Jungle view - climbing and abseiling
Day trip with the speedboat
A visit to the Cambodian Kids Care
You can also take a ride on an elephant. Not everyone is in favor of this because the elephant does not originally appear on Koh Chang. The supporters claim that the animals are well cared for.
Safety on Koh Chang
Koh Chang is a safe island. There is no malaria and there are seldom (violent) incidents. You could say that it is most dangerous to rent a motorbike. Thousands of tourists rent a motorbike to go from A to B. Every day there are several accidents with motorbike drivers. Reckless driving, slippery roads, crossing dogs, or alcohol regularly cause serious accidents. Sometimes with a fatal outcome.
Waterfalls on Koh Chang
The largest waterfall is the Khlong Phlu waterfall just before Klong Prao. The waterfall attracts many tourists, but large parts of the year it is almost dry. Only when the rainy season starts in August does the water flow in abundance again.
Because it is a good walk and entrance fees are requested, the Khlong Phlu waterfall often causes a little disappointment.
But how about this hidden waterfall that almost no tourist guide will bring you to?
Do you want to know more about Koh Chang? Then call directly via The ONE with a local guide on Koh Chang. You can also visit iamkohchang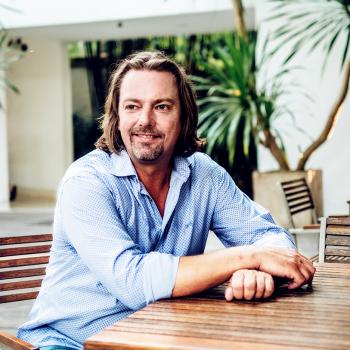 Ben Steenstra
8 mins read
Related articles
Show more
2 local guides in Koh Chang available
Gilles Siere

Tourleader

US$ 0,64 pm

Tanya Chayka

Designer

US$ 0,91 pm
Show more