The best alternative for Zoom, Microsoft teams and Skype
Using Zoom, Microsoft Teams or Skype paid is like buying a brand new bike, while you can use an electric car with chauffeur for free. If you've always done your shopping on foot, the bike is, of course, a great invention. Especially if you don't know anything about the existence of a car. What is the best alternative to Zoom, Microsoft teams or Skype?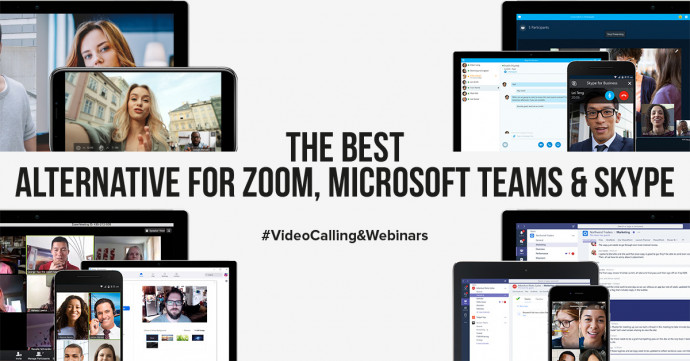 The breakthrough of video calling and video conferencing
Suddenly, video calling and video conferencing seem to be making a breakthrough. Zoom, one of the most well-known service providers in this field, has to work harder than ever to keep up with demand. Due to the exponentially growing number of users, the servers can barely handle the enormous data flow.
Even the slightly older Skype has noticed an increase in users. Due to the more sophisticated infrastructure behind it, Skype is experiencing fewer inconveniences from the increase in data.
In principle, Microsoft teams have everything in order and have been prepared for years for the exponential growth in the field of video calling.
Both Zoom, Microsoft Teams, and Skype have been set up to facilitate people in the field of streaming video. Later, Social Media platforms such as Facebook, YouTube, and WhatsApp also added streaming video services to their functionality.
By now, we know that in the future, it will be all about voice and streaming video. Sending a message by chat or email is outdated. So any self-respecting platform is now doing something with streaming video.
People are lagging behind when it comes to video calling
Consumers and professionals are usually behind the times. It is also the case in this area. Skype launched its online video service in 2003. At that time, they foresaw that video calling and video conferencing would be the future. Yet it took Skype more than 17 years before this way of communication reached the masses.
For many people, video calling and giving an online webinar (video conferencing) is something new. But because of the Coronavirus, we stay at home and look for new ways to keep our business and even the schools running. So we try Zoom, Microsoft teams or Skype.
Facebook and Twitter are suddenly full of invitations to follow the next online Yoga lesson or to finally get explained how to rank in Google. All online and via video calls. Often at the invitation of people who until recently hardly knew how to send an email.
The development is going fast for people who have stood still for a long time in the field of these technological innovations. That makes one-eyed king in the land of the blind.
What's wrong with Zoom, Microsoft Teams, or Skype when so many people use it?
Just like with a bicycle instead of an electric car, there's basically nothing wrong with Zoom, Microsoft Teams, or Skype. Thanks to these service providers, you can serve your customers 1-on-1 or in groups and continue your business from the comfort of your living room.
The only thing missing is that you still have to ensure that customers are brought in yourself. So you are, as it were, the engine yourself. The harder you pedal, the faster your bike goes. The core business of all these platforms is facilitating streaming video. No more and no less.
You, as an entrepreneur, usually need more. It is nice to stay in touch with your existing network or customers, but how can you ever grow? It's a bit like having a phone. Nice and handy device, but new customers won't call you just like that.
What you need is not the one or the other service provider that offers video calls and webinars. It can be done in hundreds of ways and usually for free. The list of (free) providers would be too long to include them all.
What you do need is a way to acquire new customers and to serve them via video calls or webinars.

See or be seen via live streaming video
What Zoom, Microsoft Teams, or Skype, and all social networks have in common is that you have to take care of finding your customers. Only then you can see each other. No matter how diligently you post on social media and how many people you invite, it still depends on your network and effort, whether you are successful.
This is because the streaming video providers and social media networks do not facilitate a public profile page. If you Googled on your name, you would see your social media profile, but if you Googled on your skills as a Yoga teacher or Marketing specialist, Google would not show you anything. So you cannot be found within the search engines and have to keep inviting your network.
What you should really want is that your online profile and services can be found within the Google search results. In this way, Google and the other search engines ensure that your network grows automatically instead of you having to spend a lot of time and effort on this yourself. That is the way to really be seen.
Being found and seen within Google via TheONE
The best alternative for Zoom, Microsoft Teams, or Skype and all social networks is TheONE. Not because the video calling or webinar quality is better, but because you can be found with what you do, what you can do, and what you have to tell.
The platform allows you to create your profile based on hashtags, profile description, and telling something about yourself. It allows you to become visible outside your network.
Get paid directly for your knowledge and skills
If someone has found you, that person can contact you directly via live video or follow one of your free or paid webinars. Unlike Zoom, Microsoft Teams, or Skype, they can pay you directly during the video call. It can be a fixed price, but you can also ask for a payment per minute. The first minute is free, and after that, you will be paid every minute automatically.
An alternative to having your own website
Of course, you can also be found by creating your own website, write lots of blog posts, or try to find the media. But for how many people is it possible to do this successfully? Most sites don't have more than two visitors a day, and these are often friends and acquaintances.
Why is TheONE better than Zoom, Microsoft Teams, or Skype?
If you only want to use video calls and webinars, there are a few differences. TheONE is a bit cheaper if you just start giving webinars, but Zoom, Microsoft Teams and Skype currently have a lot more and better features.
The only question is if you need all those features or if you prefer a promotion for your company and activities. Want to know more? Please contact us at www.calltheone.com/ben.
Author Bio: Ben Steenstra is Co-founder of TheONE and writes on various topics such as SEO, Strategy, Marketing, and Communication. Because of his Neuro-Semantics background, he also writes about Coaching and mental disorders.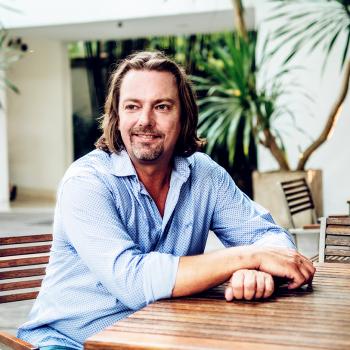 Ben Steenstra
07-04-2020 7 mins read
Related articles
Show more
68 online marketing specialists available
Nicci Severens

SEO writer

US$ 0,09 pm

Zita Dusa

Content | Research

US$ 0,85 pm

Jose Pallas

Digital strategist

US$ 0,41 pm

Glenn van den Bosch

Photographer writer

US$ 0,28 pm

Izrrael Sandrea

Digital Marketing

US$ 2,26 pm

Jose W.

Digital marketing

US$ 2,83 pm
Show more