The best restaurants and food in Budapest
Budapest has a lot to offer when it comes to restaurants and food. You will easily find a typical Hungarian restaurant or a Middle Eastern and Mediterranean restaurant. Also, Indian restaurants are widely spread over the city.
Due to its history, Budapest became a multicultural city and when it comes to food, you find everything you wish for.
Below are the top 7 restaurants in Budapest to visit during your short trip or holiday. If you have any questions or need other tips don't hesitate to contact a local at TheONE via live video calling.
1. Kisharang Restaurant (Budapest, Október 6. u. 17, 1051 Hungary) is a small place offering Hungarian comfort food in the centre of the city. It's located close to the Basilica and the shopping street and they offer most of the signature Hungarian dishes at a very reasonable price.
2. Tabani Gosser Restaurant (Budapest, Attila út 19, 1013 Hungary) is a must-visit if you happen to be on the Buda side of the city. They offer all the Hungarian goodies ranging from the famous Goulash soup to stews, fishes, meats and pasta. Good quality food, big portions and great service.
3. Belvarosi Disznotoros Restaurant (Budapest, Király u. 1d, 1075 Hungary) is a self-service restaurant offering Hungarian and non-Hungarian dishes like blood sausage, pickles, fried chicken and potato salad. If you want to eat something quick and cheap you should check this place out.
Ask a local resident of Budapest a question via live video calling
Instant contact with a local via live video calling
3178 people already signed up to share local information
Pay per minute and the first minute is always free
4. VakVarju Restaurant (Budapest, Bessenyei u. 6, 1133 Hungary). There are a few VakVarju restaurants in Budapest but I prefer this location because they have a big, bright patio and garden. The atmosphere is casual, the service is friendly and polite while the menu is great.
The chef's offers are always the best, but you can find other Hungarian signature dishes and international favourites as well. They have a wide selection of Palinkas which I highly recommend trying and they also have a great wine selection.
5. Dobrumba Restaurant (Budapest, Dob u. 5, 1074 Hungary) is a restaurant with a mix of Middle Eastern, Mediterranean and Caucasian cuisine. The menu mostly consists of cold and hot mezes, but they also offer other dishes such as soups, shawarmas and so on. Best hummus in town and great Shakshuka so highly recommended.
6. Mazel Tov Restaurant (Budapest, Akácfa u. 47, 1072 Hungary) is an "open-hearted cultural space" according to their website with great food and a really cool garden. Their menu is quite varied because they offer bar foods, hummus plates, shakshuka and grill plates as well, just to name a few. Other than those they also have Israeli fusion dishes which sounds and also tastes amazing.
7. Panjab Tandoori Indian Restaurant (Budapest, Pannónia u. 3, 1133 Hungary). This is my favourite Indian restaurant in Budapest. It's a small place and do not expect anything fancy but food-wise definitely one of the bests that you can find while it's also really budget-friendly.
The best and typical Hungarian dishes and their ingredients
I collected some of the must-try Hungarian dishes for you all. Vegetarians and vegans won't find many suitable dishes on this list but most restaurants offer alternatives.
Hungarian cuisine is amazing but rather heavy since it's main ingredients are some kind of meat, potatoes and dairies. We put paprika in almost everything and most dishes contain pork in some form (sausage, bacon, etc.) If you are looking for a light meal go for another type of cuisine. Either way, Budapest has a lot of great restaurants and food to offer.
Goulash Soup: probably the most famous Hungarian dish. Goulash consist of beef, veggies and spices. It's a great winter meal and a really filling soup.

Stew with egg dumplings: in Hungary, we eat a lot of stews made from various different meats. My personal favourite is a beef stew made with red wine and served with egg dumplings. Get some pickles on the side and you have a hearty delicious meal.

Langos: the beach food of Hungarians. It's basically a fried dough made of mashed potatoes and flour, served with garlic, sour cream and cheese on top.

Cured sausage: we have all types of cured meats but a spicy sausage with lots of paprika is always an amazing bite.

Lecso: lecso is the Hungarian ratatouille. The traditional one is made of tomatoes, peppers, onions and paprika with some Hungarian sausage and eggs. With bread on the side, it's one of my favourites.

Stuffed cabbage: cabbage leaves stuffed with rice and minced meat served with more cabbage, bacon, sour cream and bread. In Hungary, we usually eat this around Christmas and New Year's eve. It's a great winter dish because it's rather heavy and filling.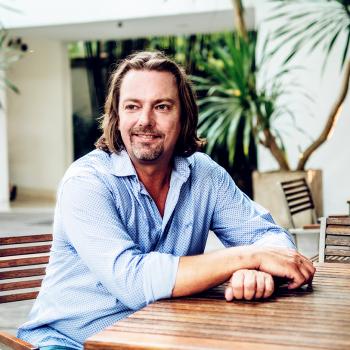 Ben Steenstra
5 mins read
Related articles
Show more
10 local guides in Budapest available
Csaba Magyar

Full stack web dev

Free

Monisha Doley

Life coach, author

€ 0,74 pm

Imtisunep Longchar

practising the piano!

€ 0,42 pm

Samara Almeida

Industrial Engineer

€ 0,12 pm

Lucia Diaz Gomez

Human Resources!

€ 0,17 pm

Marrac Miller

Freelancer

€ 0,12 pm
Show more