Cambodia Photo Tours | Discover the Secrets of Cambodia
What is better than the warm tropical wind in your face, time on your side, and getting a bit lost on purpose with a wide empty horizon shimmering in the distance of Cambodia?
UPDATE 08- 2021.
Yes, that is still one of the best things in life to dream of, at least for all of us being locked down since April 2020. And here we are in the summer of 2021. Unfortunately we are still in the same situation. Michael Klinkhamer also had to close our photo tour operation in Cambodia after 7 years in Cambodia, for the time being. Thinking out loud many times on how to get back and do what I love and sharing the beauty and reality of the cultures and nature through photography with you.
Things will eventually improve and in time the borders will reopen, quarantine hotels a bad dream from the past.
As soon as that happens, I personally like to invite you to join us with a small group of enthusiast photographers and videographers to document Cambodia-Thailand with your camera to regain our freedom and ability to experience the magic of travel and making art.
For this we have to be much more prepared as before the Covid situation. Obviously we need to make arrangements for test or vaccinations regulations to meet immigration in Thailand/or/and Cambodia. I will make this easy for you, and streamline the procedures and handling of all requirements.
I am based in The Netherlands now, and offer complete return packages for departures from Europe (Holland-Belgium-Germany) to Cambodia. 7-14-21 day tours. Individual departures and tours are also an option. Send me a personal message or e-mail anytime here: https://klinkhamer.calltheone.com/en/bookings or klinkhamerphoto@gmail.com
What it the best season for your Photo Adventure?
Just after the rainy season we will go out and enjoy the lush green landscape and see the Cambodian and Thai rivers full of life, while oppressive heat is not bothering us its still very comfortable warm with average temperatures of 25-30 Celsius. November-December is one of the best times to visit South East Asia.
On this 5 or 10 days photography adventure we will discover the real heart and soul of Cambodia and Thailand by the grace of the Khmer and Thai people.
Experience our journey as an ongoing learning process. Exactly that's what our journey in photography is all about.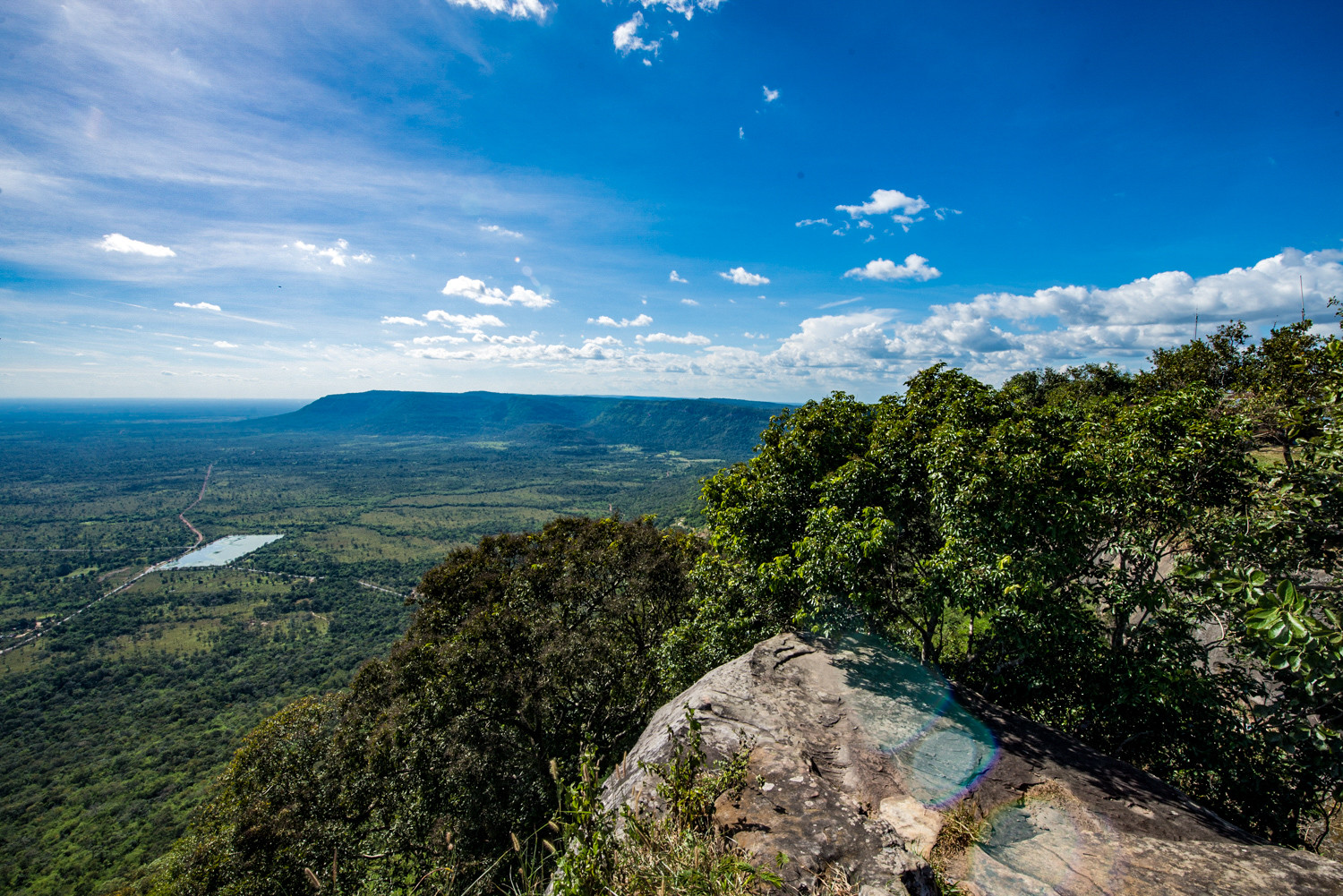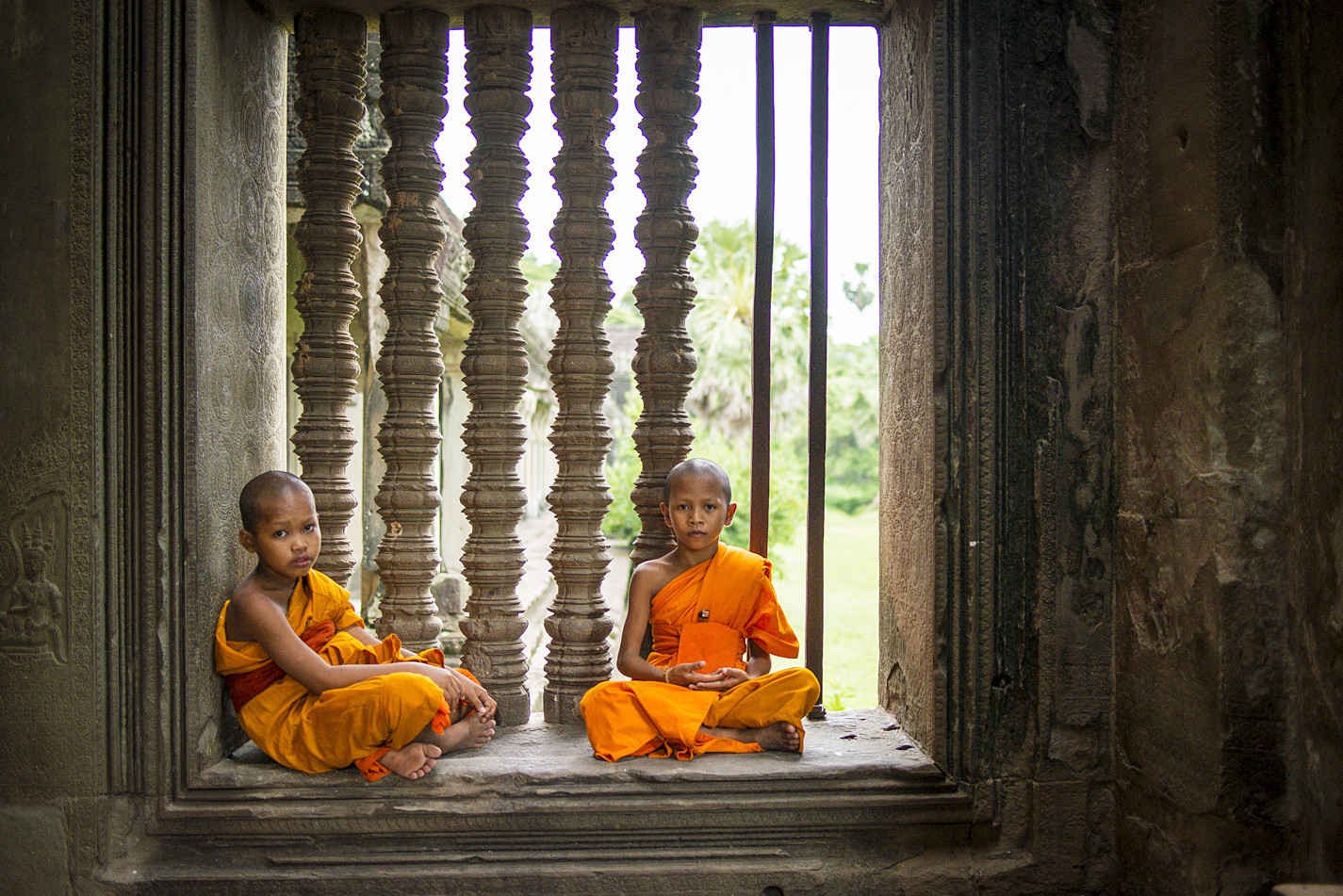 Cambodia Photo Tours | Experience the Khmer Civilization.
In order to explore the real Cambodia with your camera and get some unique images, it's probably best for many reasons to get off the well-trodden tourist trails first to make really unique and exciting images. This all is somehow easier said than done in our times of blatant mass tourism and global Wi-Fi on smartphones all leading the masses towards the same destinations.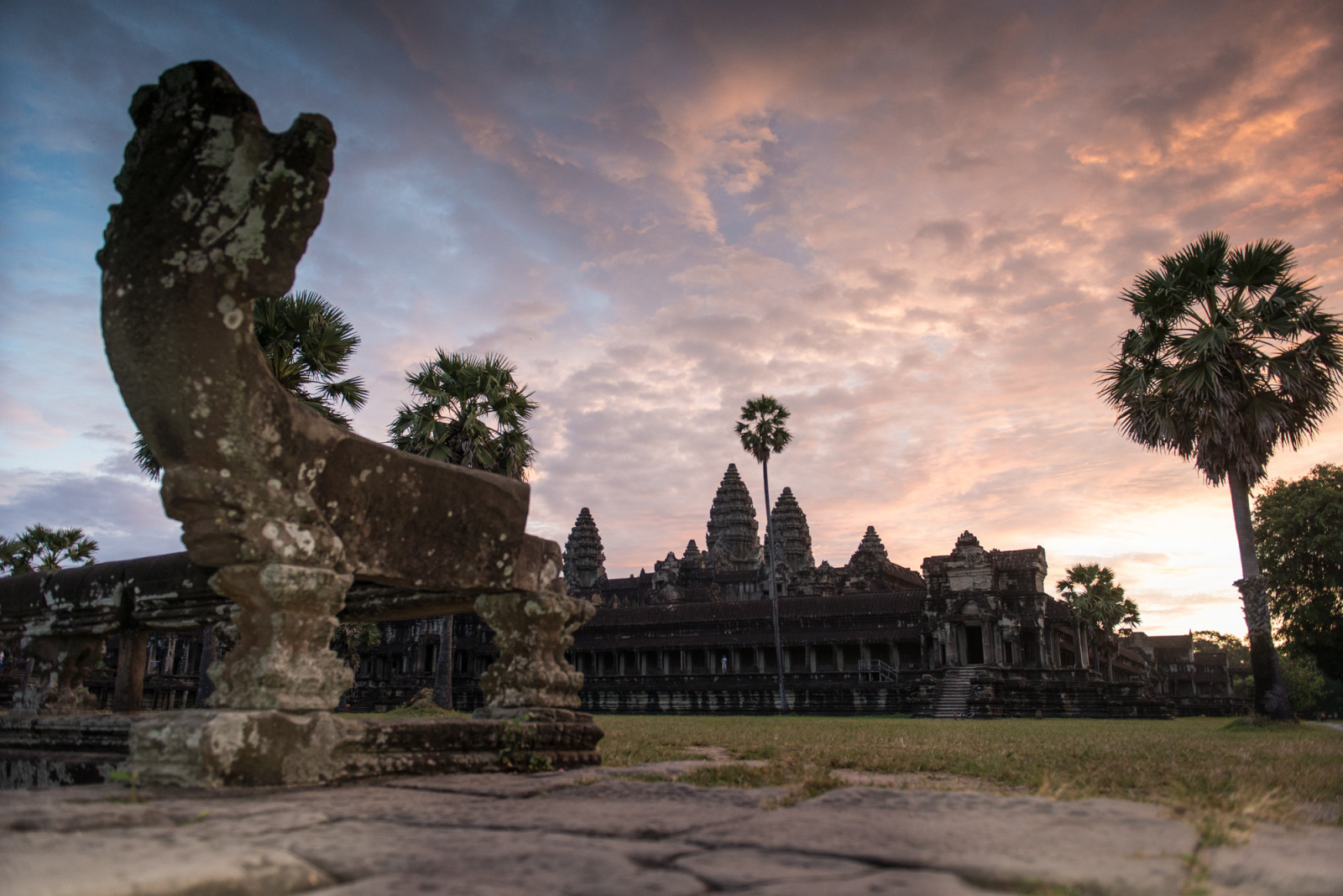 Learn the art of photography in Cambodia.
Before every photo tour, we will first determine your photography ambitions, wishes, and level of competence. I show you some of my recent work and if you wish I can review some of yours to see where we stand. We can discuss casually the various ways of shooting and camera settings you can use during our photo tour. If you wish I can hand to you many professional tips and insights on how to get engaged and inspired and use your camera with confidence here in Cambodia, when you prefer me to mind my own business that is fine too :) Some people like me to review the images of the day and we are happy to this with you.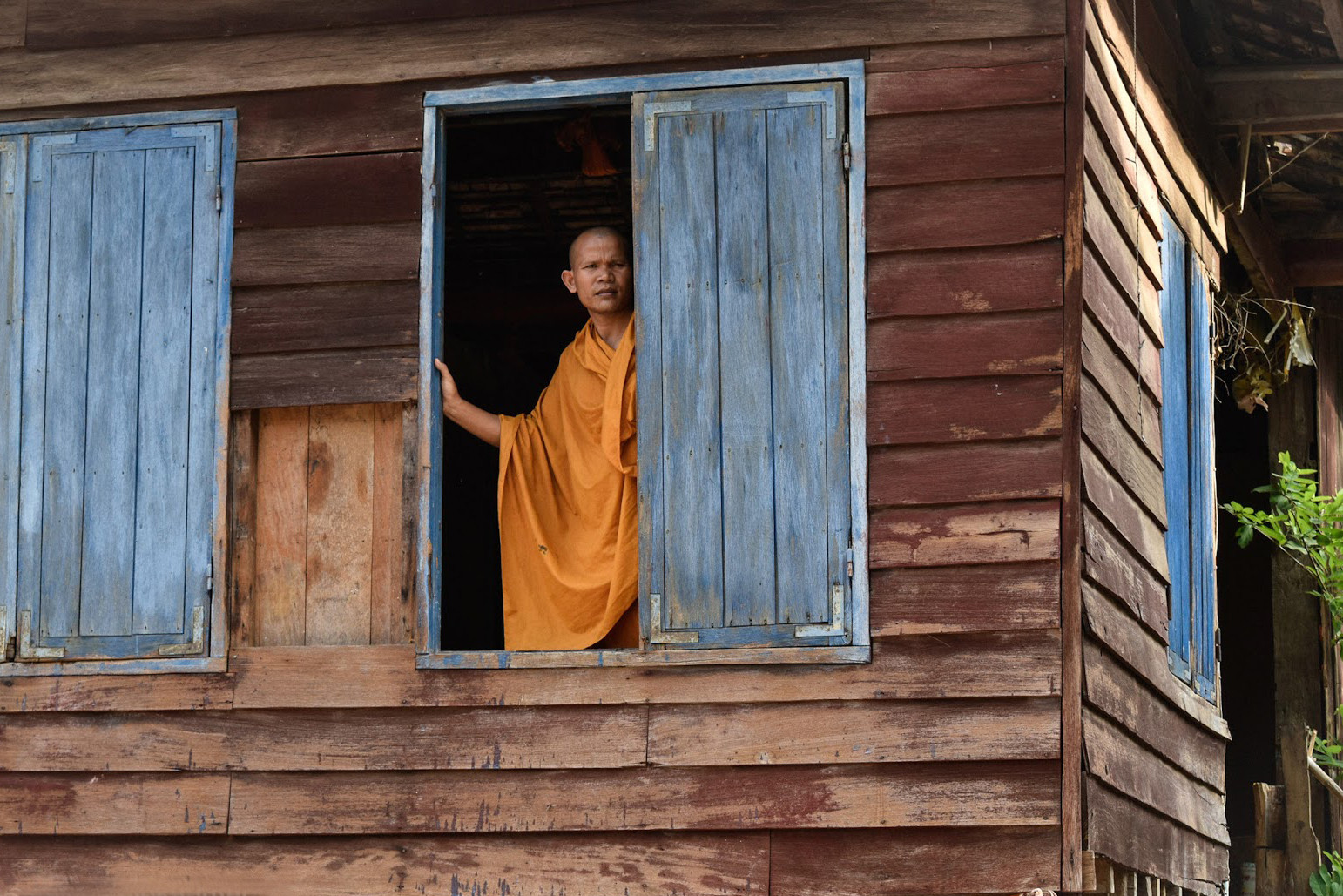 Cambodia Photo Tours for all levels of photographers
This photo tour is open to all levels of photography, from professionals looking for the best way to get to the best location and for photography hobbyists working on improving their pictures style and portfolio and for those who don't like the hustle and unknown particulars of travel in Cambodia.
We take care of all that kind of business in the process and by doing so save you from some uncertainties and uneasy feelings, like safety and local habits and finding adequate accommodation and transportation. All you need to do now is to enjoy and focus on your photography and go with the flow.
You can spend all the time you need to create your pictures and relax. Rest assured that in Cambodia you will walk away with some fantastic shots. A classic saying I use is; "You can't go wrong here".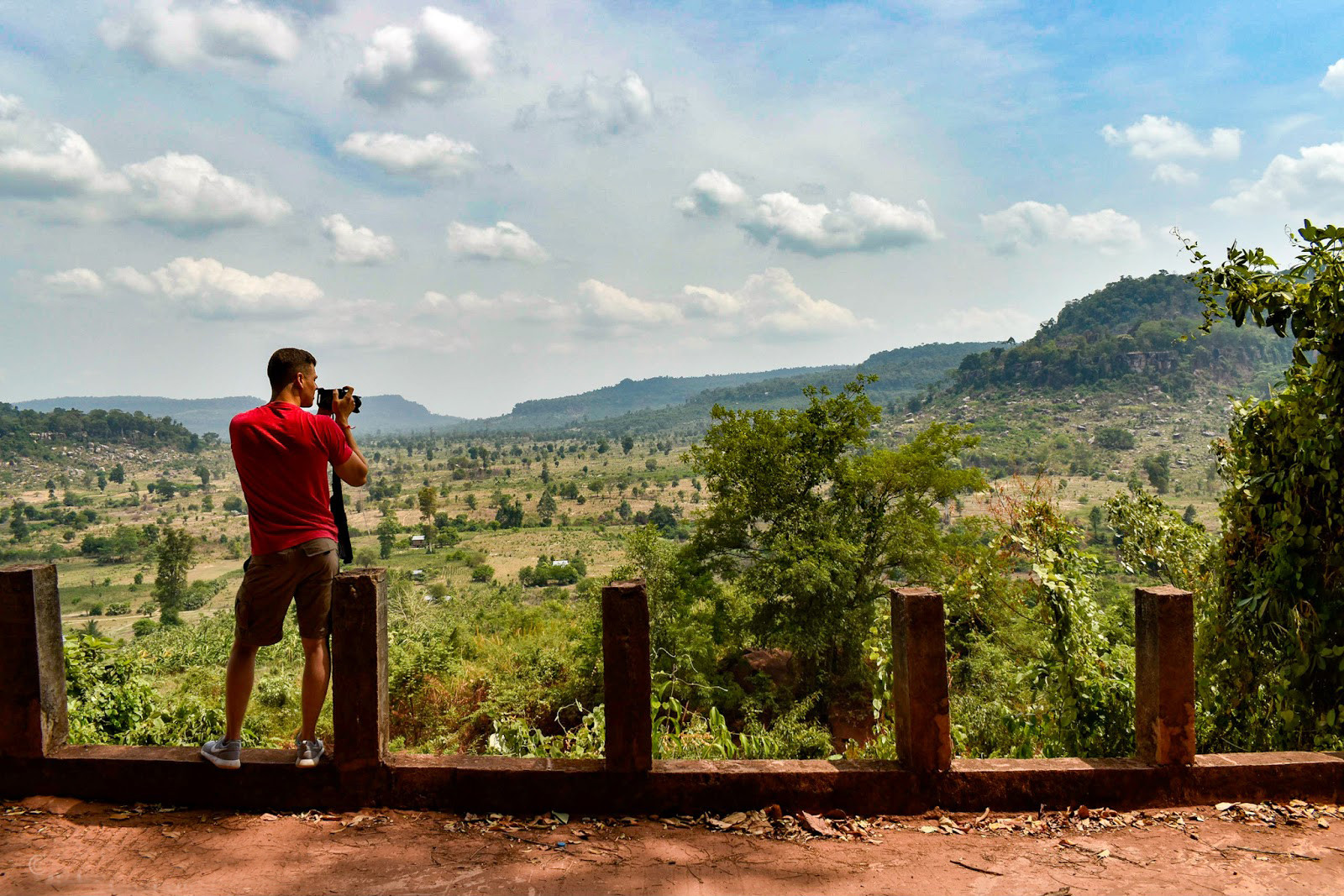 Meet local people during a Cambodia photo tour workshop
Meeting locals and following your photographic instincts to discover sweet treasures of momentary genuine connections with the local scene is what we are here for. The ancient old Khmer culture, the vibrant and incredibly messy towns and by no means the still available pure natural Cambodian country environment are the backgrounds for capturing the essence of this nation with your camera. Basically, there are some great images awaiting you at your fingertips, all the time.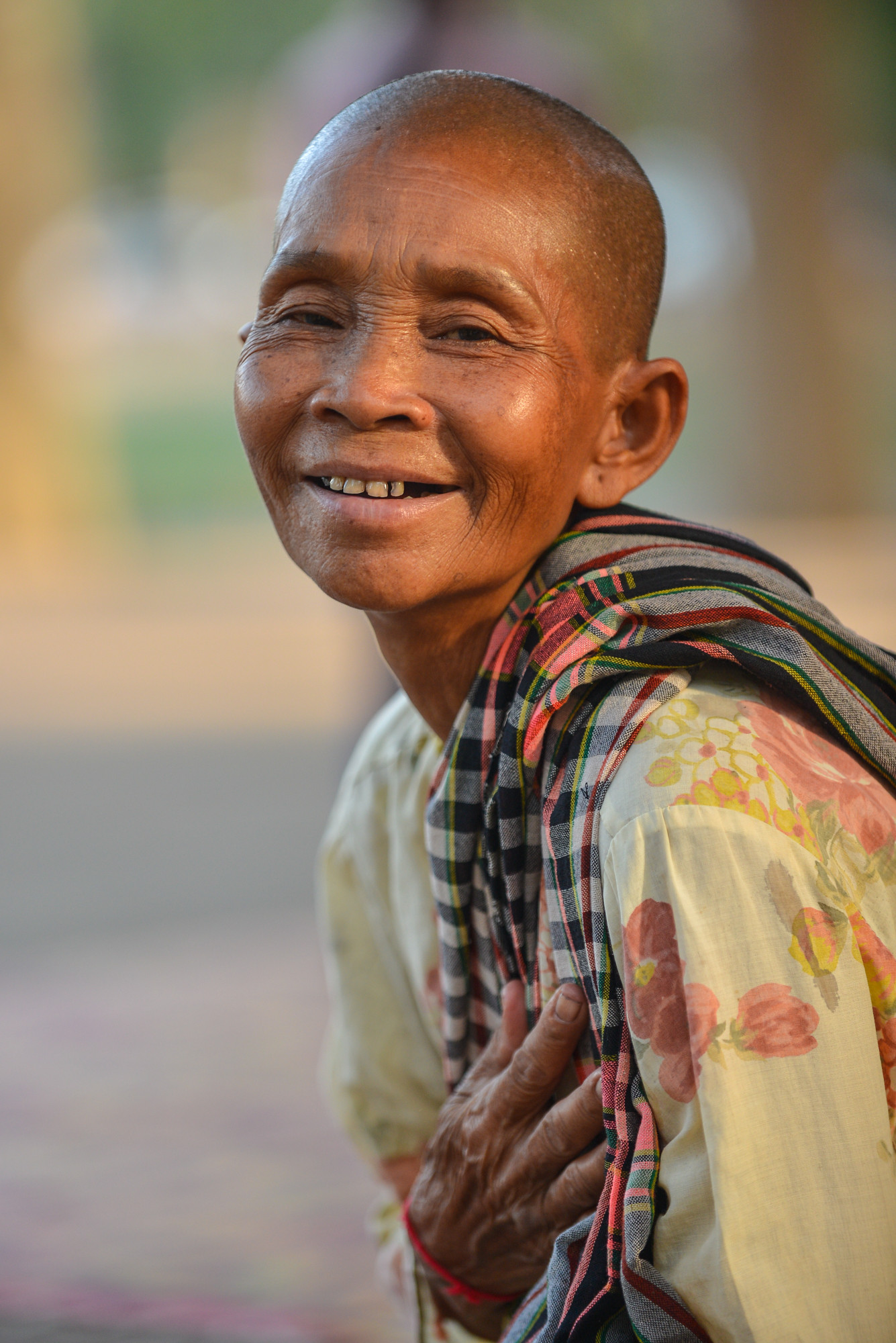 The Cambodian people are the ones that shine.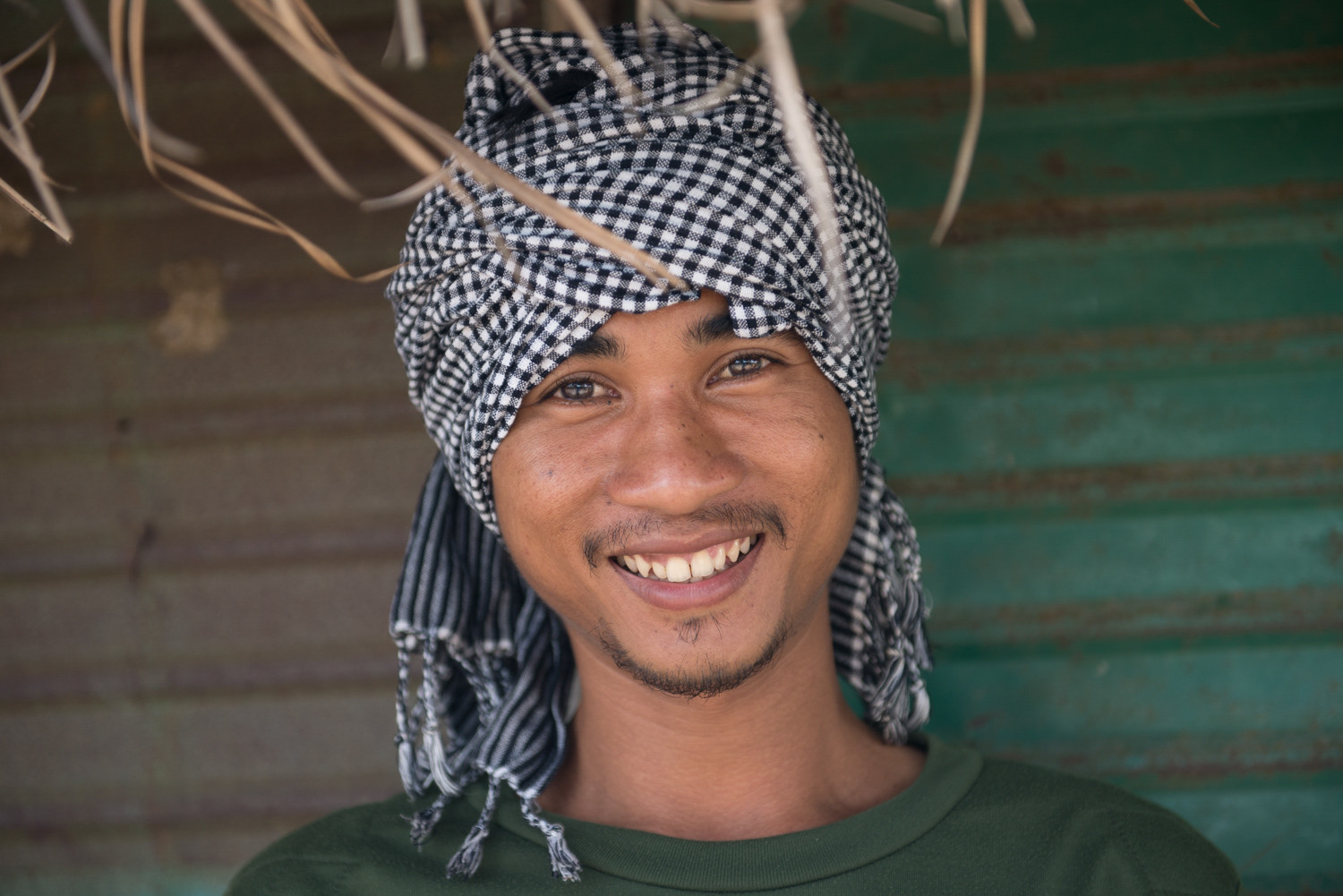 As long as you are fully engaged and willing to make a genuine connection to get up close and personally ready to take your decisive picture. During our time together I will show you exactly what I mean by that and how it is done.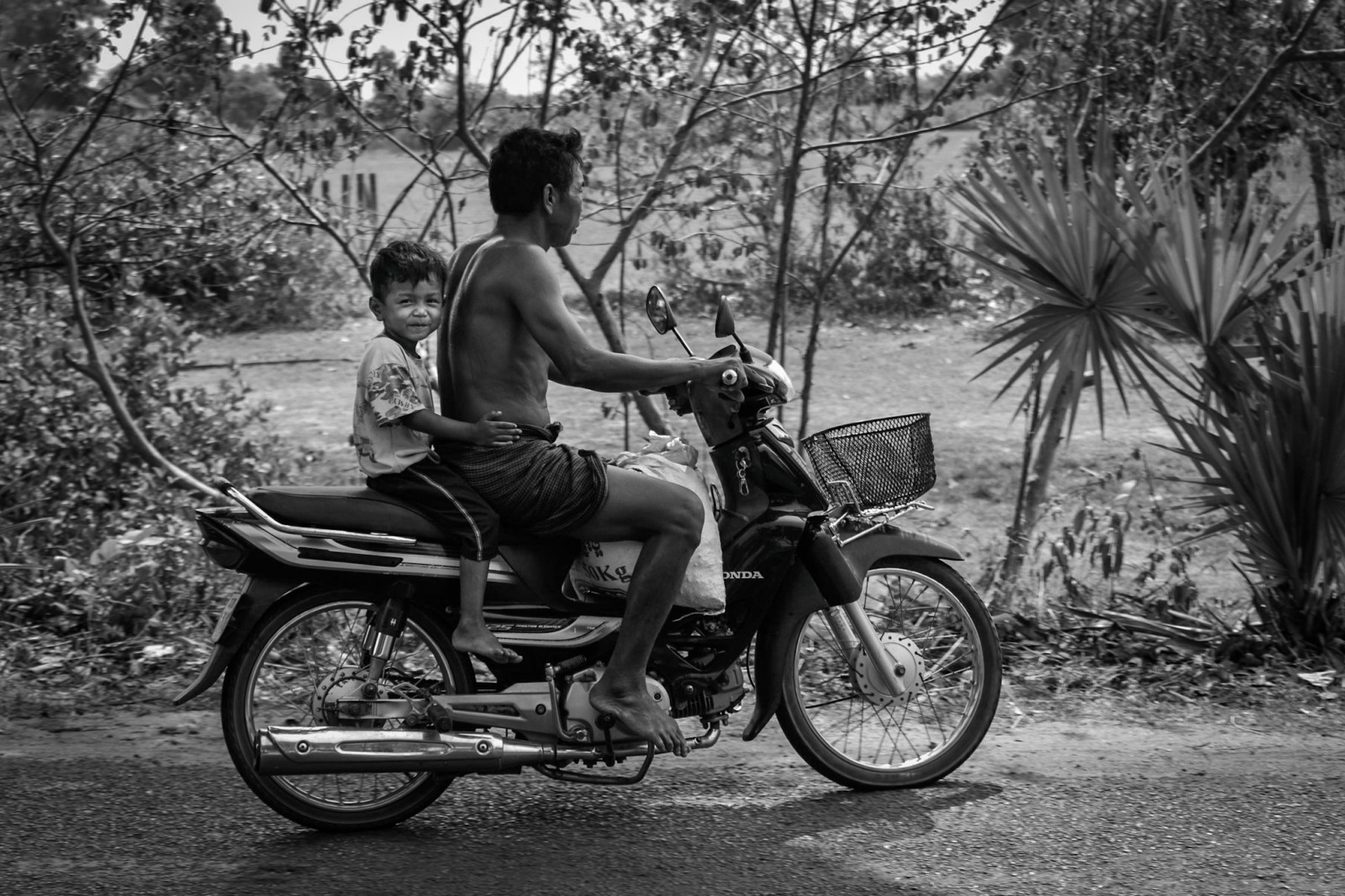 Okay, this all sounds more hardcore than it's meant to be but in reality the international consensus of travel in Cambodia is to follow the well-trodden circuit of Siem Reap with Angkor Wat-Battambang town-Koh Rong islands and Phnom Penh for the killing-fields loop itinerary that will take you to the same locations and well-trodden tourists sites like anyone else.
Experiencing real Cambodia through the lens.
Again, nothing is wrong with tourism and a relaxed holiday but does it make your photography better and do you get results that are beyond the expected? Are you becoming a better photographer? Are you feeling confident on the streets with your camera? Do you want to get inspired and have fun in the process? Do you prefer to travel in safety with a long lost friend who knows the place inside out? When you get home are you eager to choose your best shots and make some prints or perhaps a photobook?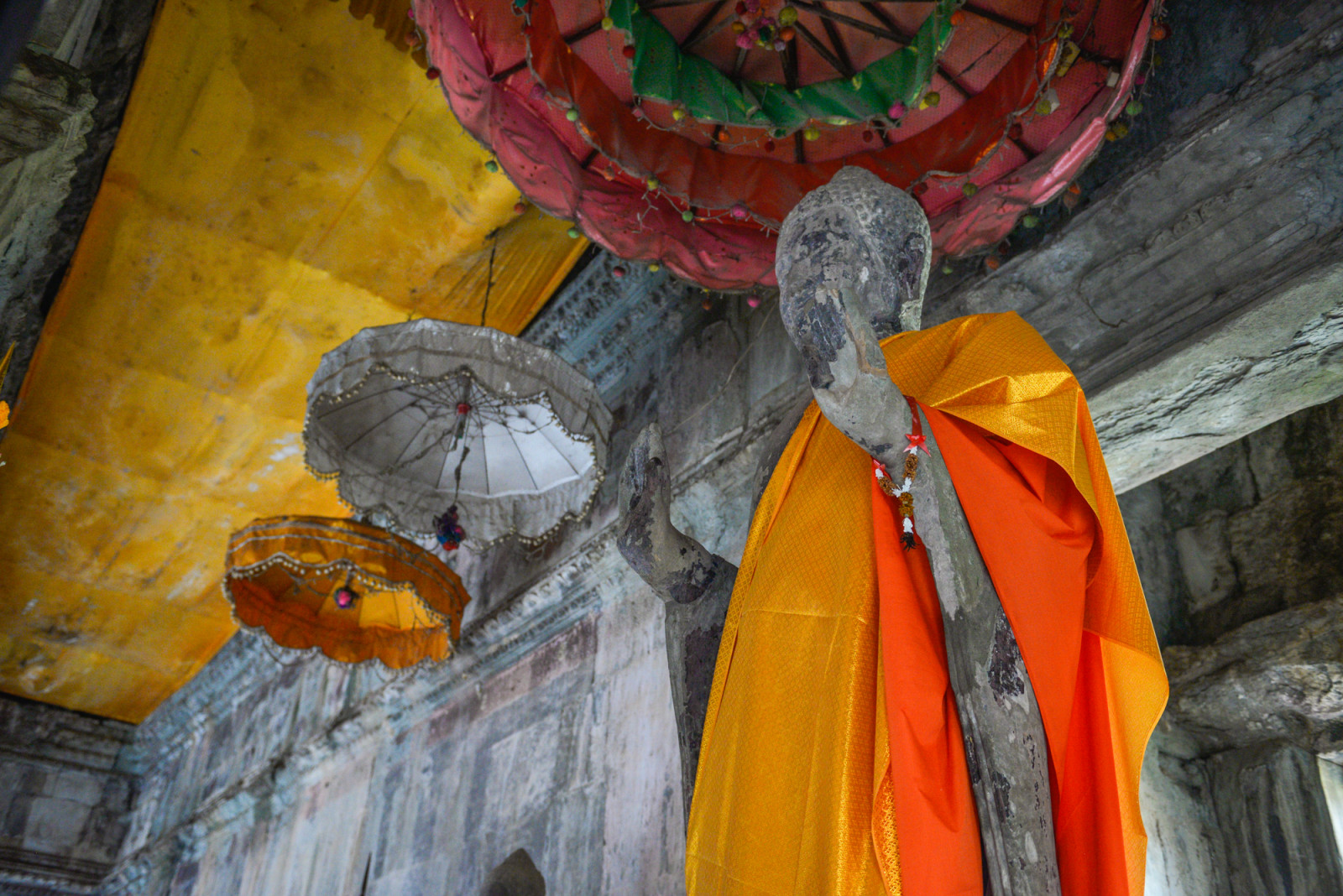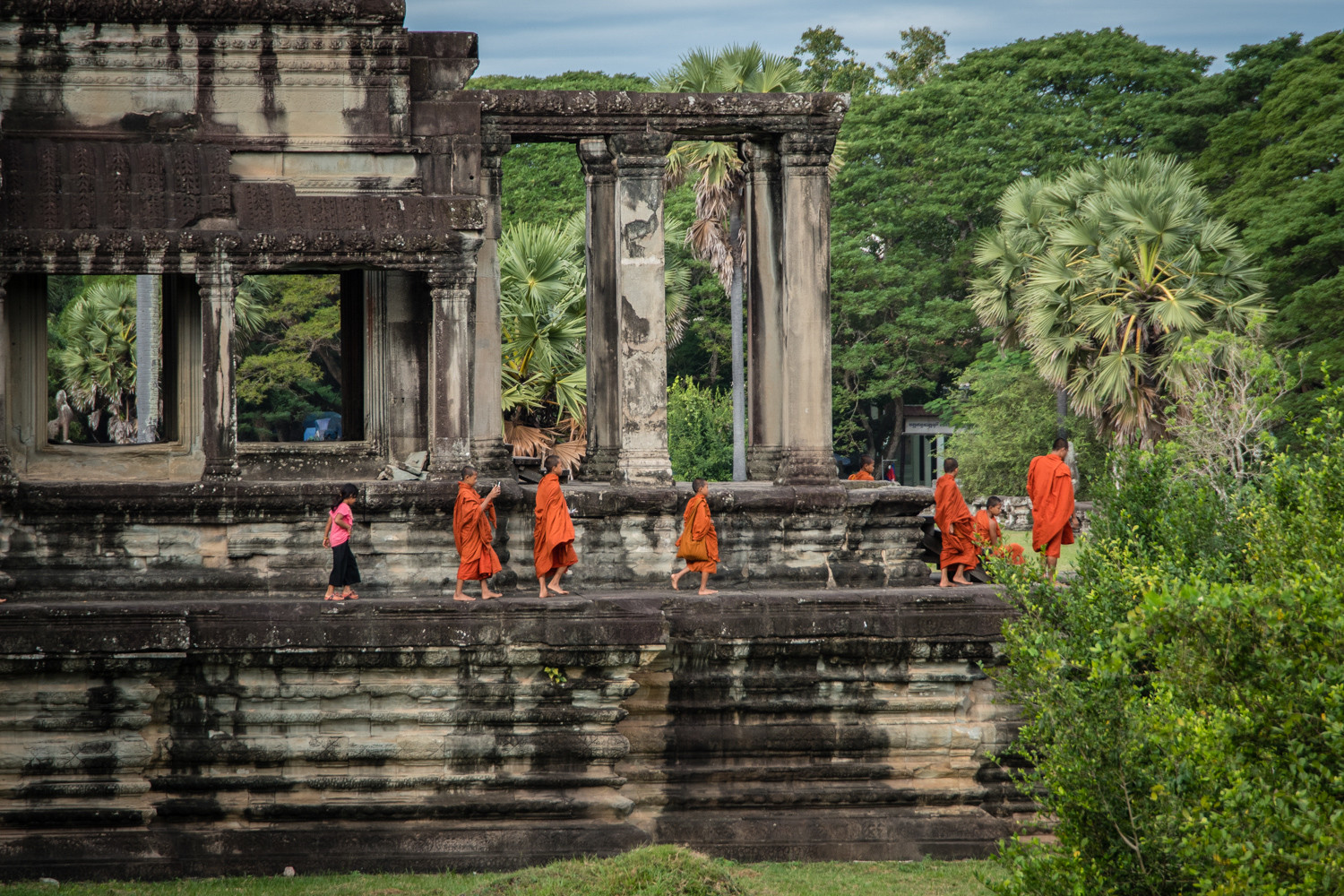 We offer handpicked photographic adventures that will lead you into the warm heart and soul of Cambodia and present to you some private and exclusive options that will give you special possibilities for meaningful photography and storytelling to discover new personal insights and of Cambodia through the lens.
You can contact us via phone directly or send an email to us info@cambodiaphototours.asia for more information and bookings.
Cambodia Photo Tours | The great Preah Vihear Temple
This time we are headed out via Siem Reap as our base for Angkor Wat Temples and into the Cambodia/Thai border with the Preah Vihear Temple mountain and finish our road trip off by spending the night in Anlong Veng town, the former Khmer Rouge stronghold and home of Pol Pot and other notorious warlords that lived there at the Northwestern border between Cambodia and Thailand.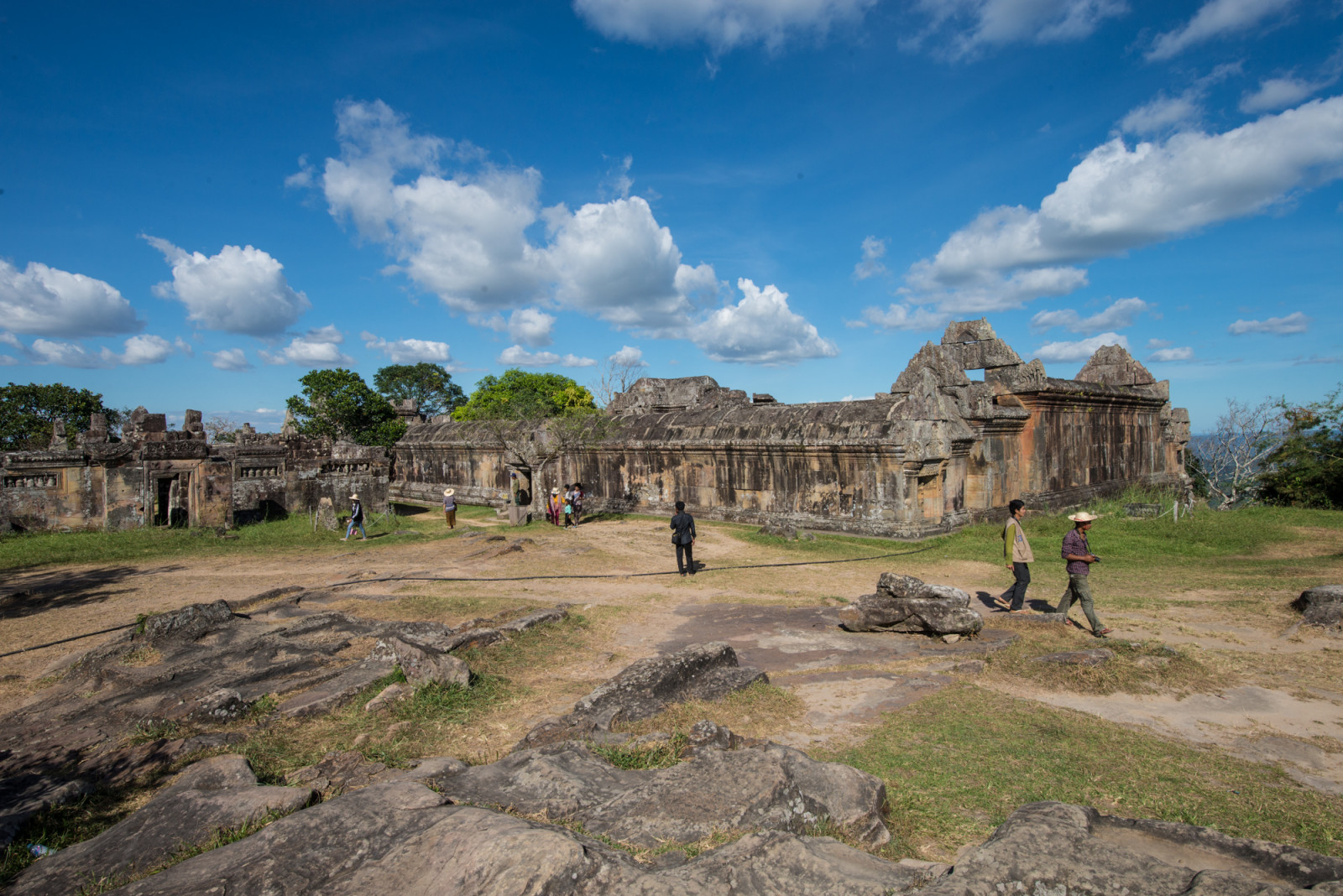 Preah Vihear Temple is situated on a very steep cliff overlooking the Cambodian and Thailand countryside and situated on the top is home of a unique Angkorian temple complex that holds strong religious significance to the Thai and Cambodian Buddhists.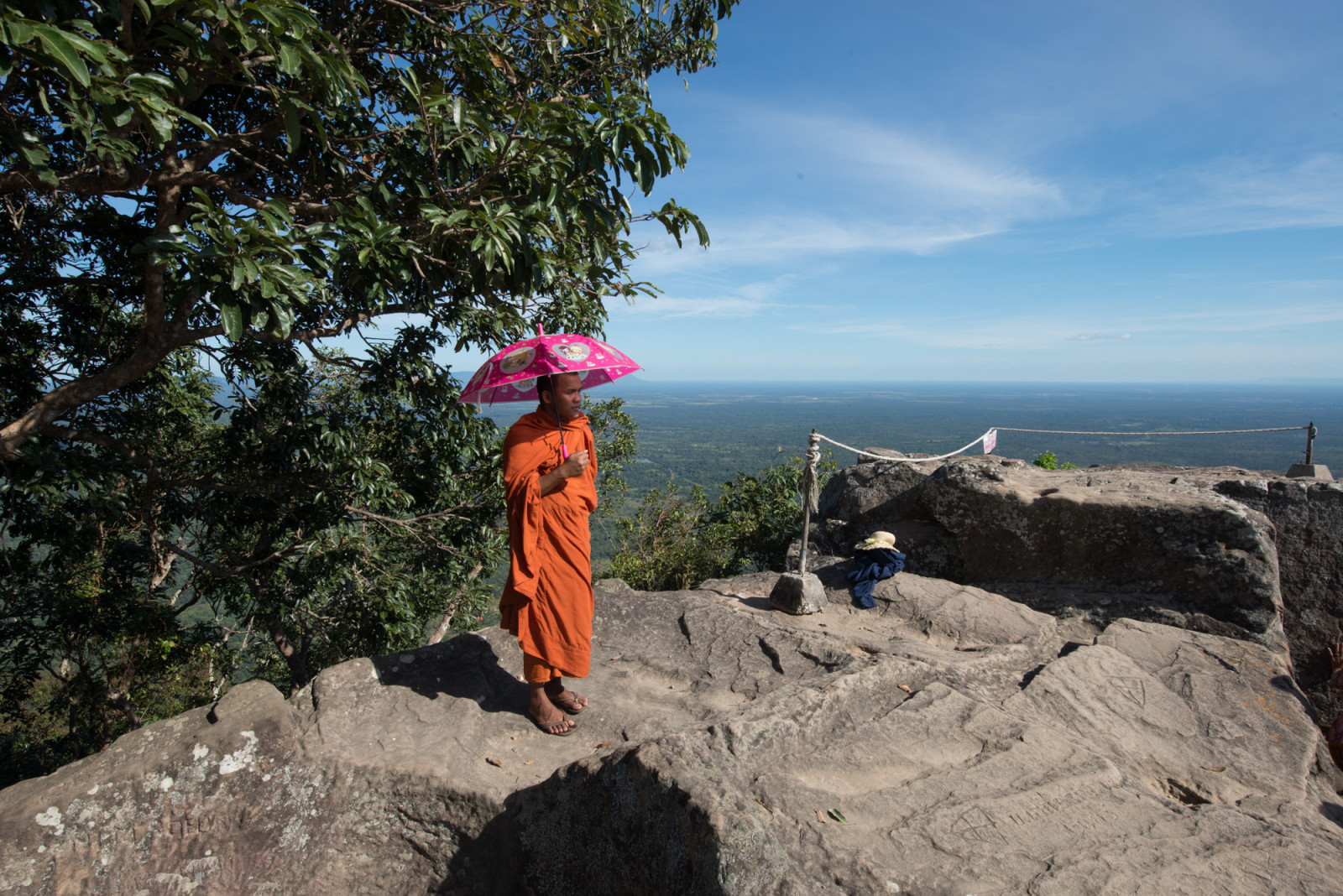 A long-standing border dispute even made the two sites engage in deadly warfare over decades and as recently as in 2016 but the issue seems to be at last for the moment resolved.
Cambodia Photo Tours | Road Trip a La Carte
We will be following a wonderful adventures loop to include the natural wonders of Phnom Kulen mountain and visiting many unexpected stops on the way, like very rural villages. Exploring these for most people unknown places is now very much possible and not a lot of people do this.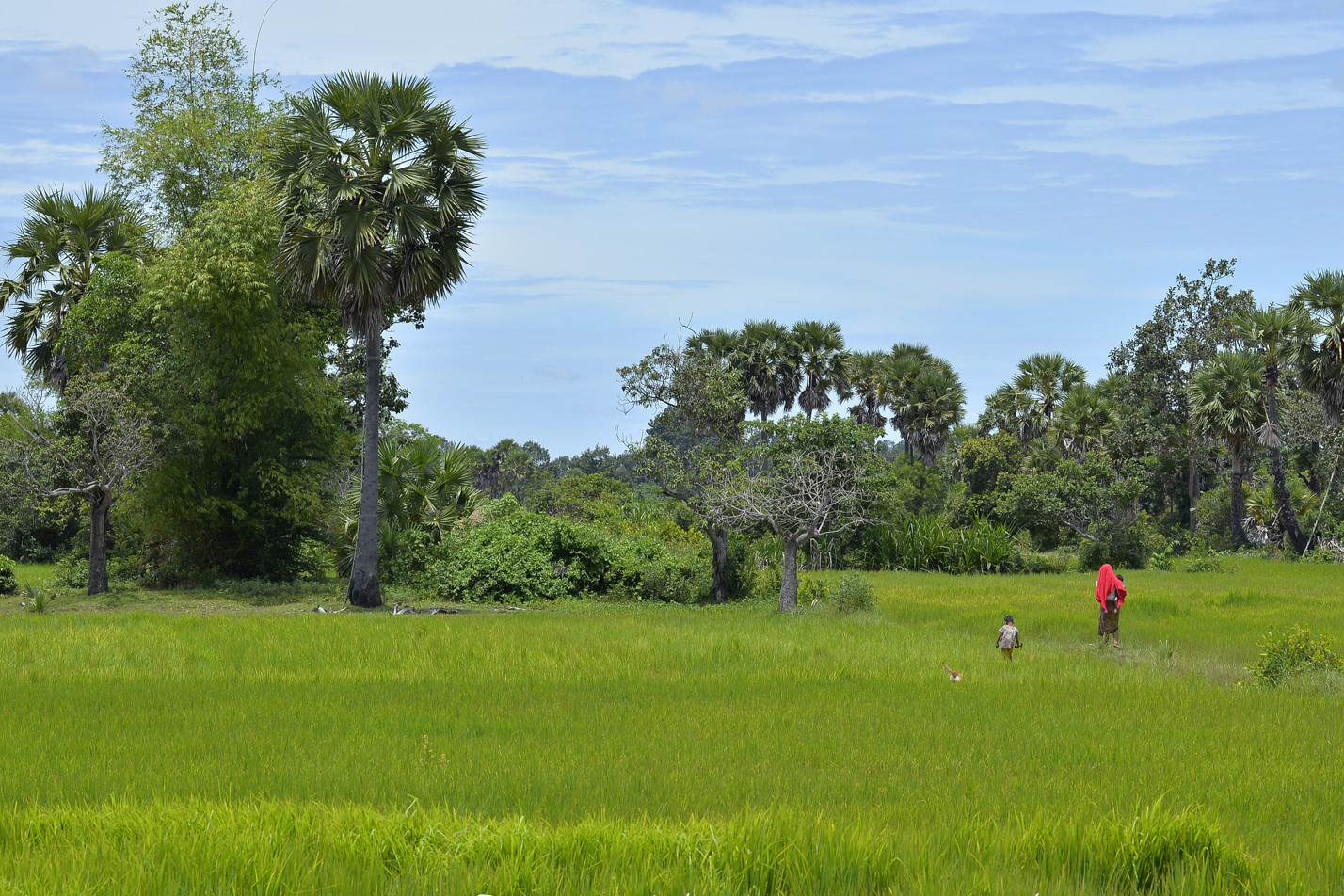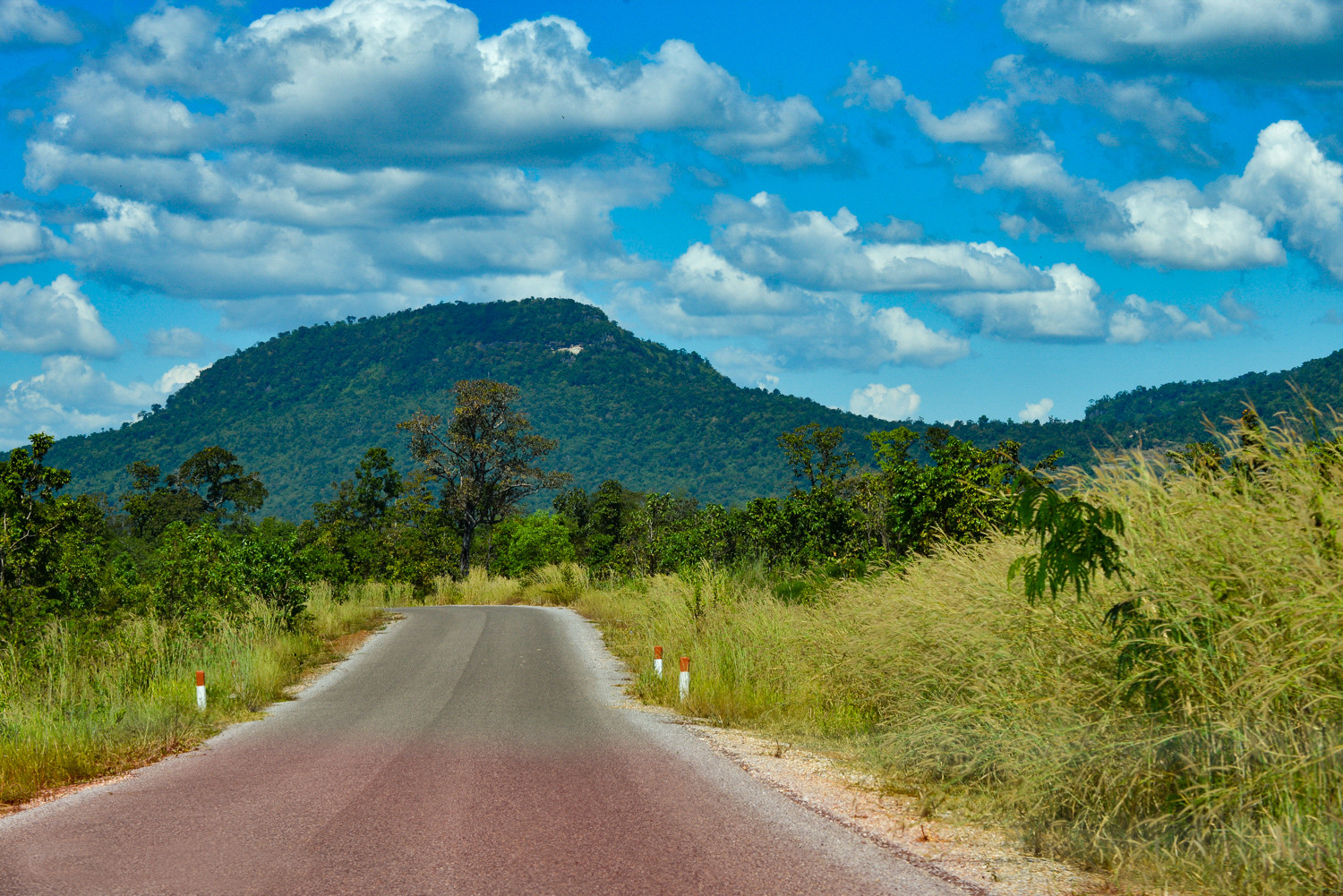 In fact, most of these places were off-limits 20 years ago because of bad or nonexisting roads, and the Khmer Rouge army fractions still caused a threat to safety in those days, besides the nonexisting infrastructure for foreign travelers. Tourism is a big business now in Siem Reap and the sole reason for it is mainly Angkor Wat.
Just outside of the Angkor Wat temple and the Pub street nightlife bubble you're having the place mostly to yourself together with the local friendly Khmer people and incredible nature as a backdrop.
Cambodia Photo Tours | Shoot the sunrise over Angkor Wat.
We meet before anything for introductions and a drink the night before we set out and make plans for the next morning's sunset ritual at the main Angkor Wat temple. We start before the crack of dawn around 4.45am and get our entrance ticket at the tickets center before we go inside the park. This whole sunrise ritual feels almost like going to a rock concert as we walk with hundreds of other people from all over the world through the gates of Angkor and into the main field that will give the unobstructed view of the iconic Angkor Wat towers.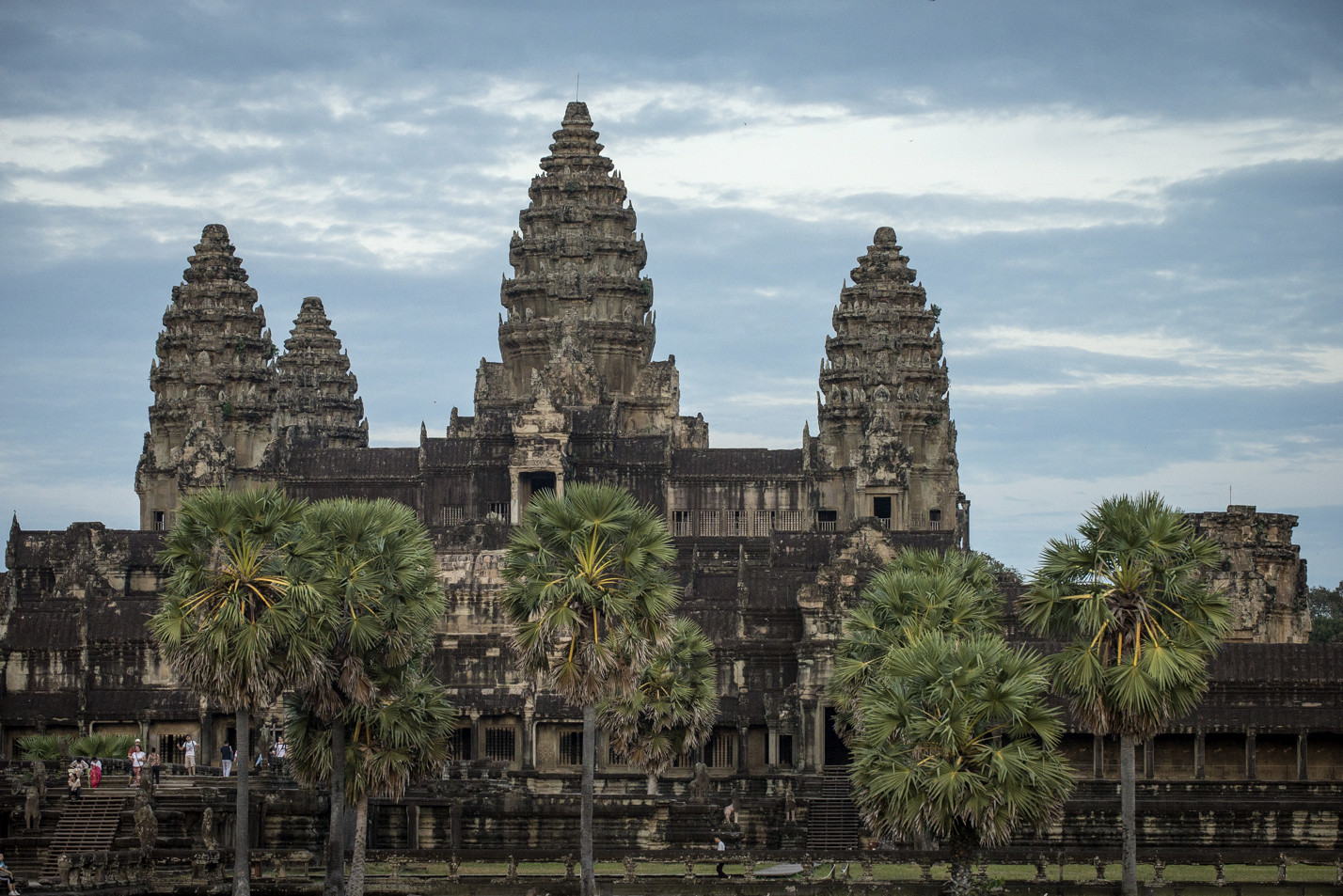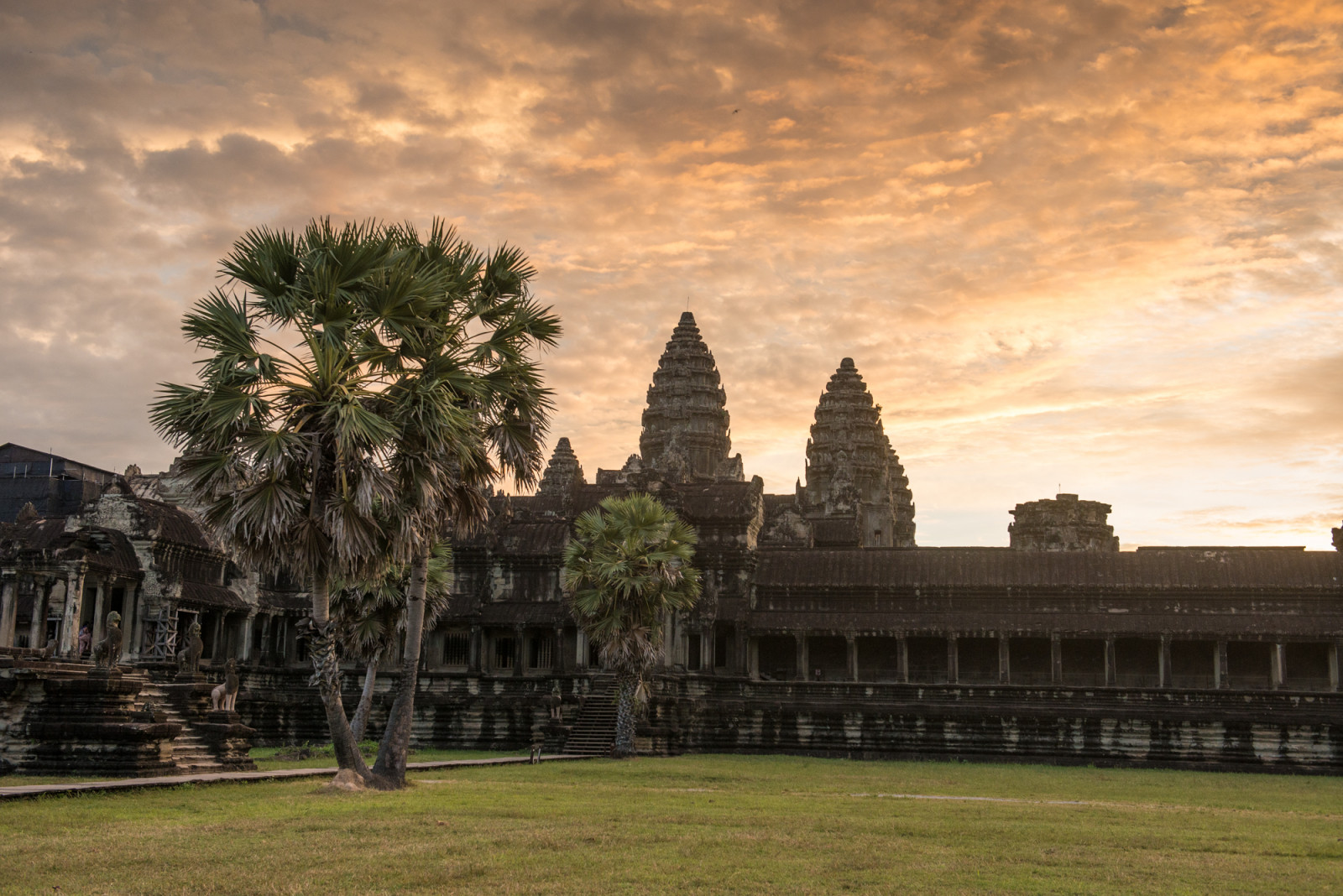 Yes, there are many other people around at the main temple but the place is so huge and spread out that even during busy days you are able to find a unique spot for yourself and focus on what's in front of you. My intention is always to look for a new way to capture the iconic Angkor temple. Looking for a different angle or a rare point of view. This place has been photographed so many time that for me the ambition is to find a special image that I haven't seen before.
Cambodia Photo Tours | Locals monks at Angkor Wat
Sometimes with some luck, a monk will appear from nowhere and walks into the frame, on his way to work to offer blessings to the travelers and tourists who are all in awe of what they experience and often like to have a moment of personal thoughts and prayer celebrating this day and place in time. I've done it and you will surely feel a bit better and landed after being sprinkled with water by the smiling and fast chanting monk in front of you.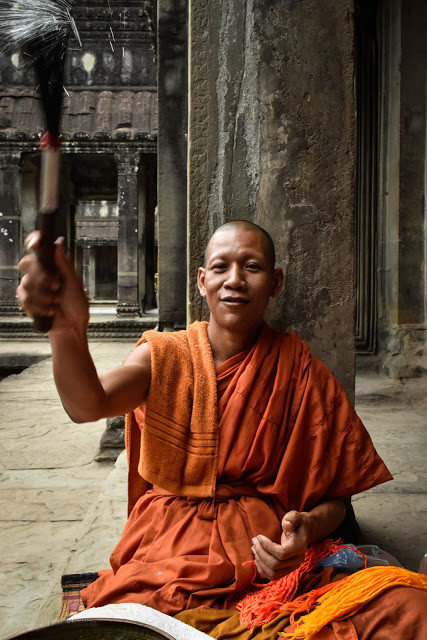 During this early morning, we will spend time exploring the main temple grounds and impressive galleries full of stone carvings depicting the life and wars fought during the rise of the Khmer empire.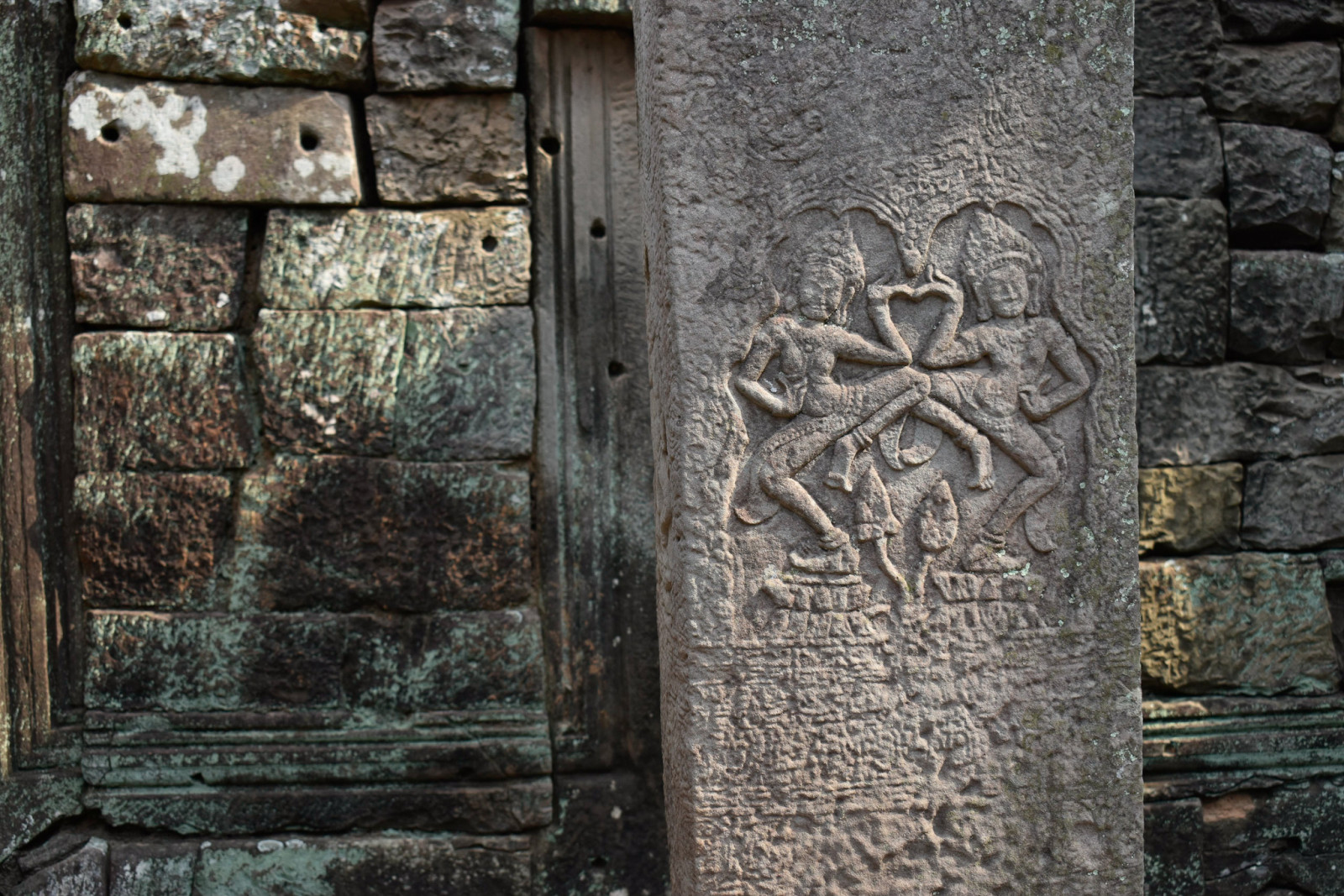 Yes, there are lots of people around at first during the sunrise ritual but it is at the same time a true celebration for everyone to be there and to watch how people are dressed up for the occasion. There are also ways to avoid the crowds and I will help you do that as we move away from the crowds.
During my first visit, I wanted to have no one else in the frame and often it's best to try but at some stage, I also find the spectators and their interactions actually nice to include. Women wear especially nice dresses and that can sometimes lead into a short spontaneous fashion shoot with a Japanese or Korean model right there.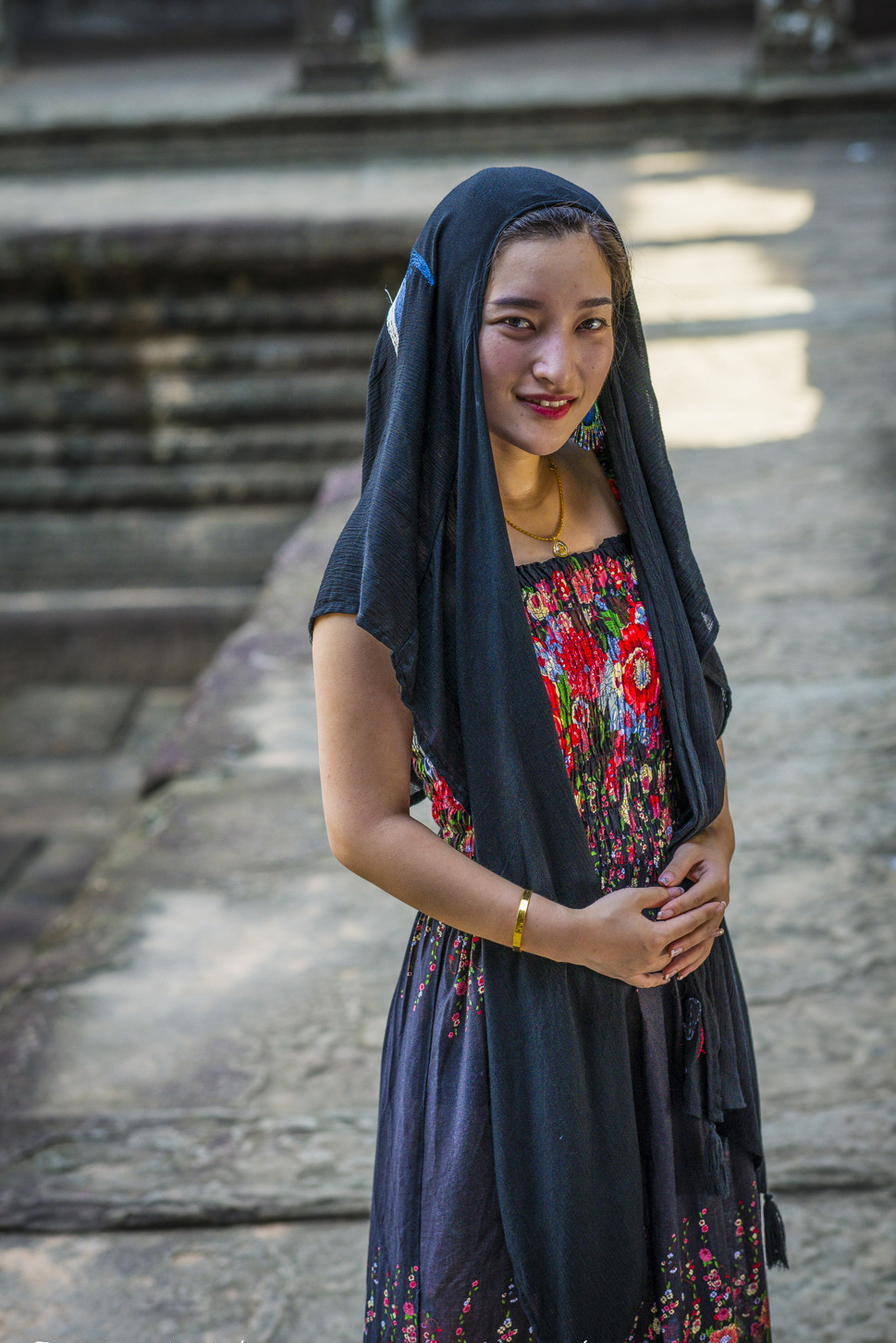 Around 9 am we will be exhausted and you will be looking forward to a well-deserved breakfast a cool shower or jump in the pool and we return to our accommodation before we will head out again around 2 pm for our afternoon session until sunset.
Cambodia Photo Tours | Angkor Wat & Tomb Raider photos
As we get back for the afternoon at Angkor Wat our focus will be on Angkor Thom (great city) and Ta Prohm. We start there at the south gate with its massive stone bridge lined with a line of expressive statue heads. The gate itself is majestic and you can climb on a little hill to get up close with the enormous Bayon carved faces on top of the gate itself.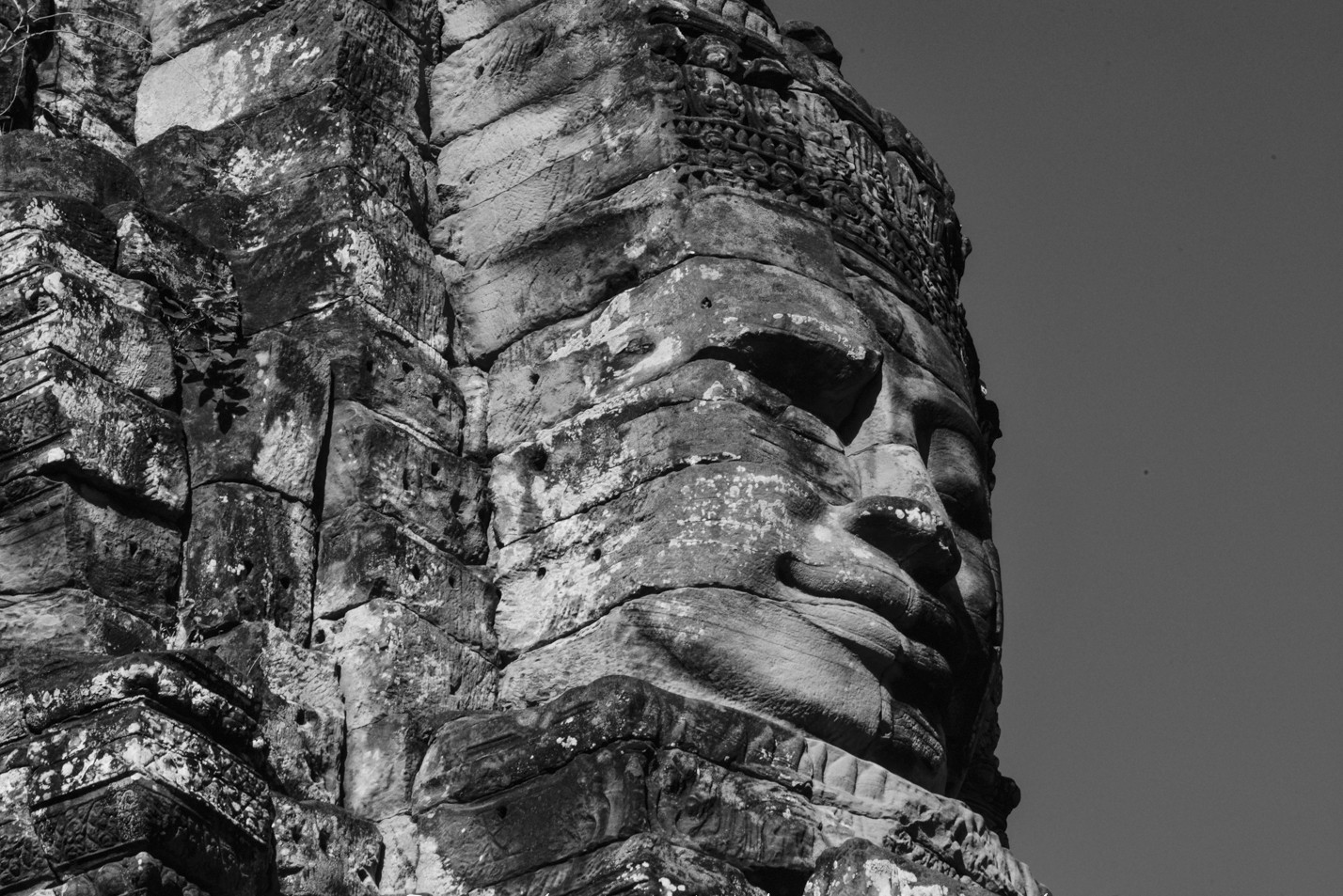 We also do explore Angkor Thom itself for some time but also have to preserve our energy for things to come and remember its 32-37 celsius steaming hot and the humidity takes its toll on your energy output. One step at the time and allow yourself to take it easy. Heavy camera equipment is therefore not recommended. One camera body and 2-3 good wide-normal-tele- lenses should be sufficient. A backup body or high-end smartphone is recommended.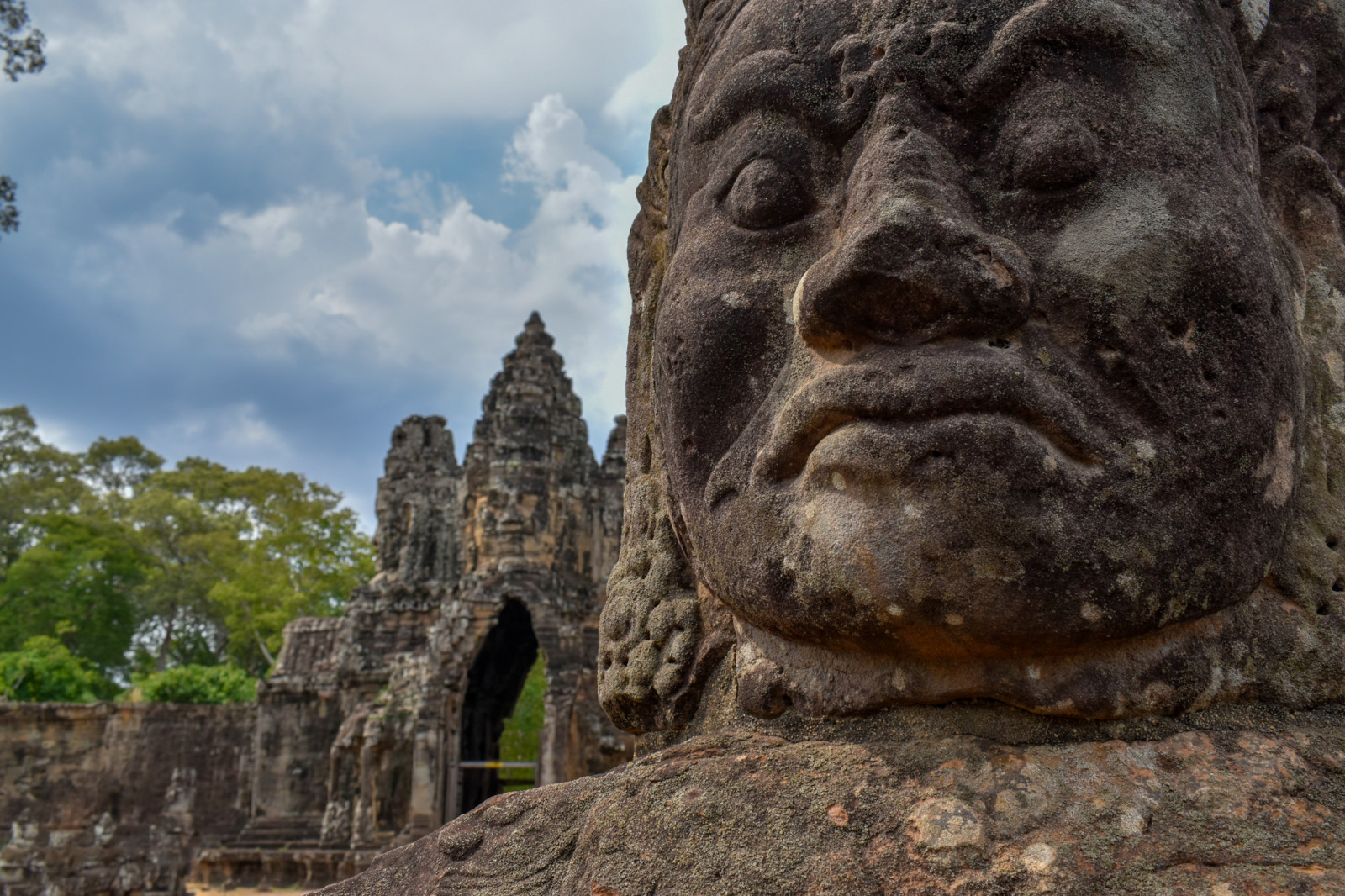 Cambodia Photo Tours | Angkor Wat and the Ta Prohm temple
We proceed to Ta Prohm temple with the famous tree roots crawling over the walls and buildings. This might be the most visited temple location of them all but there are still amazingly beautiful lesser-known corners and nooks and hidden pass-through enclosures to be found here that you almost have completely for yourself. Personally, this is my favorite part of the Angkor Wat visit and every time I go there it's so rewarding as an experience and photographic and almost meditation-like exercise.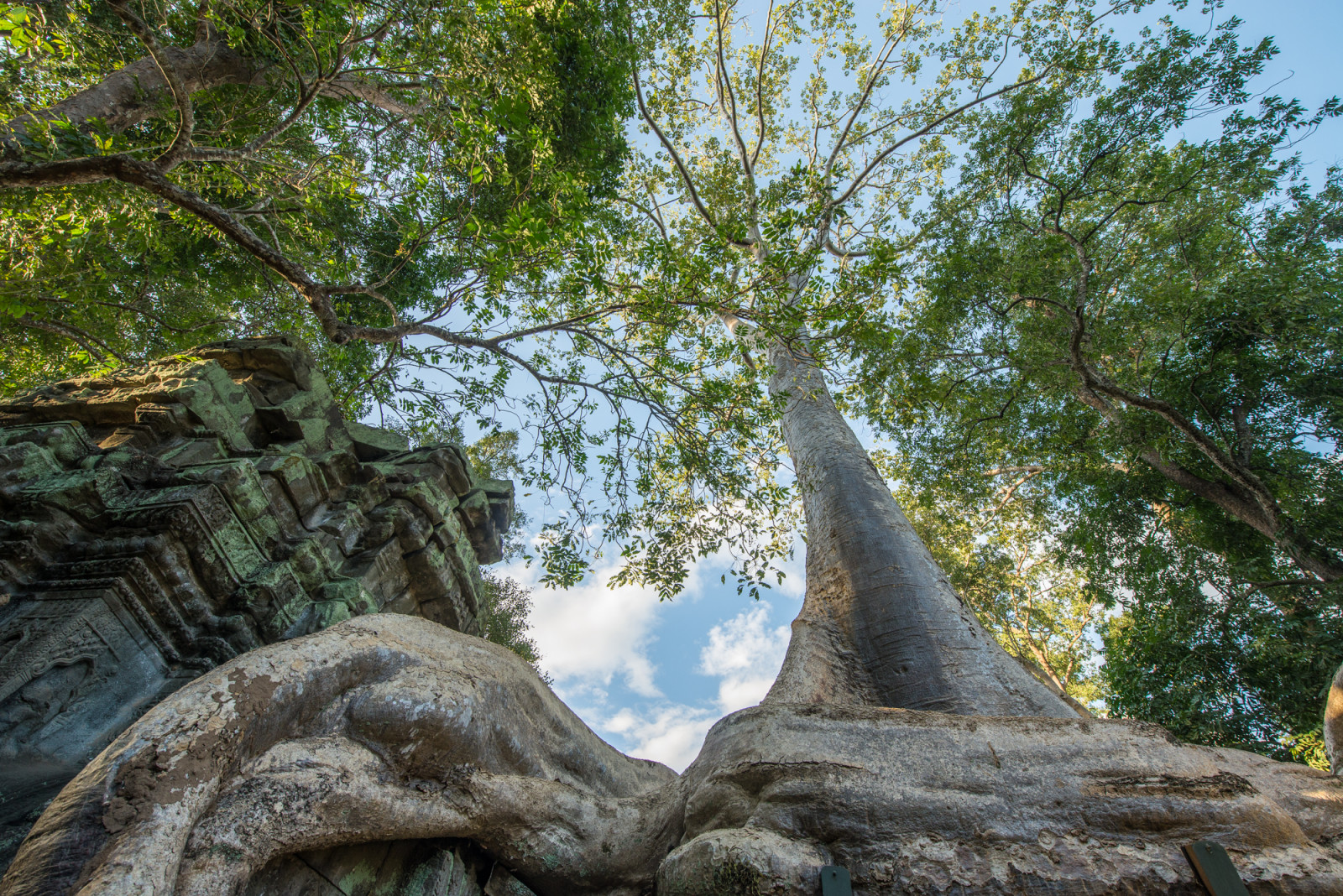 Just the sheer atmosphere of this place with its jungle sounds of animals screeching and the late afternoon light touching the temple carvings with the huge whitebark trees covering the walls and looking like wandering huge alien creatures feet standing there patiently for hundreds of years.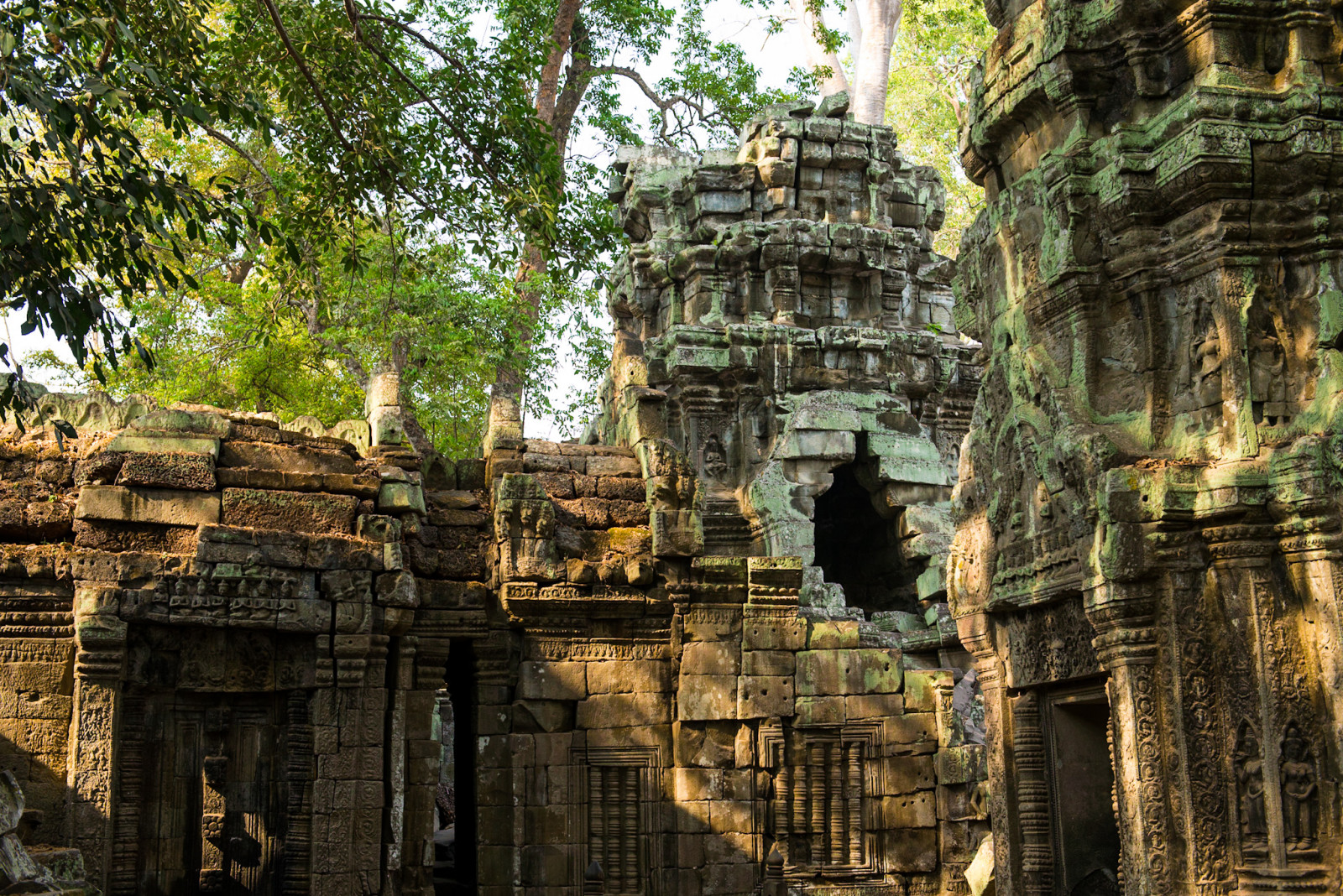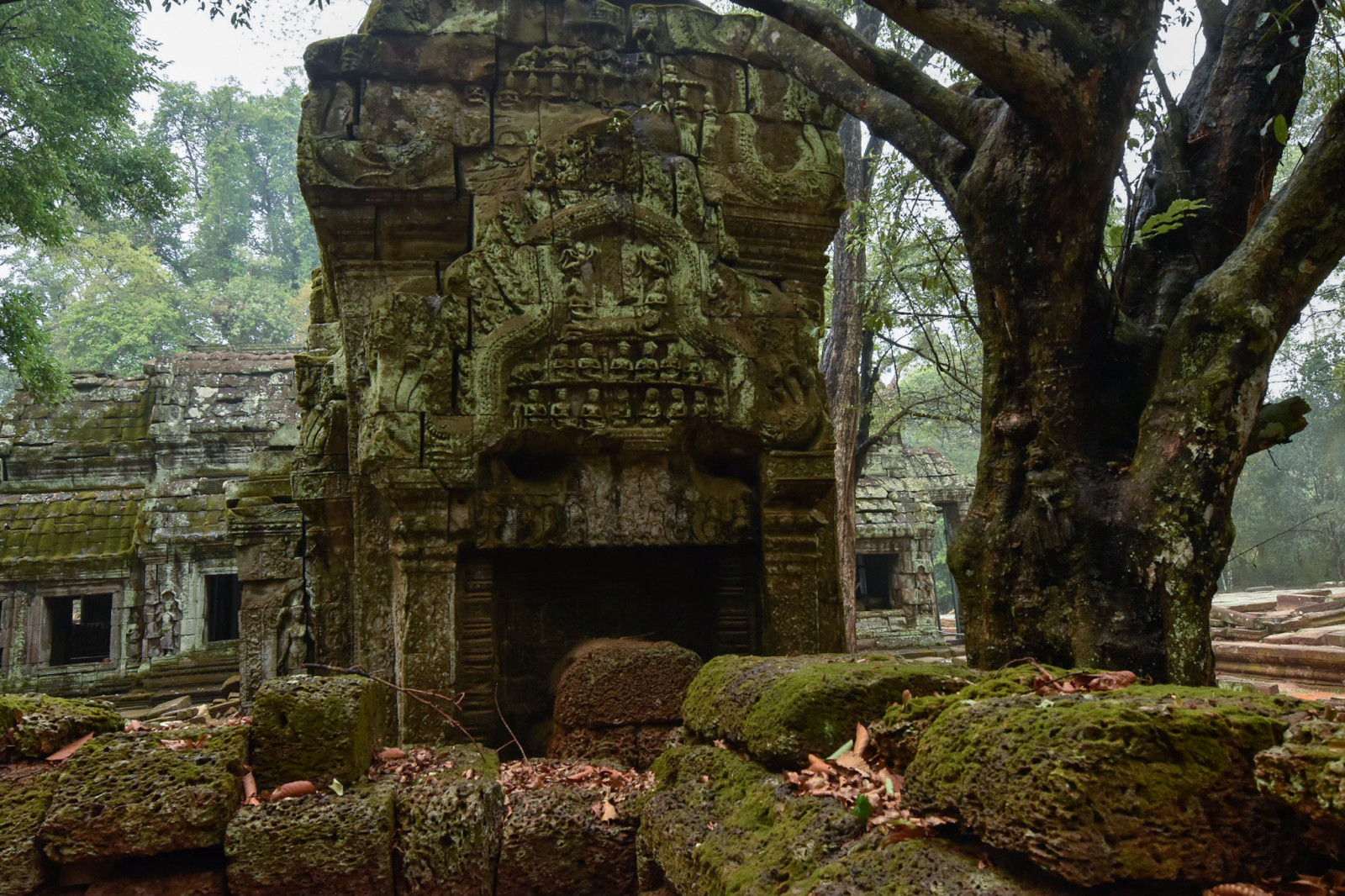 Last time we were hit by a torrential tropical downpour and after 20 minutes the rains stopped and the Ta Prohm temple floor was completely flooded, just the silence and trickle of water drops falling down made me realize I was in a very special place once the homes and worship temples from a civilization long gone, but their spirits somehow still lingering over it. When you could use a time machine to go back to the days Angkor was a thriving city with over a million people living there, it's really mind-boggling and such a privilege to be there!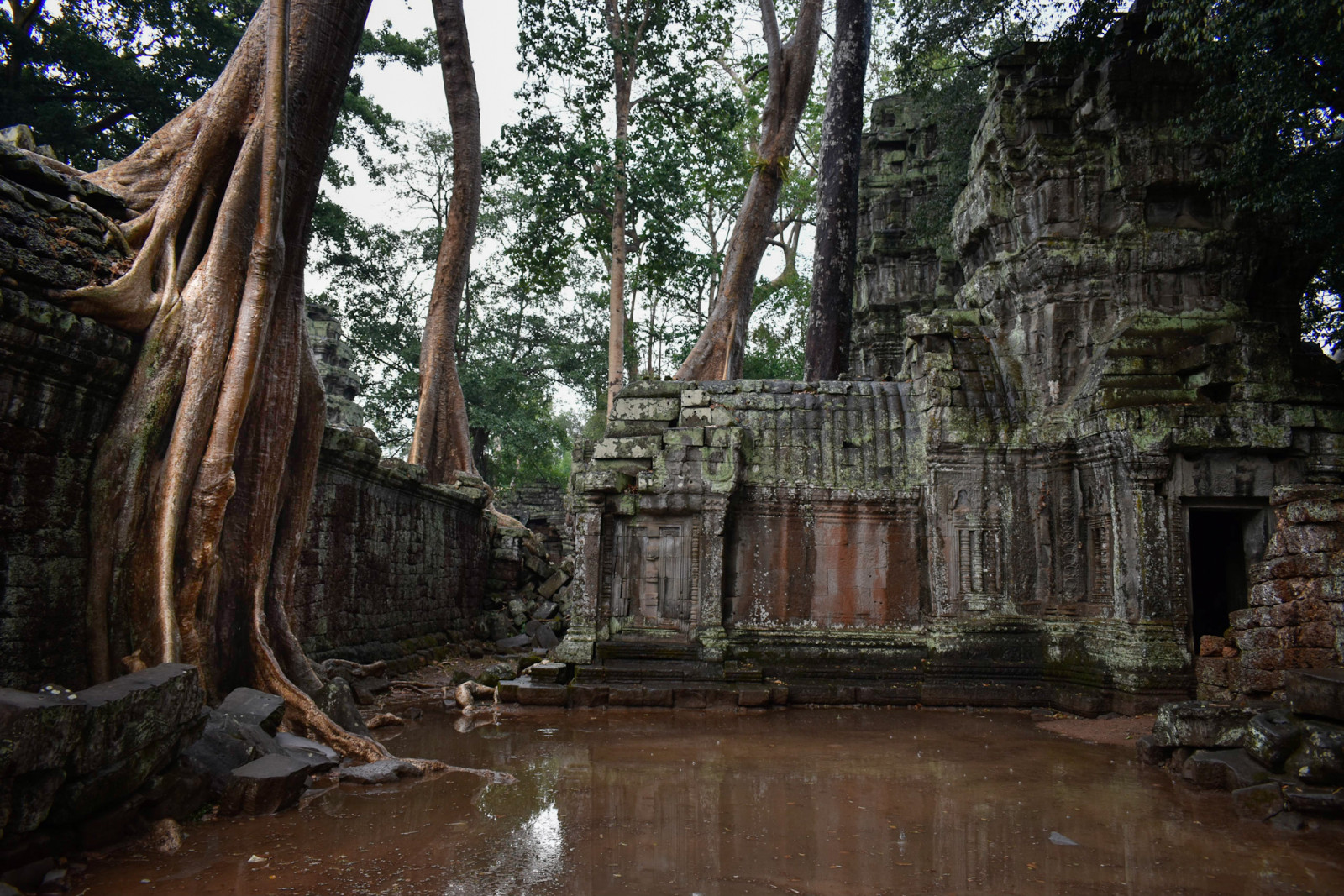 Cambodia Photo Tours | Roadtrip to the first capital of the Khmer empire
This special photo tour is offering a sense of space and time with great vistas along the way from the mountain (500+ meter) elevated ranges that run along the Cambodian-Thai border and from the Phnom Kulen national park highlands. Phnom Kulen is considered to be the birthplace and the first capital of the Khmer empire, the sacred mountain where King Jayavarman proclaimed independence from "Java" in 802 CE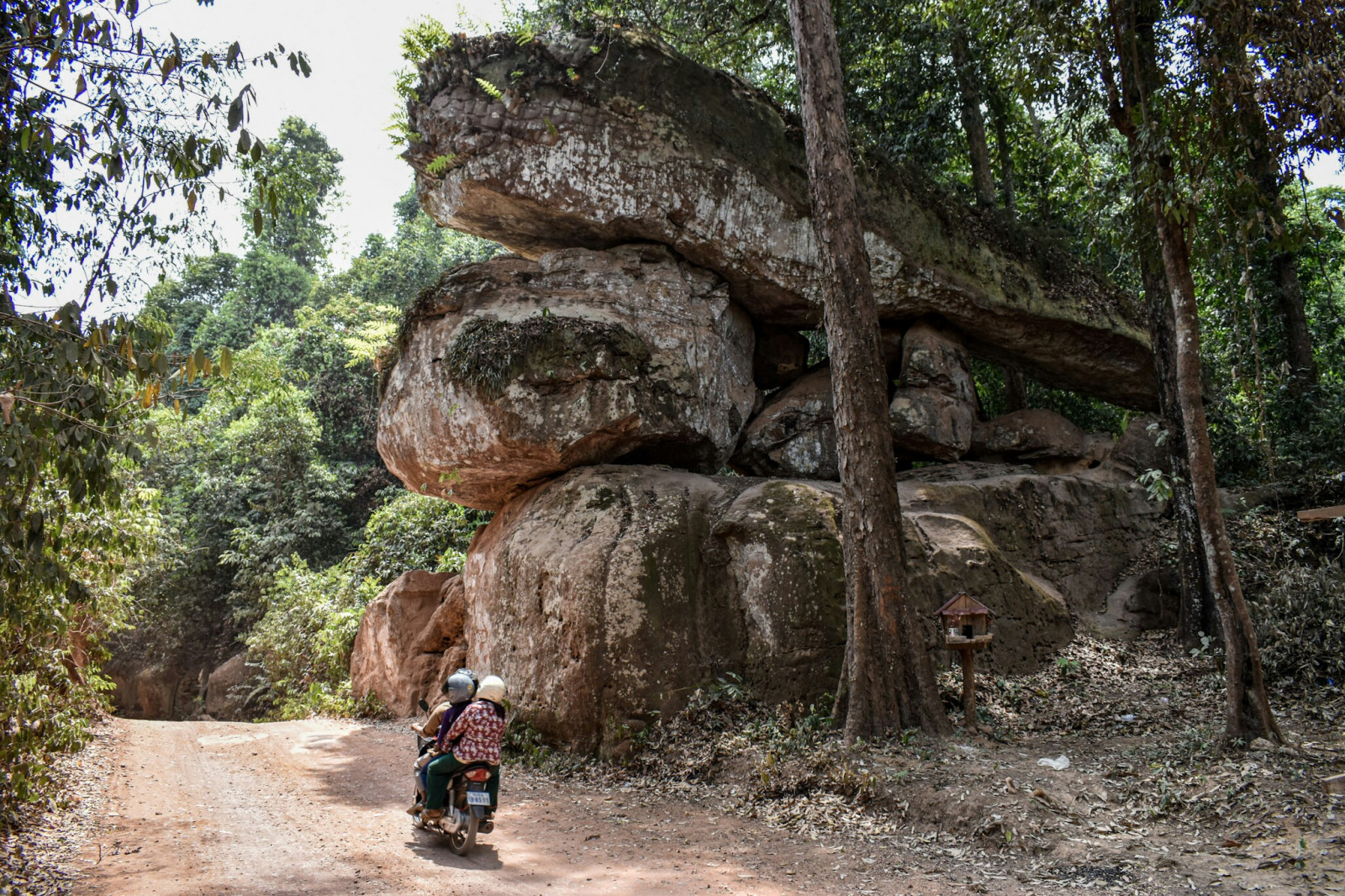 This mountain range is located 35 km north-eastwards from Angkor Wat and Siem Reap. Phnom Kulen is particularly interesting since it provided the massive building blocks of sandstone that Angkor Wat was made of and needed to be transported by hand up to 30 kilometers below to the flatlands and wetlands that is the location of the massive Angkor Wat site until this very day.
Cambodia Photo Tours | The Stung Kbal Spean river
Thousands of people, mostly slaves must have lived there centuries ago cutting those hundreds of thousands of enormous blocks of stones by hand and at the time were worshiping the Hindu gods of Vishnu, Shiva, Brahma, Rama, and Hanuman. The markings of their civilization are clearly visible at Phnom Kulen at the site of the Stung Kbal Spean River where many carvings are created in the sandstone riverbed commonly known as the "River of a thousand Linga's". This location was only discovered in 1969 in the dense jungle. Now it is has lost a lot of the mystique since the place has been cleared and is especially busy with Indian tourists for whom this holy site has an important place within their Hindu religion.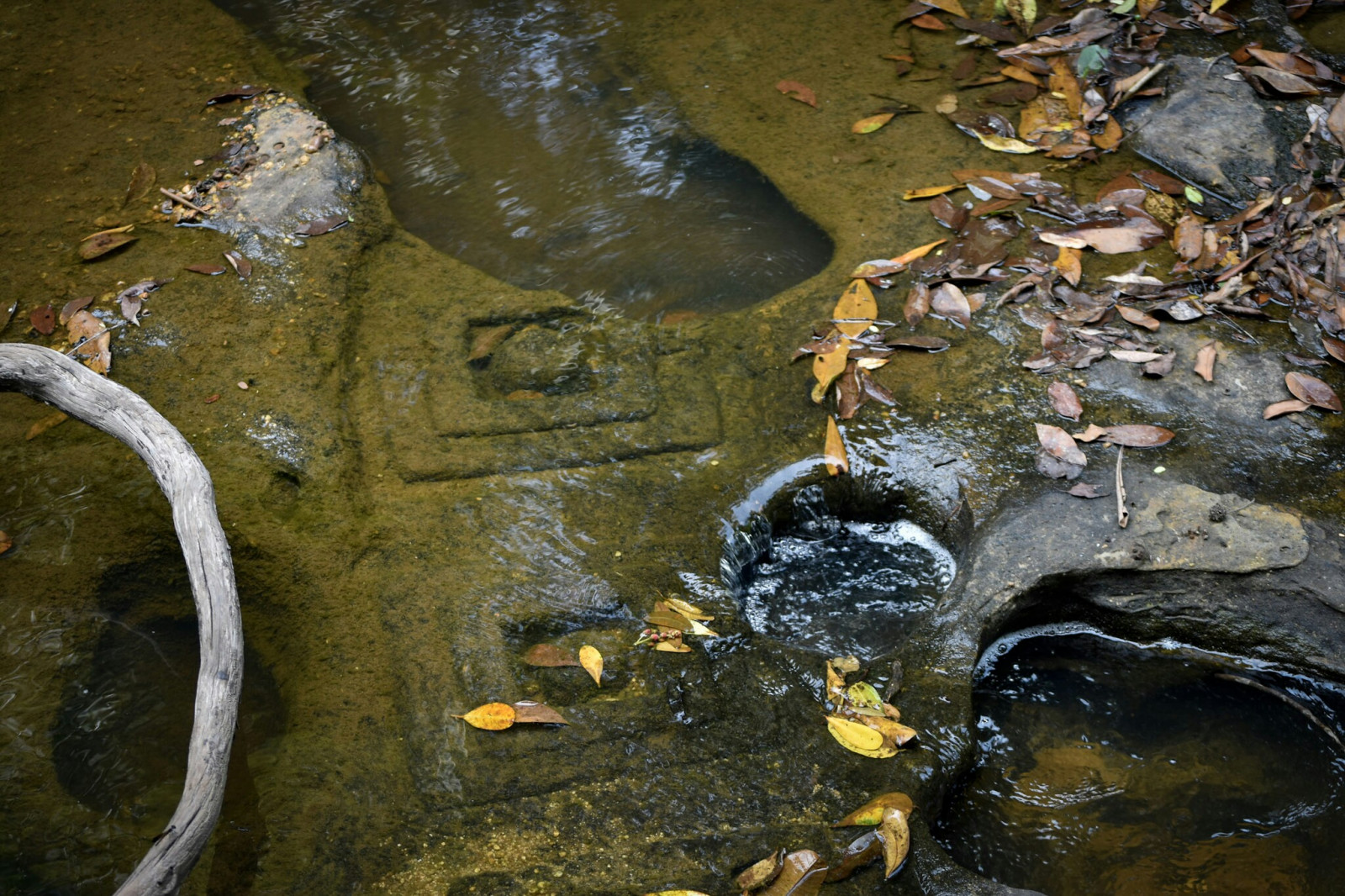 As always in Cambodia, most places and "mountains" are dotted with temples and interesting places of worship and with that each has its own spiritual vibe and interesting cultural significance and colorful friendly appeal.
Cambodia Photo Tours | Anlong Veng a 'secret' local town
The next stop after Phnom Kulen is the Preah Vihear Temple mountain for our afternoon shooting and sunset before we head out for the night to Anlong Veng town. This location is on no regular travel itinerary in Cambodia and an exclusive experience. As mentioned before Anlong Veng was the last stand from 1978 for over 20 years for the notorious Khmer Rouge cadres and the town is nestled against the Dangrek Mountain at a spitting distance from the Cambodian/Thai border.
There is an interesting recent history connected to this place and it's now a friendly dusty place with a tumultuous recent history. After a good night's rest we will explore them and make a moderate hike into the jungle hills by a rented motorbike or our car to see them and visit the almost surreal burial place of one of the most brutal killers of modern history; Pol Pot who lived there until his death in 1998 and his opponent warlord the senior Khmer Rouge army leader Ta Mok, nicknamed "The Butcher" who build a personal empire there and even ordered a hand-dug lake around his armed and fortified compound for permanent water irrigation purposes.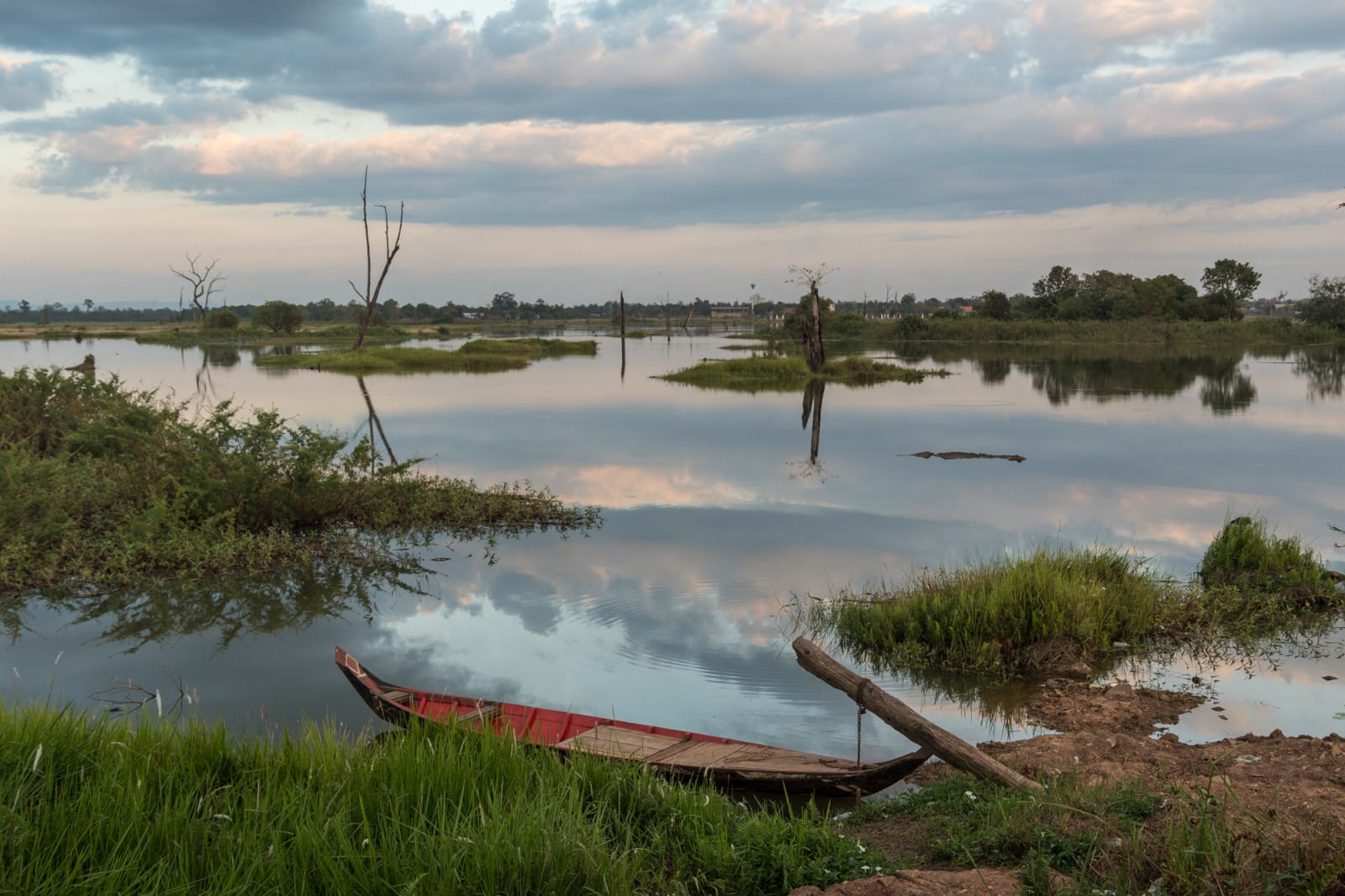 Cambodia Photo Tours | Shoot the hiding place of Pol Pot
After an internal dispute and more killings ordered by Pol Pot, the Khmer Rouge held a tribunal and convicted Pol Pot into exile on top of the mountain where he lived with his wife and servants in a concrete build bunker until his mysterious death.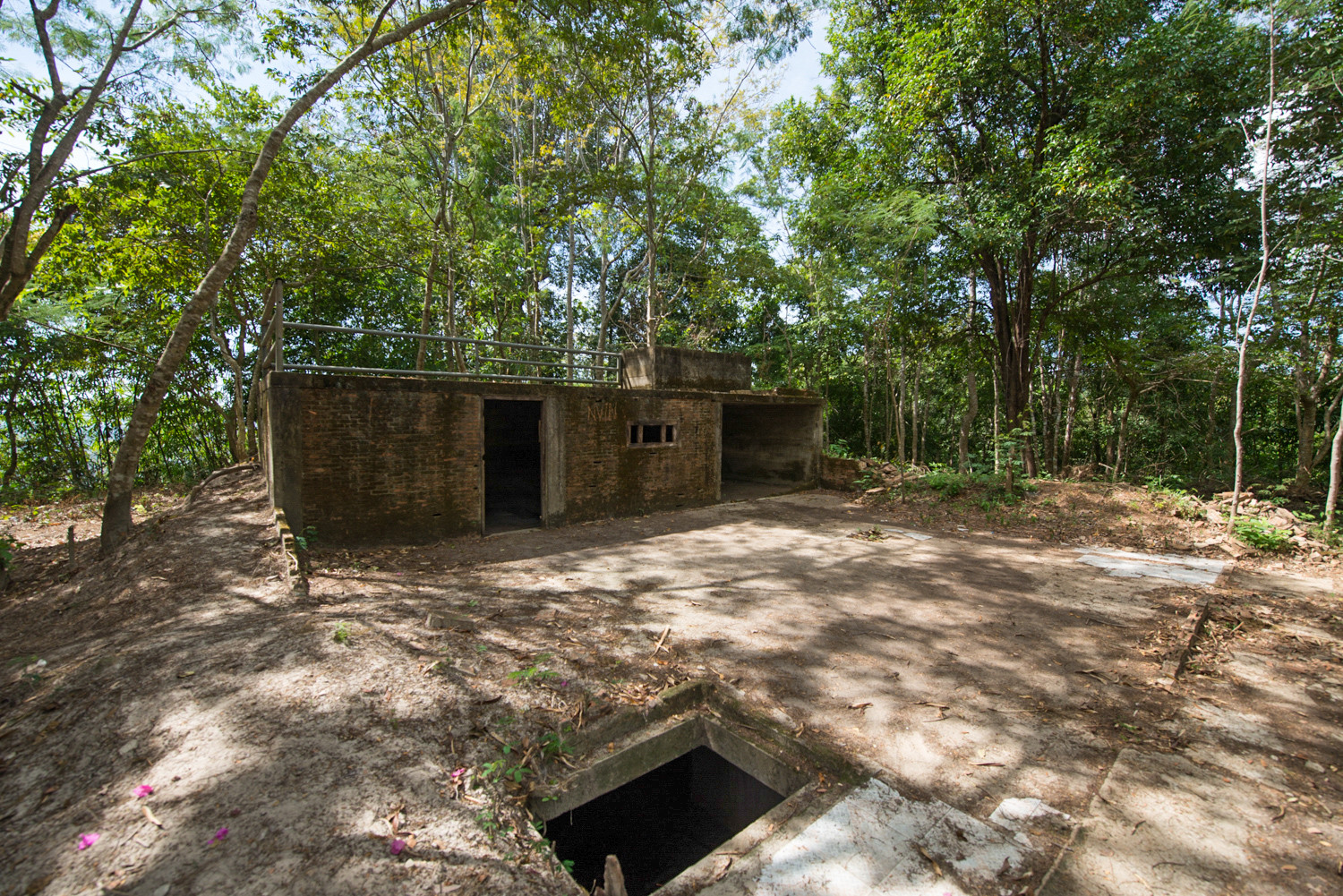 The former hiding place itself is located in an almost heavenly natural environment dotted with permanent water holes and rice and cassava fields were locals in the forest tries to make a living. Non-touristy at all and a beautiful hike into the forest jungle, we will be the only ones and it will make you understand the war-torn history of Cambodia much more.
Pol Pot's grave is nothing more than a piece of tin roof and a few sticks in the ground, opposite a huge casino resort that would make him turn around in his grave for all communists' beliefs and values are nonexistent there now. Even though the grave and his hideaway bunker are now desolate reminders of the Cambodian genocide and a man known for his gentle smile and reckless rule, It's impressive to be present in the absence of presence.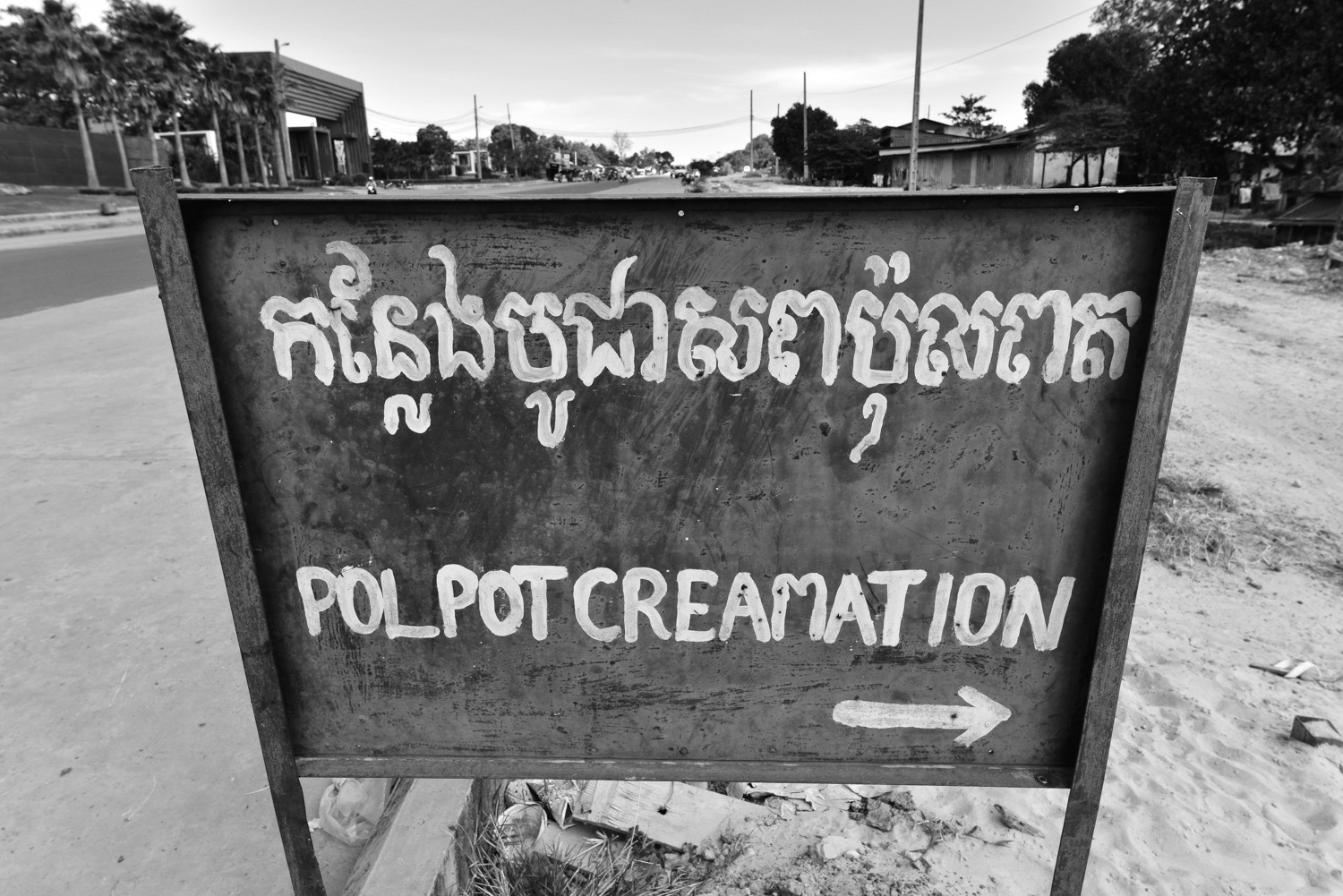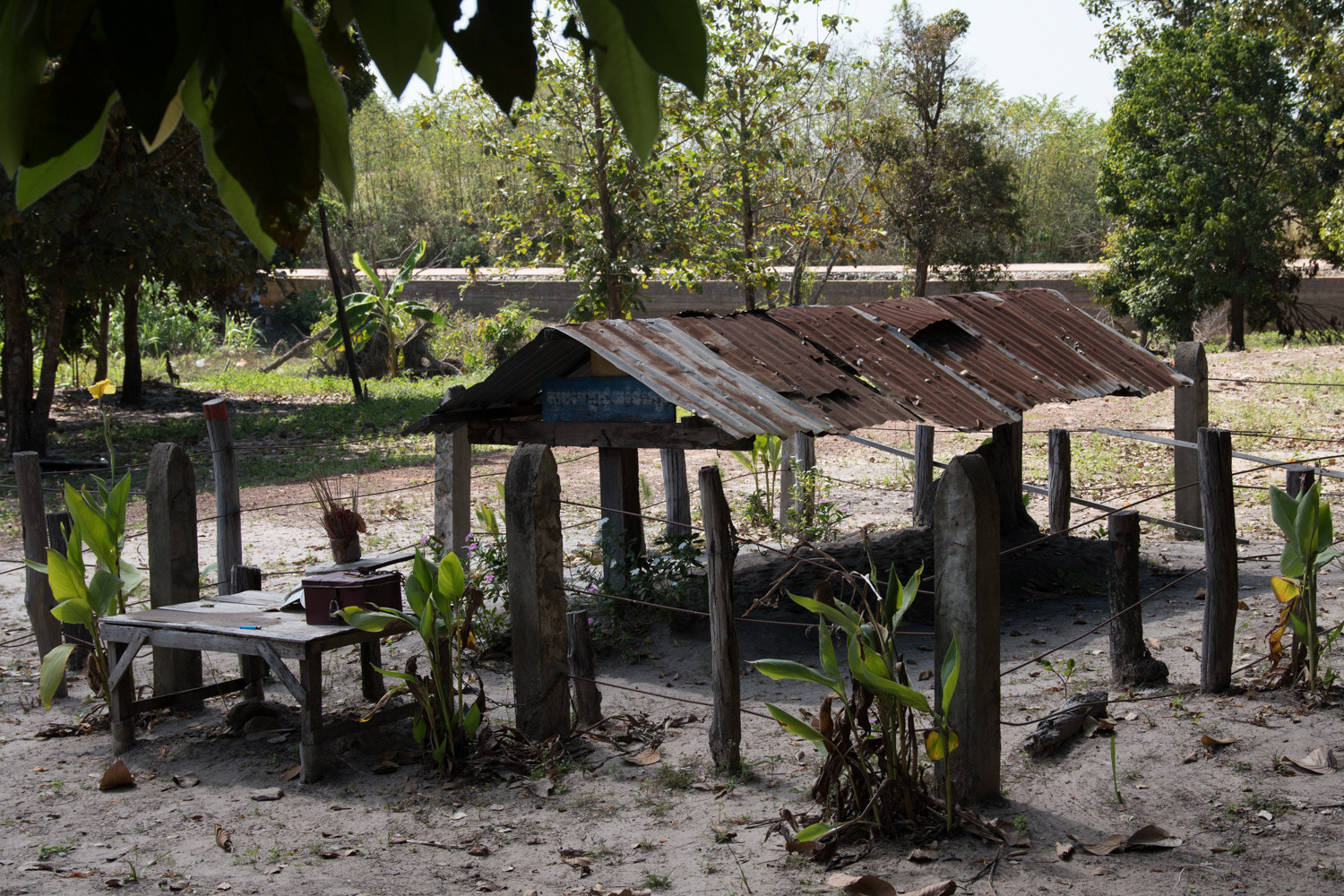 After lunch we will return to Siem Reap located 150km away by taxi and check-in for our last night in Siem Reap or if you wish you can take the late-night flight out of Siem Reap and return to Phnom Penh before midnight.
Personally I just love to get off the beaten track and get out of Phnom Penh or Siem Reap and soak up that special feeling of free travel and expedition with a sense of purpose and engagement to make art while moving around shooting landscapes and portraits, in reportage "street" but also landscapes and intimate portrait B&W or Kodachrome/ Velvia film style of daily life in Cambodia.
Feel the freedom to shoot the perfect picture in Cambodia
Climate-wise things feel a bit cooler at times in the countryside and especially in the highland jungle hills is the temperature somewhat fresher, still warm enough for shirt only, and the countryside lifestyle we enjoy provides space and places to take a deep breath and take in that indescribable feeling of freedom and time to make fine images of light and the sights we encounter.
We will stay mostly at selected accommodations and all of them are just good. Don't expect high luxury and elegant resorts on the edge of civilization but why would you want to stay there? We are on the road all the time and when you finally hit your bed all you need is a hot shower, a nice meal, and a good bed. You can expect clean and honest guest houses with good beds and a hot shower. A healing Khmer massage or foot massage can be arranged in every town.
In total this road trip is scheduled for 4 days, including 2 nights in Siem Reap and one night in Anlong Veng. In total we will travel 2 days by private car with a local driver over mostly good roads, sometimes we hit a dirt road with gravel. In my opinion, is this photo tour a genuine way to see and get to some of the best locations in Cambodia private and without the crowds. Our travel schedule is both relaxing as engaging.
The level of physical effort is a medium-low impact with respect to climbing and long walks. Safety is no problem at all you'll be smiling all the time. The final end result will give you a different perspective to Cambodia, a feeling of liberation from mass tourism and taking wonderful images that you can work with and print, exhibit or just post on your website or social media for weeks after you have returned into the fry of your normal life.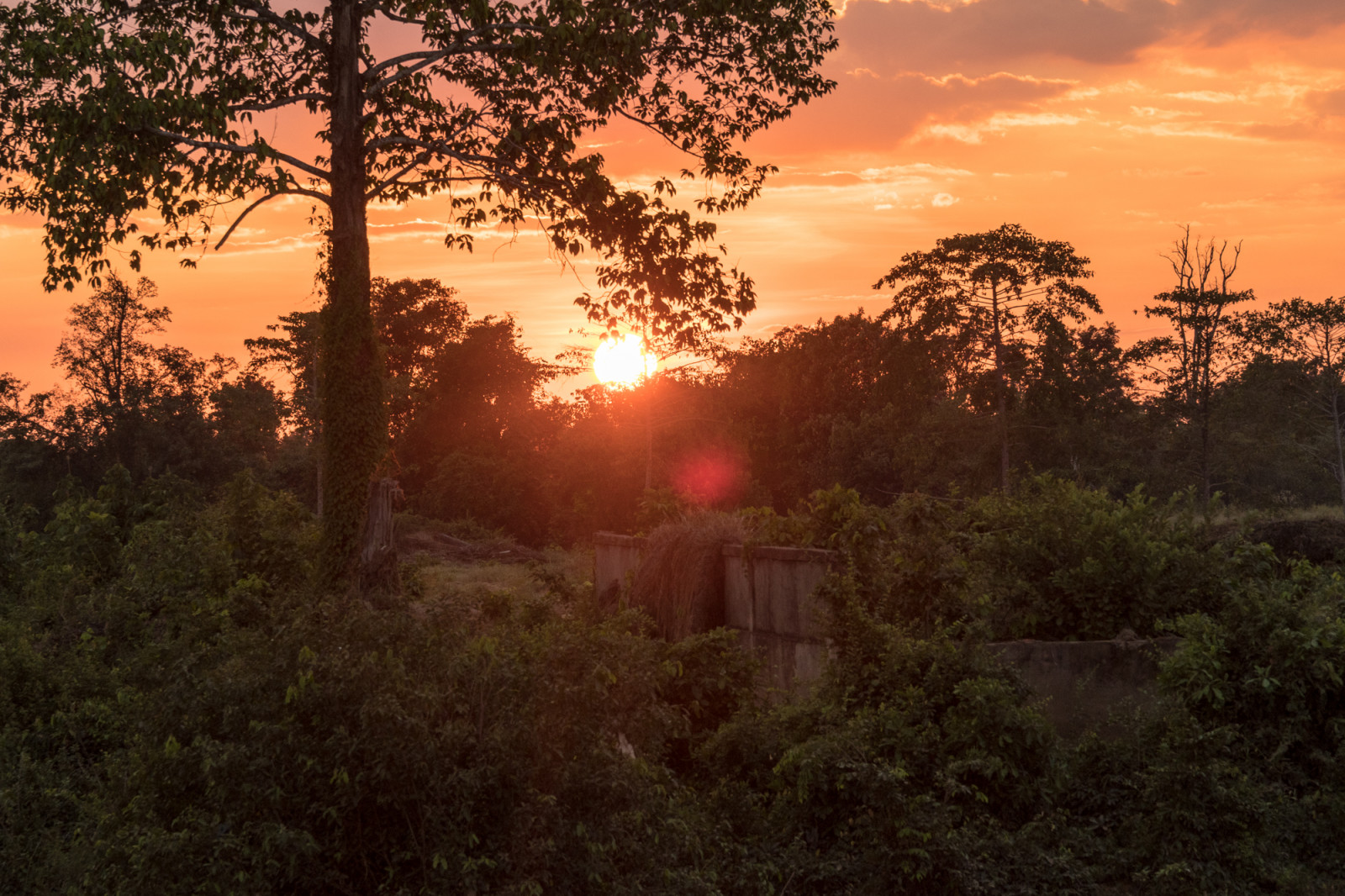 This one is for you! Discovering the heart and soul of Cambodia and Thailand with your camera. Private photography tour with Michael Klinkhamer.
Join us for this unique private 5 days or 10 days photography adventure in Cambodia and Thailand.
We advise you to arrive in Phnom Penh-Cambodia 1 or 2 days before the photo tour starts to get acclimatized.
Cambodia 5 days: Phnom Penh street photography experience. Mekong River. Angkor Wat Temples. Phnom Kulen Mountain Cambodian Jungle hike, waterfalls and, caves.
Thailand 5 days: Bangkok City street photography experience. River Kwai Bridge in Kanchanaburi. Ratchaburi floating market adventure. Return to Bangkok for our last night photography tour.
For more information and pricing contact us: info@cambodiaphototours.asia
Check our 10-day photo tour package including Cambodia 5 days and Thailand 5 days.
Inclusions: All teaching (including optional night photography workshops) Photography guidance All transport (A/C car or minibus) 10 nights' accommodation.
Exclusions:
International and national travel to and from Cambodia and Thailand.
Entrance fees for attractions or park fees.
Any kind of travel insurance
Drinks and meals other than breakfast
Personal expenses, e.g. laundry phone calls, gifts, etc
Tips at your discretion.
Contact me for your custom-tailored itinerary and pricing for this photography adventure. Including all transportation and accommodations.
Resume: You can contact us via the One directly or send an email to us info@cambodiaphototours.asia for more information and bookings. Call: +85560873847
Phnom Penh "Street photography experience". 1 day (optional)

Siem Reap/Angkor Wat Temples. The first day, Sunrise over Angkor and sunset at Ta Prohm and Angkor Thom
The second day, optional hot air balloon ride for birds view perspective. Afternoon visit of the delicate temple Banteay Srei. Banteay Srei temple is inside the Angkor Wat archaeological park. 1-2 days.
Phnom Kulen national park and Preah Vihear Temple on the Cambodian/Thai border. This is a very nice and easy hike up by hire moto and will reward us with amazing landscape views and sights of the landscape. 1 day.

Anlong Veng town (the former jungle hiding place of Khmer Rouge leaders and Brother #1 Pol Pot). 1 day.
Tour ends in Siem Reap
Direct local and international flights are available from SR international airport.
All transportation by tuk-tuk and private car.
Excluding optional domestic flights.
All our adventures are designed to work extensively on your photography or video skills. I hope you like what you see here and perhaps we meet you down here sometime! Michael Klinkhamer is based in Phnom Penh Cambodia since 2013 and a born Dutchman from Amsterdam.
Call Michael Klinkhamer
Michael Klinkhamer

Photography-Coach

Free