Amsterdam Photo Tours | Discover the Secrets of Amsterdam
Amsterdam is probably one of the most delightful cities to spend some time with your camera, doing some persuasive pictures and a photo safari. The town is doing great, the buildings and canals are beautiful preserved and restored, and the infrastructure is up to date. The museums are world-class and renowned for their Dutch masters.
Amsterdam has evolved from a hard-working gritty rundown town into a shining global must-see top destination with a ragged edge like Paris or London, Mumbai or Phnom Penh.
The port of Amsterdam has it all for some genuine street photography, portraits, urban-landscapes or traditional old-Dutch life reportage in rural villages. Not to forget fantastic flower photography options, and the Dutch water defense lines of dunes and dikes all over Amsterdam city and North-Holland province.
Private Photography Tour of Amsterdam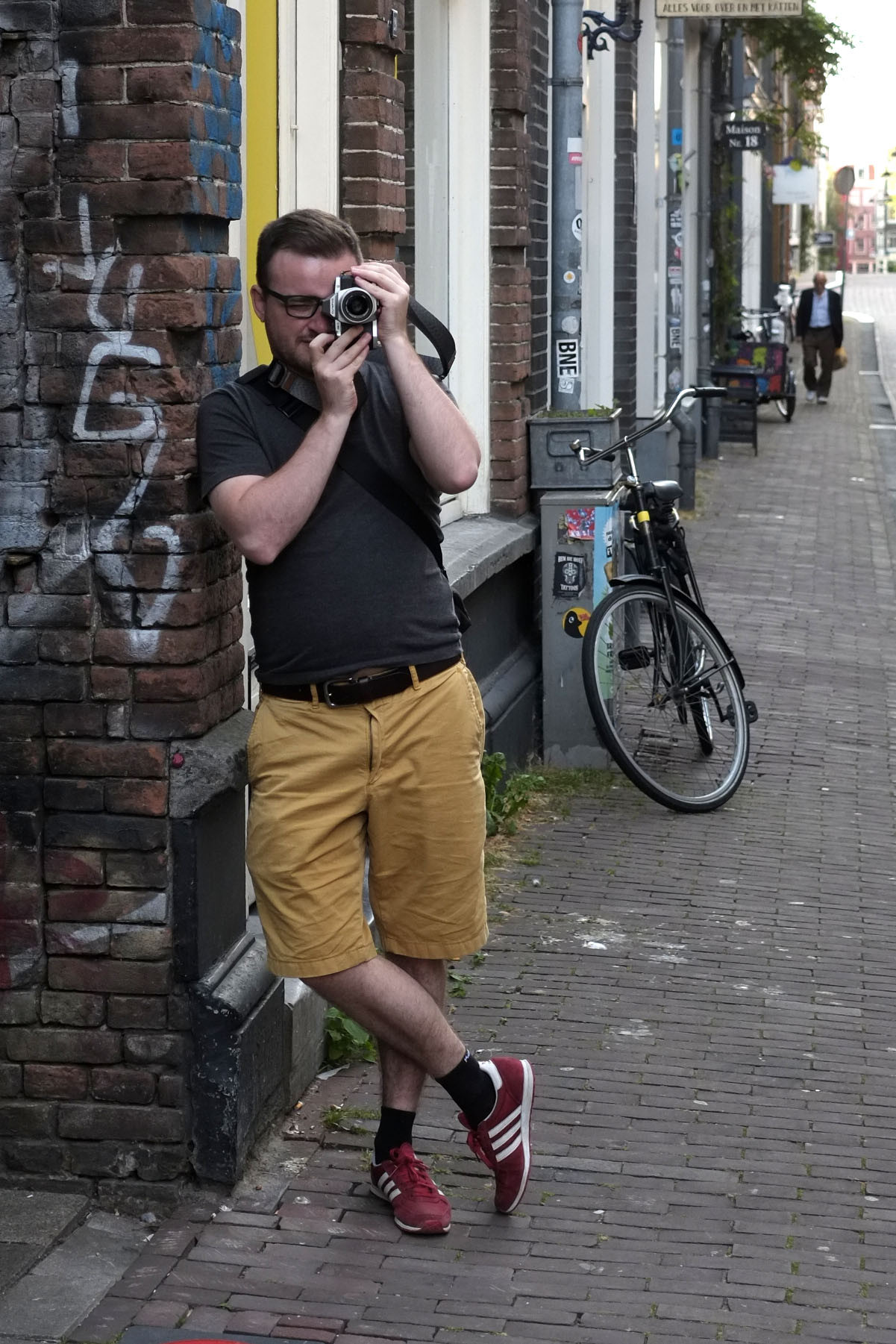 Always wanted to take your time to do some excellent photography and have absolute control over your image pictures taking quality time? With us, you will be fully involved in your image storytelling and have fun creating your personal reportage series of Amsterdam. These tours can get you to the next level in your photography personal style and experience.
What is better than to enjoy rewarding Amsterdam Photo walk with us for a full day or a half-day photo tour in Amsterdam with a local photo buddy? We also offer multiple-day photo tours for in-depth photography adventures for 2-3 days. This year is called the 2019 Rembrandt year, and there are too many Dutch golden age activities and commemorations going on at the museums in Amsterdam and around Holland.
During our guided photo tours, we will inspire you to make your pictures. Perhaps even with the Dutch masters in mind, we can set up something with local people (models) for portraiture. Being a professional photographer and citizen of Amsterdam, I am here to assist and guide you in the right direction.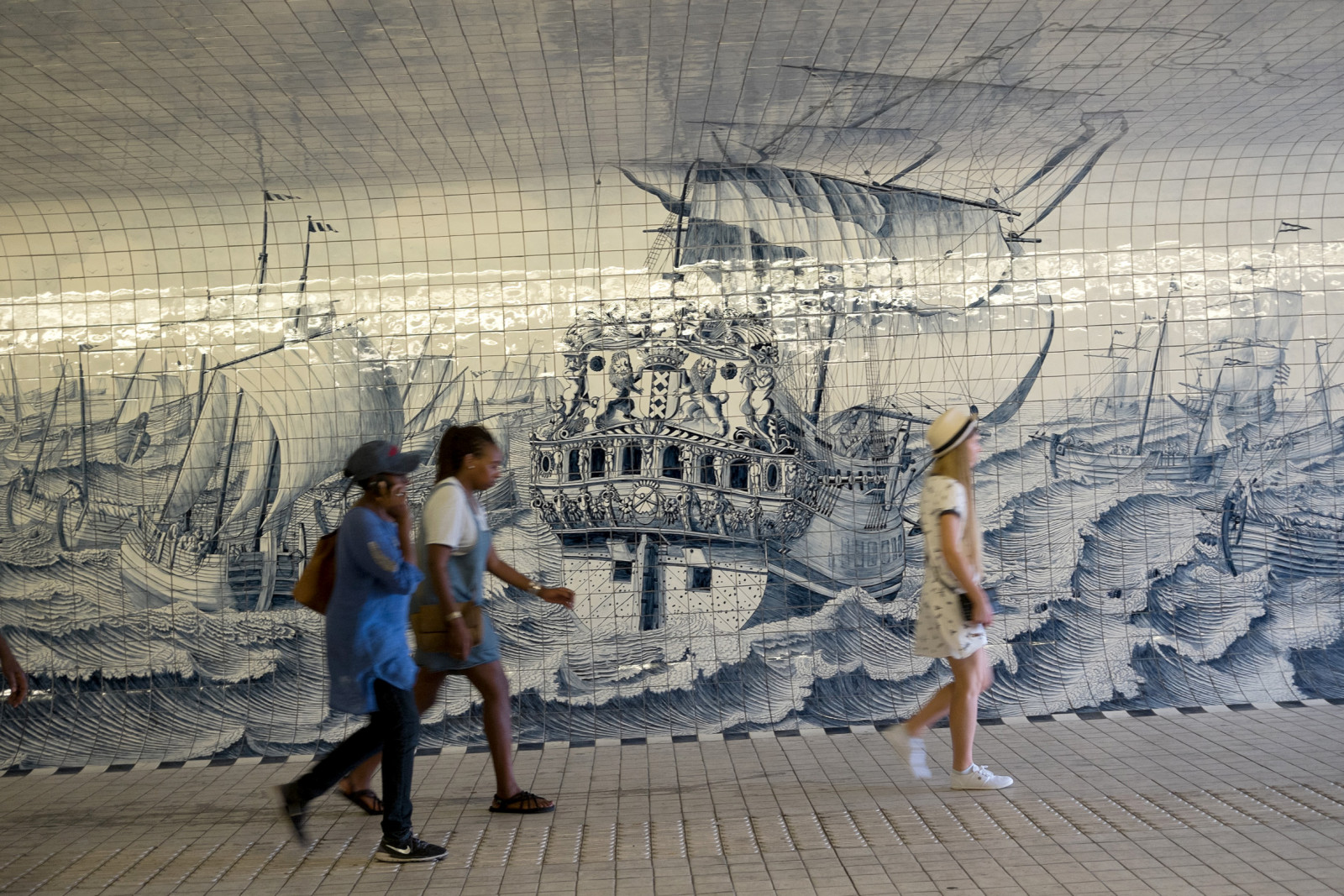 Inspiration from the Dutch masters in Amsterdam
The visual senses overload from what you will encounter in Amsterdam can be overwhelming. Take some time off to visit the museums and enjoy observing the work from Rembrandt or van Gogh.
This is very inspirational and can work great with your picture-making style and understanding of light and composition. By, for example, using creative arrangements and the use of the Dutch light. Or play with color, or motion blur in your photography.
Let's just get inspired by the Dutch masters of art and fill in the blanks yourself with your camera on one of our photo tours.
How to get around in Amsterdam?
There are many ways to get around the compact inner city. Naturally, by foot, rental bicycle, hire a boat or use of the extensive public transportation network. The choices of hotels and restaurants are almost overwhelming, and there is catering to every budget or taste.
The history of Amsterdam is very relevant for understanding the present liberal and easy everything goes mentality that is part of the Amsterdam experience now.
The Dutch have always been willing to adapt to change and open to foreigners. That is one of the main characteristics you will notice when you explore the city and meet locals.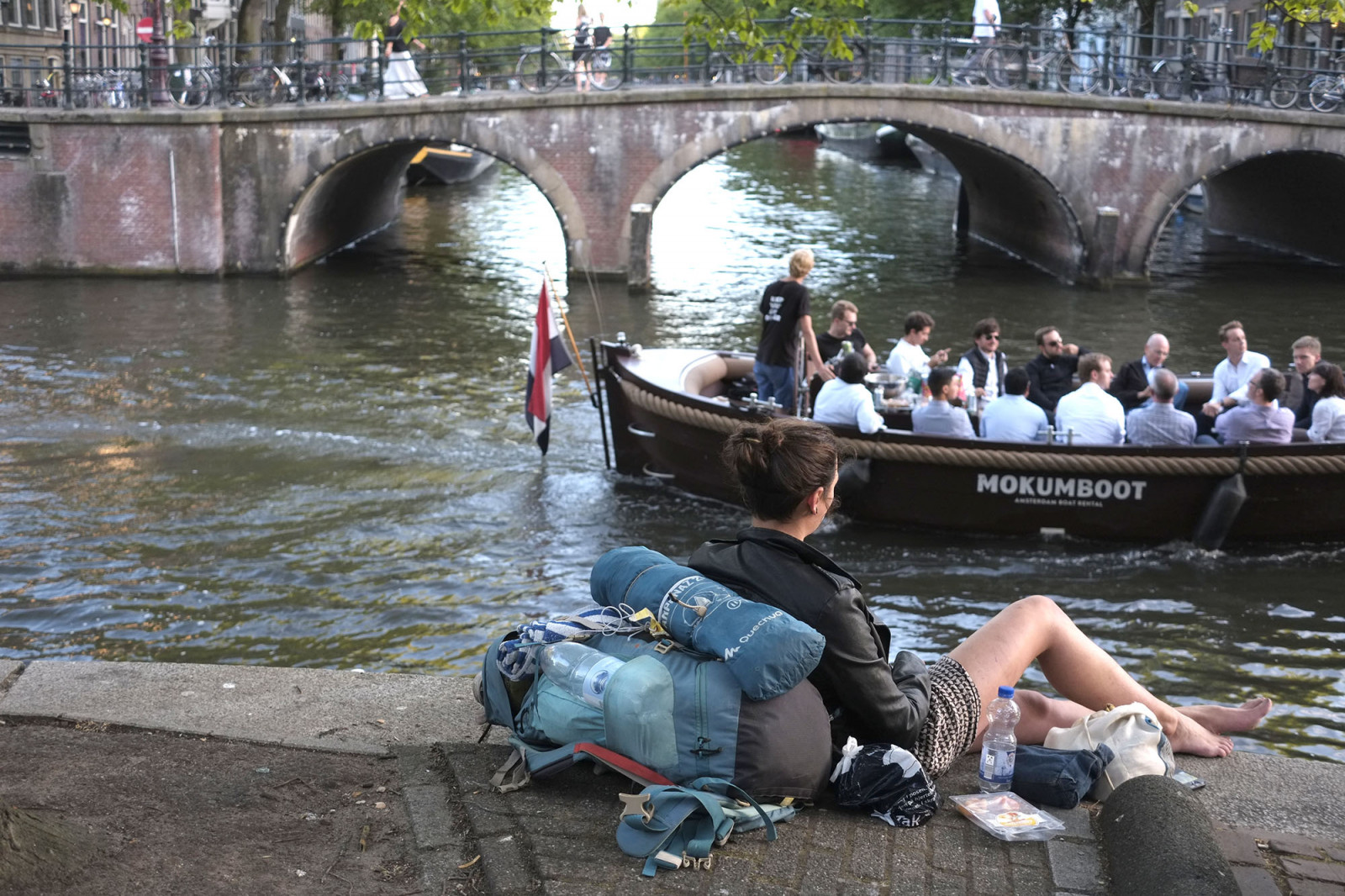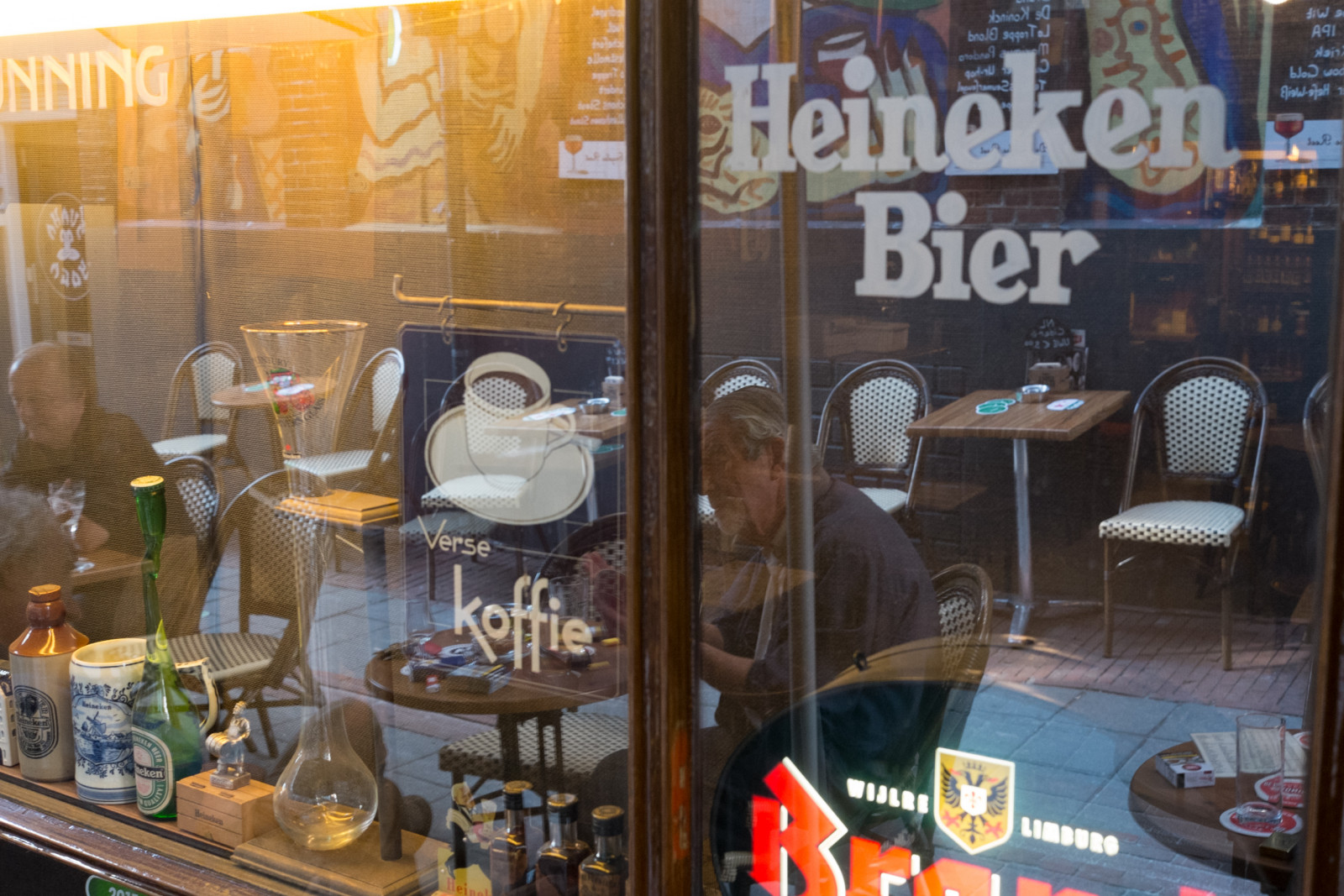 How does a photo tour work?
We can meet somewhere centrally located or do a meet up from your hotel if you stay in a hotel reasonably centrally located. Before we go out shooting, we shortly discuss your expectations. We can give you a basic crash course on how to use your camera to its fullest capacity if required.
After that, we go out and start exploring and have fun looking and observing people and the urban landscape to get some good shots.
We can walk our way around and explore the city by foot or take a short ride in a tram to get to our next location. We like to get off the beaten tourist path but also understand you want to see and shoot the highlights for what Amsterdam is famous around the world.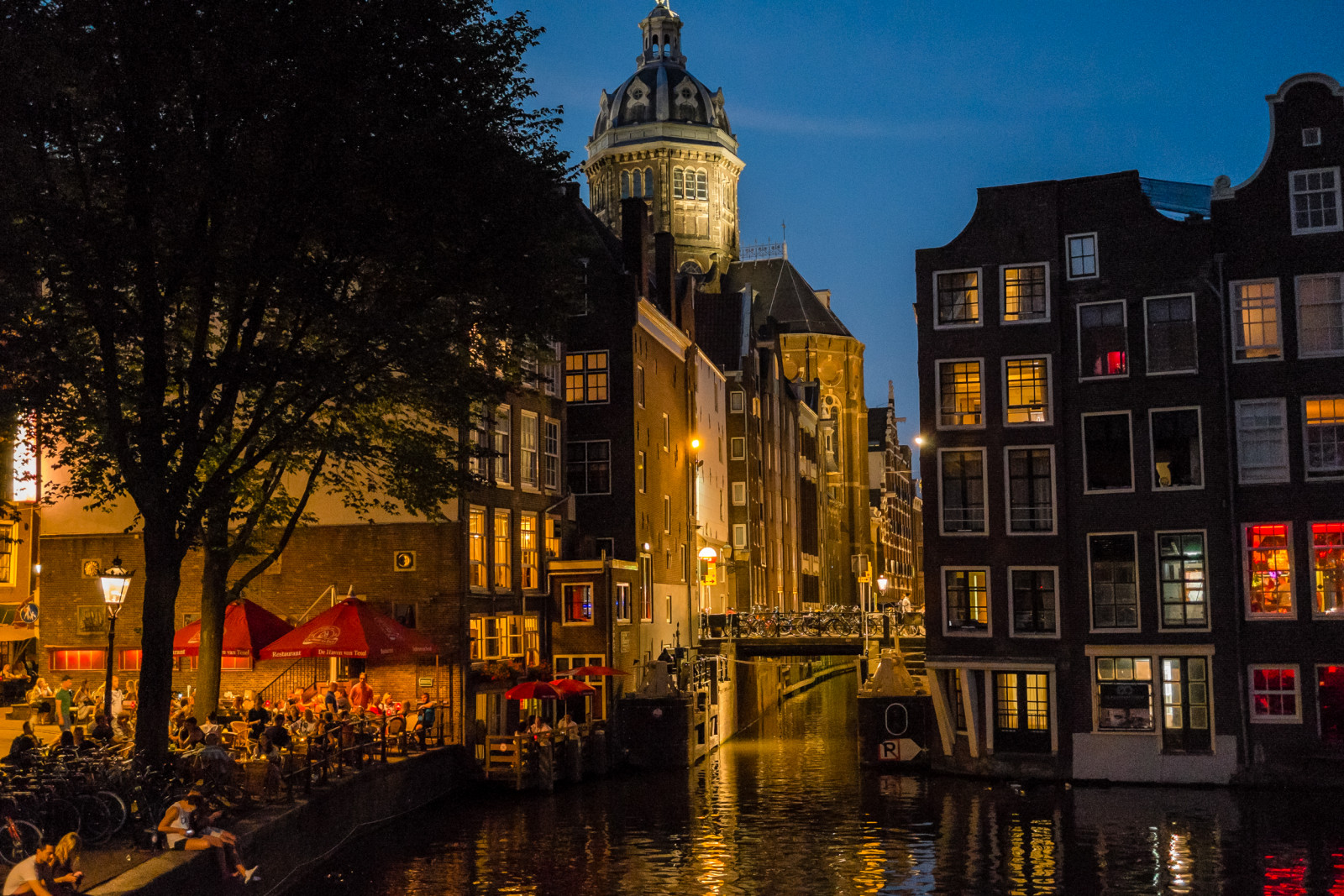 The highlights of the Amsterdam photo tour
One of the great things about photography and especially street photography is the unexpected nature of the art of photography. One moment you are looking one direction and just out of nothing, this fantastic image appears right in front of your eyes. The elements of luck and decisive moments in photography are there for an instant, and they are gone forever. Did you get the shot?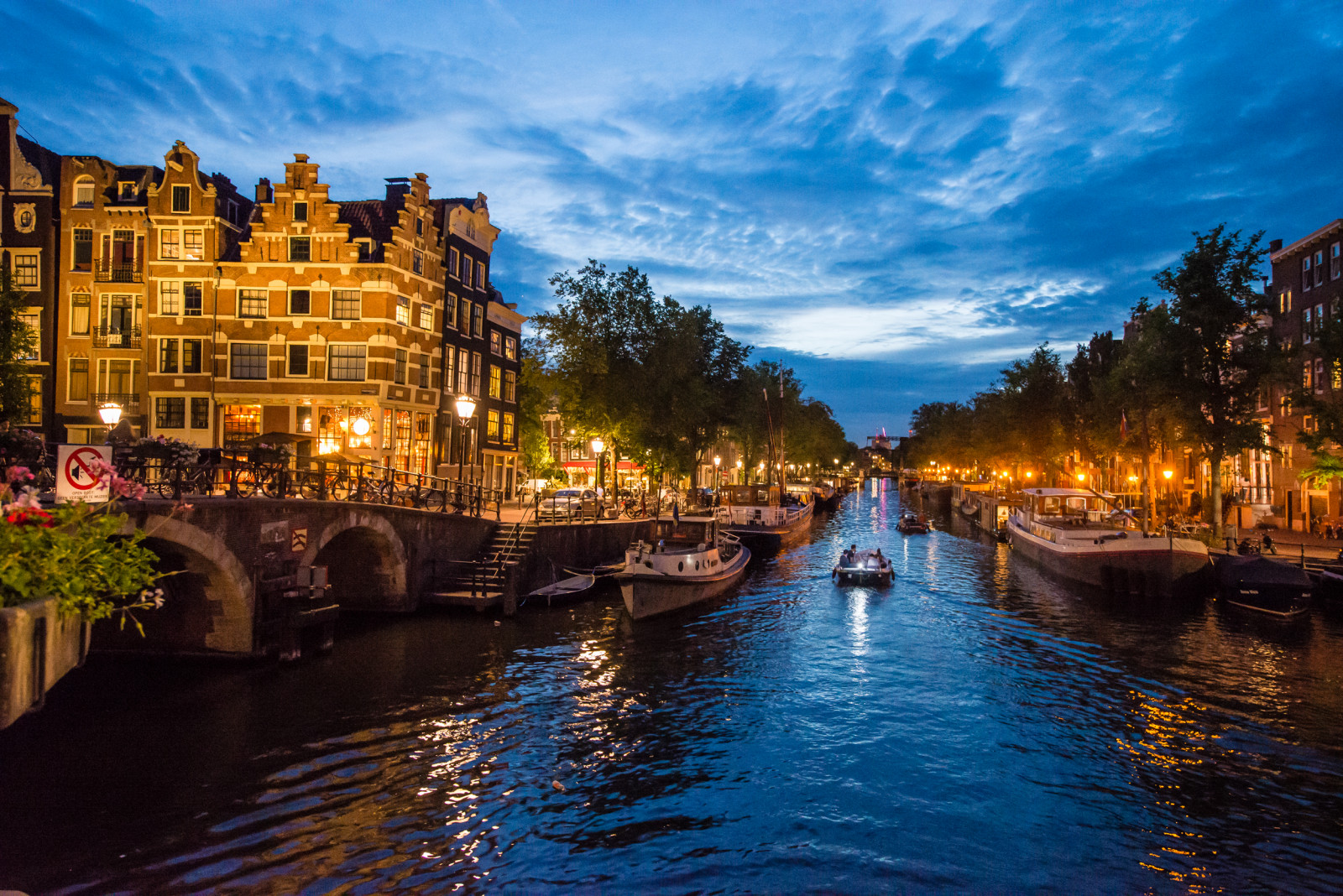 It's our job to show you how to be ready and use your instincts and intuition to get those rare moments captured. That means some hard work and determination, and most of all, engagement to get close and focus on your subject. Okay, I understand you are on holiday, so don't take the hard work that serious.
Places change all the time, depending on the time of the day and the weather. We know how to adapt and find places that are happening now. We try to get some fantastic pictures that you like to shoot and by making that series of great photos with you will be your highlight of the whole experience.
Being at the right place at the right moment is a good start anyway. We offer you a diverse itinerary and like to listen to your preferences and provide you a tailored, exciting photography experience.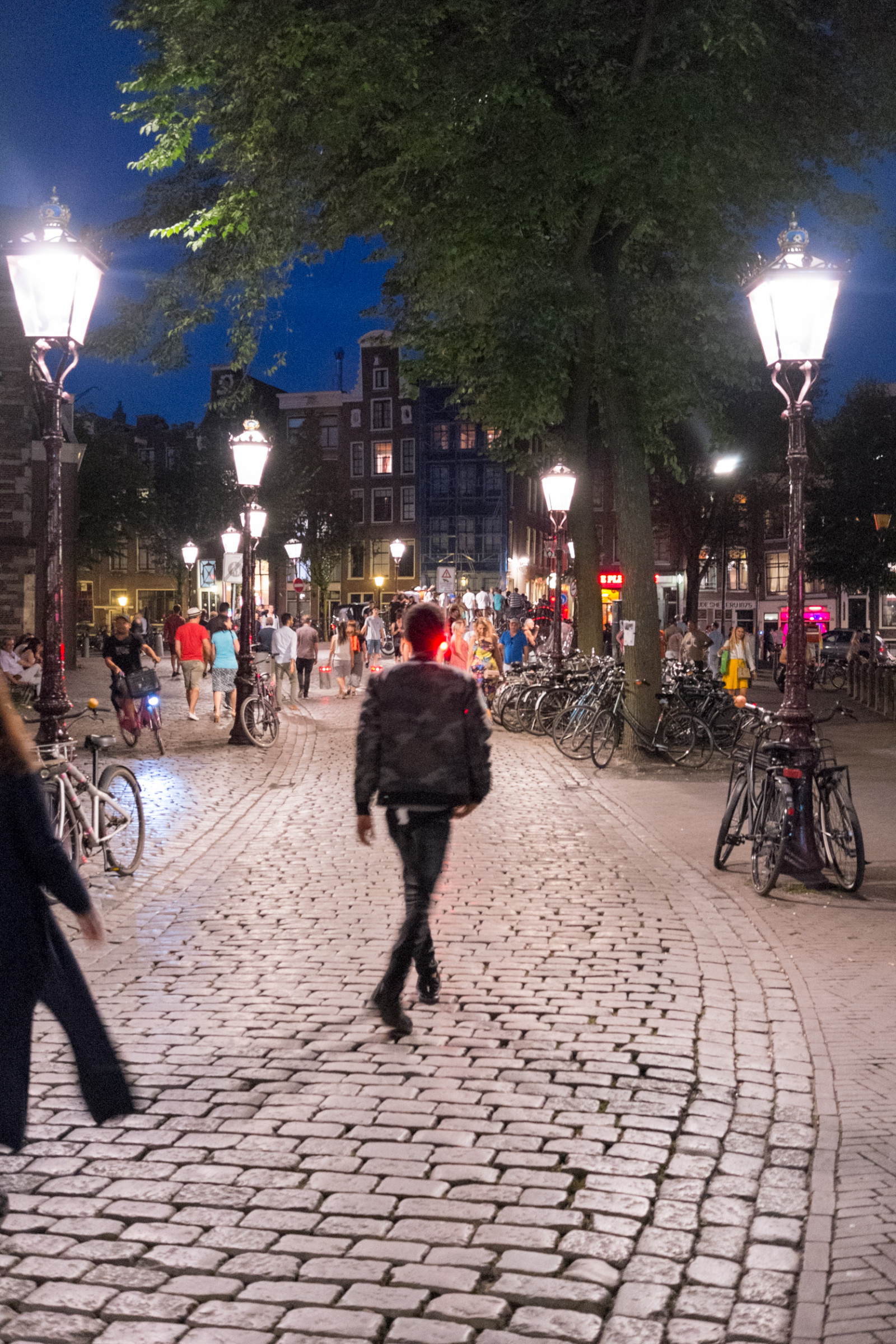 The best places in Amsterdam to make photos
We definitely should go into the old Amsterdam Jordaan (Garden) neighborhood and visit some of the most beautiful little streets with quaint shops and the majestic Canals with the grand decorated trader houses. (Herenhuizen)
Amsterdam gained its wealth and status by trade and exchange of goods from those far away places during "the golden age" in the 16th and 17th century. One good look at the rich and famous Herengracht or some of the other main canals and you will understand the impact Holland had in world trading for example.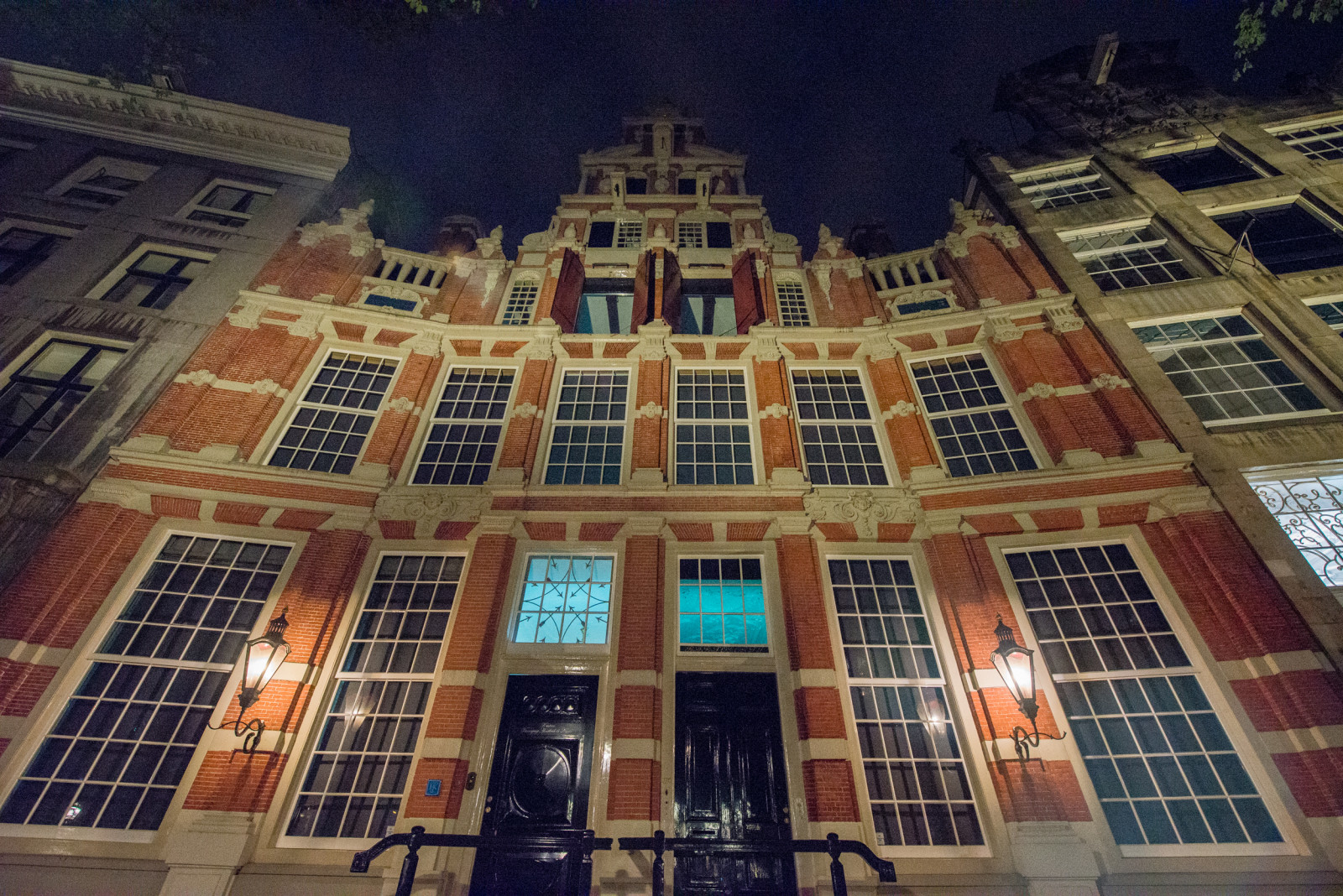 We can incorporate a gentle walk just outside of the center through the beautiful Vondelpark and adjoining Museum quarter and have a go at the exotic local Albert Cuyp market.
Break time at the Albert Cuyp market
Here we can get some interesting shots and check out the market vibe and can have coffee or some cold drinks and something to eat in the oldest coffeehouse and lunchroom for the local market workers and stall owners. Perfect for street photography and portraits.
Here you can - if you like - taste Dutch foods and amazing hot coffee with milk while we take in the local characters and observe local faces and details. A lively scene! It is as old as I can remember, the real Amsterdam.
Traditional wooden cottage houses
We advise taking a ride in the newly opened and high-tech addition of the Amsterdam underground line called the Noord-Oost line. We get off in Amsterdam North to explore our way back along some of the oldest wooden traditional North-Holland cottage houses.
We can enjoy a drink at a lovely traditional coffeehouse along with the Amsterdam port (Het IJ). After that, we take a local ferry across the water to the Central Station and old port part of Amsterdam.
Going with the flow in Amsterdam
Don't expect a fixed itinerary written in stone and being with a boring guide on a routine tour. You can trust we are just as excited and eager to get great pictures as you. We will help you with pointing them out and go home with a smile on your face and some good shots to prove it.
For those who love art, we can also go search for some great graffiti street art places or go for an urban art hunt. Klik on the link for more info.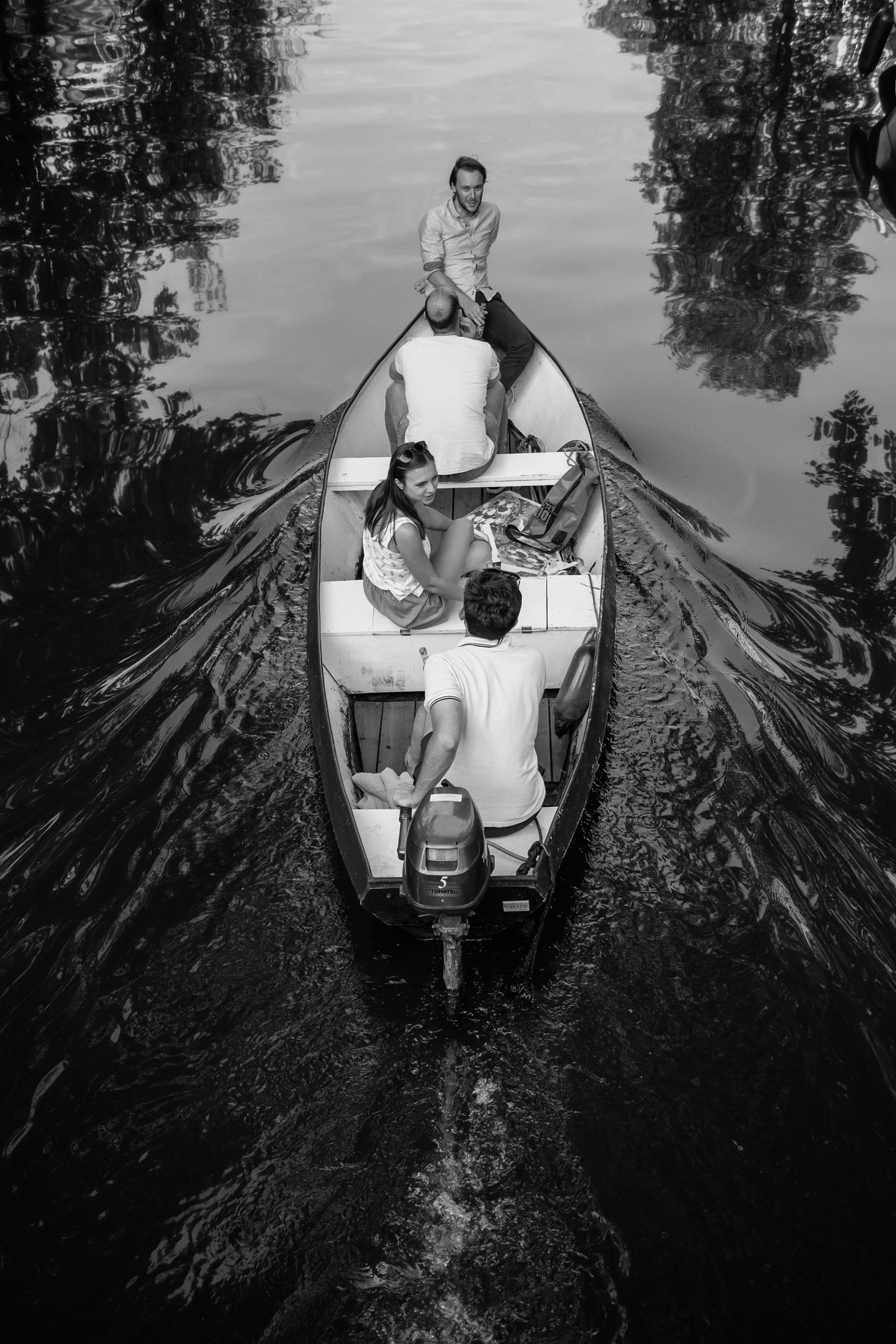 Why would you go shooting with us?
First of all, we have extensive experience in professional photography both in analog and film and in digital. We offer exciting photography tours since 2013 and have often-return customers.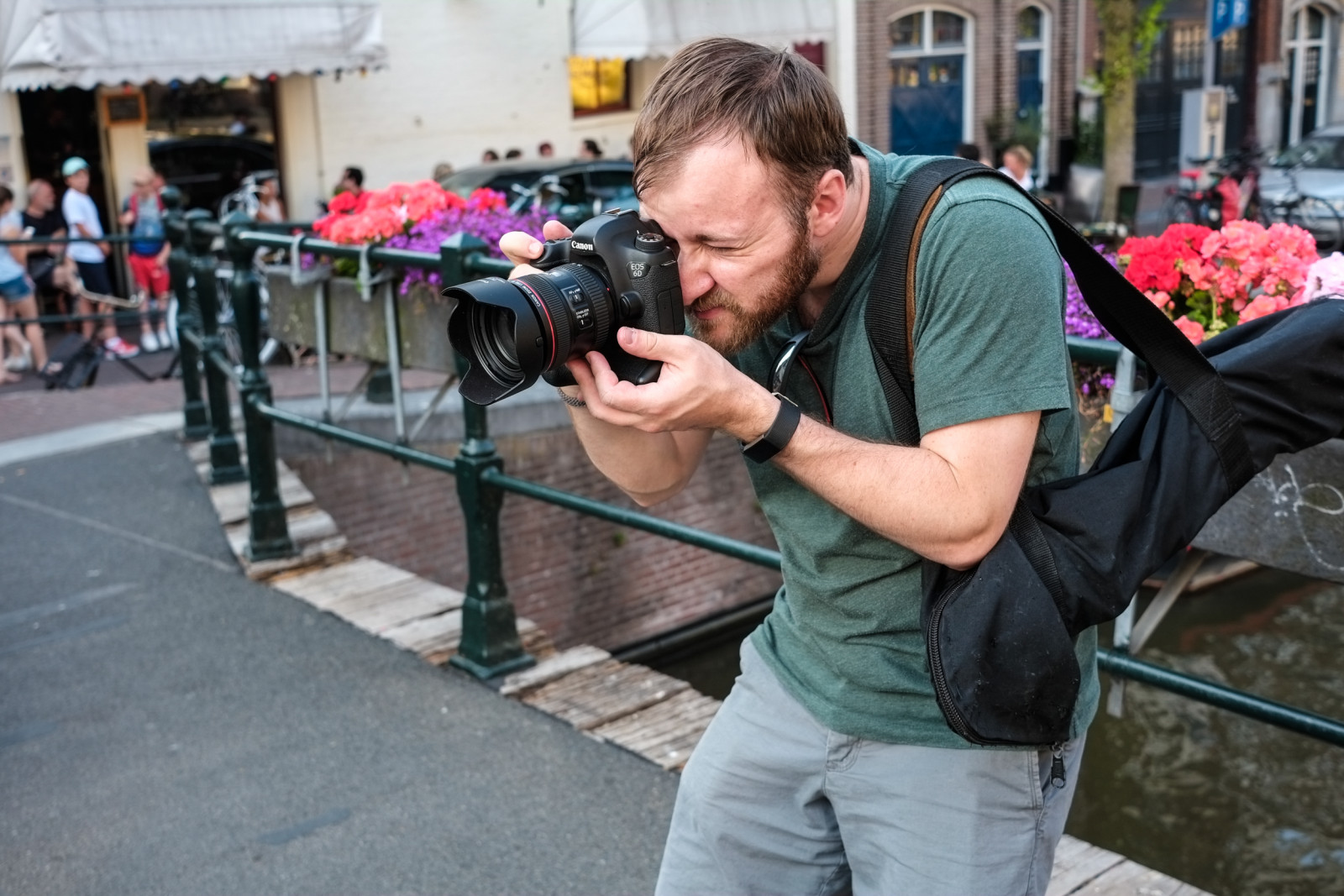 We are keen to share our technical and artistic photo tips and tricks. We can also help you to find relevant places and people you like to meet and feel at home in Amsterdam right away.
Finding the hidden photo spot in Amsterdam
Each canal or neighborhood has its own identity and vibe and holds its history and social status. With us, you get to the right places faster, and you have front-row access to what you like to capture without hesitation.
I am happy to show you all the classic sights and magnificent canals but can also give you the experience and insight from the perspective of a local. I can also take you to unique locations and hidden treasures that only locals know.
What is the best time of the day to take photos in Amsterdam?
In photography, we are all depending on the light. The early morning light can be subtle and bring a pleasant atmosphere, but it only lasts for a short time before the sun is up.
Making photos between 07:00 and 11:00
Expect stillness over the canals and the light coming from the east.
Making photos between 14:00 and 18:00
This includes on a sunny day the golden hour or at least the start of it. Expect hard light and contrasts and shadows for creative use in your pictures.
Making photos between 17:00 and 23:00
This time slot will give you the best light and variation as well. The golden hour and sunset and enjoying slow descent into the night. The canals are romantically lit with thousands of lights adorning the many bridges.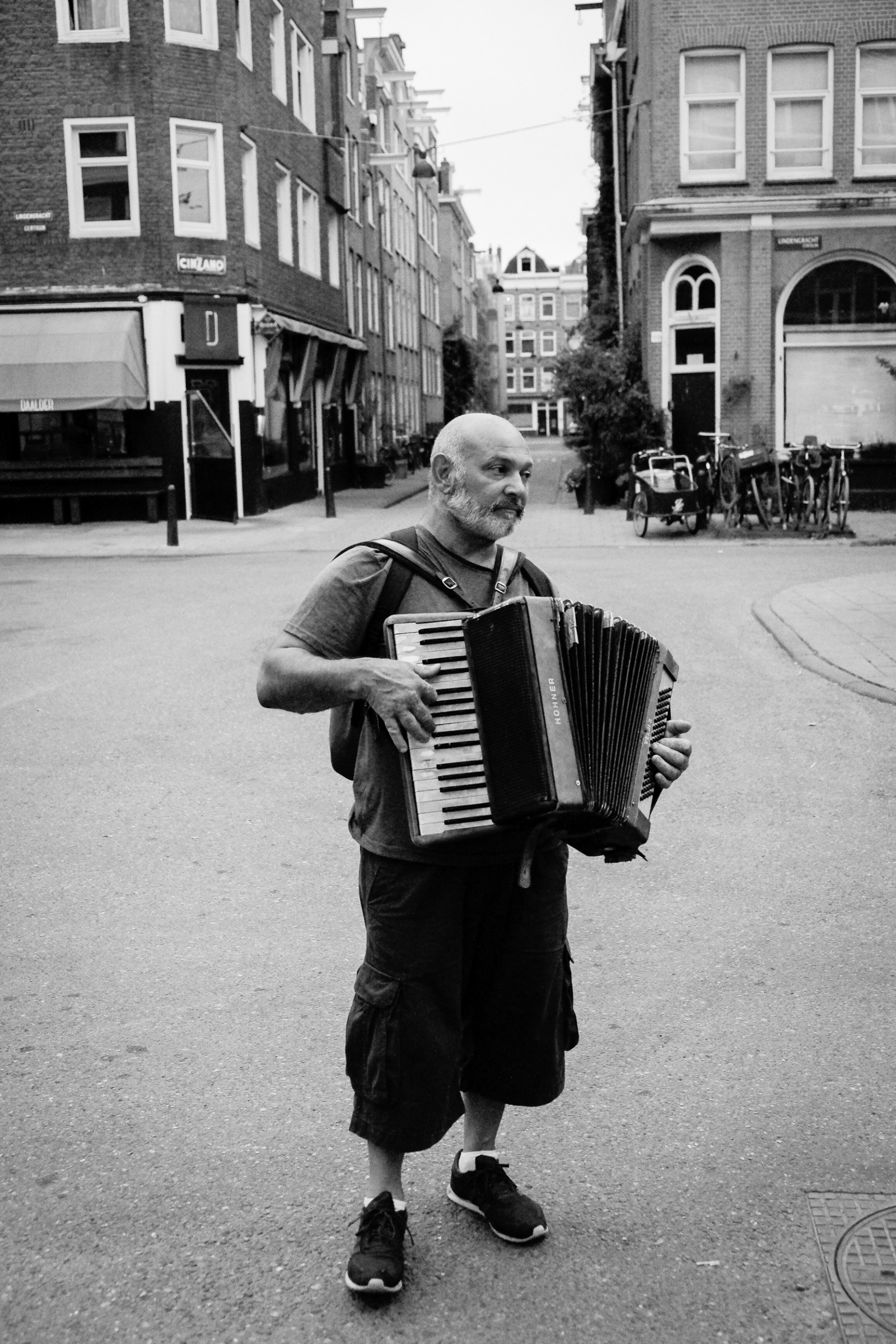 In July and August, the sunsets are as late as at around 22.00pm, and then there is an afterglow sometimes until 23.00pm.
What camera should I bring?
Every camera is welcome because I believe there are no bad cameras anymore. Smartphones' or Ipads are great tools and fun to shoot. And if you prefer, we can shoot traditional analoge film-based photos. We can help you choose a great editor app as well to fine-tune your shots.
Sure, cameras like Nikon-Canon-Fuji- Sony-Panasonic or Leica are all good to go with an excellent lens. Also, powerful bridge cameras are fantastic to shoot with.
The bottom line for any photographer is to be there and focus in the first place.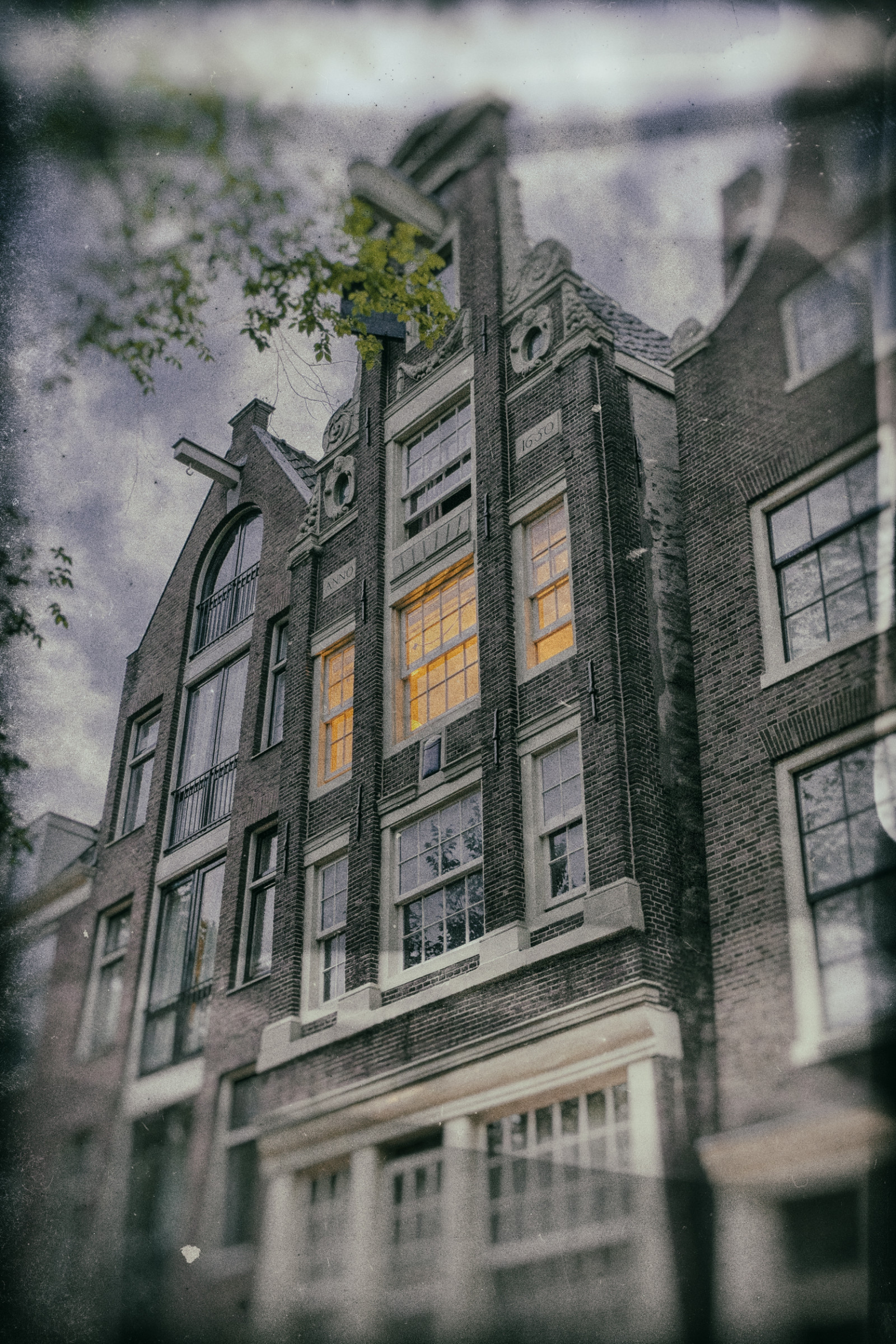 Is Amsterdam safe to take photos?
Yes, Amsterdam is a real city, and you have to be on your mark and use common sense like in any big city these days. Generally, its all clear and all you meet are friendly folks. With me, you are safer, we speak the language and know who is who in most cases. Be street smart and smile, and you will have people smiling back at you. Move around with absolute confidence. Since we are out looking and observing, you can see things coming from miles away. Night tours are safe too, yes also in the red-light district, where there is a lot of social control and surveillance.
How can we make an Amsterdam photo tour booking?
You can contact me directly here via phone or send a message via klinkhamerphoto@gmail.com payment is available in cash or PayPal.
About Michael Klinkhamer Photo Tours
Luckily I grew up in the sixties when Amsterdam was for a while the magical center of the counterculture and hippy lifestyle. Amsterdam is now a very different place than let's say when I grew up there making my way as a young photographer.
Starting in the 80s, I was a full pro magazine and advertising car photographer. From 2008 until now, I do photography and journalism and host photography tours in Holland and Asia. I made Phnom Penh-Cambodia my home for most of the year. During the Dutch summertime, I'm back on my home turf and enjoy what Amsterdam has to offer.
In the port of Amsterdam

There's a sailor who sings
Of the dreams that he brings
From the full open sea
In the port of Amsterdam
There's a sailor who sleeps
While the river bank weeps
To the old Willow tree
By Jacques Brel, by David Bowie

Klinkhamer Photography
09-04-2019 12 mins read
Related articles
Show more
97 photographers available
Glenn van den Bosch

Photographer writer

US$ 0,28 pm

Robin Grevelle Morriss

Teacher & Freelancer

US$ 0,42 pm

Michael Klinkhamer

Photography-Coach

Free

Tshiamo Lehobye

Photographer/Model

US$ 0,06 pm

Clarement De Jager

Student&photographer

US$ 0,06 pm

Elena Chil

photography, fashion, skate, travel

US$ 0,94 pm
Show more