Starting a small business with these startup tips
In Aleppo, Slim was well on his way to become a professional boxer, reaching for the stars, when he decided to flee the country due to the war violence. Once he set foot in The Netherlands, Slim decided he'd like to become an inspiration for fellow refugees. He decided that no matter his whereabouts, he wanted to become the boxing champion.
Three years have passed, and this goal appears to be quite tricky. Finding the best boxing school and acquiring the best nutrition for his goal turned out to be just a few of the many missing ingredients to make his dream come true. This is why he is currently working as a personal trainer.
While working out with me in my backyard, ordering me to do another set of 40 push-ups while I'm already on the brink of dissection, Slim asked me the best way to approach and achieve his own business goal.
What are the best tips to startup a small business?
For years now, startups and freelancers have come knocking with two questions: "How do I start my own company, and how do I get any customers". More often than not, the answer to this question is much simpler than you might think.
Usually, startups, and freelancers start their business with the following to-do list:
Logo and website: Create an internet website with the coolest possible logo.
Social media: At the very least, create a Facebook and Instagram account for your startup, and fill this space with impressive content. Make sure to share everything you create on your Twitter account as well.
Start a YouTube channel and post as many videos as possible, in which you explain the concept en offer of your startup and clarify how excellent your service is.
Platform marketing: Sign up on various online platforms such as a marketplace, Craigslist, and like-minded websites where you can offer your services free of cost.
Blogs: Make sure you write a blog once in a while about the subjects related to your startup and share this on all your channels.
Events: Visit events that your target group is also likely to visit.
Starting a small business is easy if you make the right choices
Many freelancers and startups seem to believe that if you're visible enough online, work will come your way. They await, hopefully, believing that their efforts will shine through the violent maze of competitors that the internet is so full of. Sooner or later, they will realize that this approach is very time-consuming. It requires a lot of discipline and usually doesn't book the results one might have hoped.
Instantly Making Money Is A Choice
It used to be different I've been blessed with the fact that I was told to start working at a very young age. I needed to earn my own money, and I didn't care what gig came my way. Washing cars, delivering groceries, designing logos or painting houses, I've done it all.
At the time, it had to be physical work, though, and your customers had to come from your network, as the internet wasn't what it is today. Back then, it had 25 million users worldwide, which sounds like a lot, but really isn't.
One day, I decided to start my own advertising agency. Without taking into account what comparable agencies were doing, I figured advertising agencies would need designers, software engineers, event organizers, marketing specialists, and some smart purchasers under one roof. It was 1995, and obviously, we were not taken seriously.
In 1996, a guy named Steven, the owner of a substantial retail chain in The Netherlands was the first who understood. He looked at a business and asked himself these three simple questions:
1. Are they working hard for their money?
2. Are they reliable and do I have a personal connection with them?
3. Do they solve issues?
If the answer was YES to all three questions, Steven didn't mind who we were or how we positioned ourselves. Luckily, we felt the same way.
Our way of working had great results, and we ended up working together for more than 20 years. The business that grew from this partnership has over 100 employees, which is still active to this day, serving many multinationals all over the globe.
What does your neighbor need from your startup?
Promoting your small business is always a good idea. When it comes to promotion, the more is always, the better. We used to do that by putting our service on a bulletin board in supermarkets. That's something that is still being done, but that is beside the point.
What current freelancers and startups forget out is their inner circle. We reach out to strangers all over the internet, but we are too scared to ask our neighbor. To get the car washing, house painting, logo designing, and other gigs, I had to turn to my inner circle. The first clients I ever had were good friends and familiar faces.
Back in the days, this was also caused by a lack of tools. But I resorted to people who knew and trusted me. They could testify to the fact that I was a hard-working, kind boy who has a passion for helping others with their problems.
Making money is a choice if you start a small business
Let's get back to Slim's hopes and dreams. Slim lives right beside the Westerpark in Amsterdam. The Westerpark is a perfect spot for a workout or to run, before work in the morning or later in the evening. It has free access and has all the facilities to forget the world for an hour and focus on yourself and your exercise. Around the parks are tens of thousands of people's houses and hundreds of companies, who could all potentially be a client of Slim.
At this point, Slim has a choice.
A. He could spend a ton of time online, creating his website, the coolest logo, writing blogs and updating his social media channels with informative or funny posts, or he could go for option
B. Contact his direct circle, his neighbors and everyone he knows to tell them about his startup plans and ask them whether they would be interested in his services.
He also has the choice to:
A: Record videos, spent days to edit this content and hope to go viral on various media platforms
B: Visit businesses face2face with the question of whether they are interested in some after-hours team building by group training.
Luckily, there are many other choices. For example…
A: Spent all of his time and money on both, but his savings were drained when he arrived in The Netherlands and this approach is not going to fill it back up again any time soon.
B: Offer even more services. If the business he approached doesn't want any group training in the Westerpark, perhaps they need a cleaner for their office. If the neighbor prefers to spend his evening drinking beer in front of the television, maybe he's lazy, and he'd need a window cleaner once a month.
If Slim decides to go for option B in all three polls mentioned above, this will give Slim an alternative to-do list in how he could start his new business and get his first clients. It's a way smaller to-do list but perhaps has even more impact. The to-do list would look like this:
Grow your business step by step
Ask everyone in your inner and even outer circle if there's a problem that you could help them fix. Take all jobs — Keep telling people your real expertise, and promote your startup ideas. Remind them of your talent but take every job that comes on your path. All in good time — if you have any time left, start your online campaign. This approach has several benefits:
A direct cash flow. This approach would enable making money right away. You'd have food in the fridge and perhaps even some money to start saving again.
Getting a network of clients who trust you. Are they working hard for their money? Are they reliable, and do I have a personal connection with them? Do they solve issues?
Grow to your target. Even though you're doing different jobs than your dream job, in the beginning, you maintain the possibility to offer your actual expertise. While washing the windows, you can ask your neighbor whether he'd be up for a work-out session. Chances are, one day he'll eventually say yes.
Efficiency. You'll have more funds sooner, and you won't have to spend your days thinking about what your next social media post is going to look like. You'll even have time left to spend some quality time with friends.
Short-and-long term strategy. You'll only spend the time you have left on your website, your logo, and your social media posts. Not because you have to, but because you can, and it will help you in the long haul.
Ambassadors. By helping everyone with their issues, you'll build a network of ambassadors who really know you and appreciate your work. No 2.000 followers who like your post once in a while, but actual people who will tell others about how wonderful it was to have you by their side.
It's your choice.
Choosing to go down the one or the other path as a small business startup means you'll have to work a lot. And when I say a lot, I mean a lot. There's nothing wrong with that, but everyone only has 24 hours in a day. If you're not in a rush, the online and social media approach might work for you. It's a good approach, no doubt.
I'm living and breathing proof that the alternative approach works, but there are definitely people out there who have made it big-time using the online method. You can reach a lot of people online and having a lot of followers comes in handy in a lot of subject areas. So, my plea would be: "The one approach isn't necessarily better than the other, but you do have a choice".
Ooh and another thing… In case you're ever around Westerpark, and you would like to get a private lesson from Slim, check out Slim at CallTheONE. He can also teach you online from a distance via live video calling!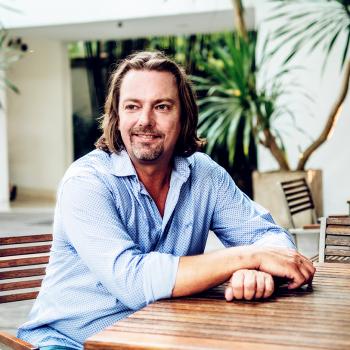 Ben Steenstra
24-03-2019 10 mins read
Related articles
Show more
59 business coaches and mentors available
Robyn Keet

Business Strategist

US$ 0,53 pm

Frits van Noortwijk

Leadershipscoach

US$ 1,38 pm

Danielle Hudson

Business Owner

US$ 1,00 pm

Luis Pimentel

Business Development

US$ 1,81 pm

omer shahzad

Business

US$ 0,06 pm

Elena Seranova

serial entrepreneur

US$ 2,12 pm
Show more