P.C. Hooftstraat turned into war zone as a consequence of Covid-19
P.C. Hooftstraat has long been one of the most popular and luxurious shopping streets in Amsterdam. Located between the Stadhouderskade and the Vondelpark and right next to the Museumplein, this street is coming and going for fashion lovers. The most renowned brands such as Gucci, Louis Vuitton, Prada, and many others have their own stores here.
Because of its high prices, P.C. Hooftstraat attracts celebrities from all over the country and the street is often full of exclusive cars. But since the second week in January this year, Covid-19 has changed this.
The reason why the P.C. Hooftstraat has changed
After the new year, many Dutch people were fed up with the Covid measures and wanted to demonstrate on the Museumplein. All non-food stores and restaurants had been closed for weeks and now, aside from mandatory face masks, there was even a curfew imposed.
Unfortunately, despite the fact that demonstrating in Holland is a fundamental right, the planned demonstration was banned by the mayor at the last minute.
When, in spite of this ban, almost 10,000 peaceful demonstrators came to the Museumplein, they were forcibly driven off the square with batons and water cannons, without any reason whatsoever.
The excessive and unnecessary police violence led to even more people attending the once again banned demonstration the following week. This time not only in Amsterdam but in almost all major cities in the Netherlands. When extreme police brutality, by Dutch standards, was again used, a certain group of young people lost their temper.
They couldn't take it anymore and started looting. Store windows, bus shelters, and cars were destroyed out of frustration and the army had to be called in to stop the rioters.
The P.C. Hooftstraat looks like a war zone
In Amsterdam, some stores in the P.C. Hooftstraat, unfortunately, were also destroyed. Store windows were smashed with bricks and expensive designer clothing was stolen without the police being able to take adequate action.
Once they recovered from the shock, all store owners decided to take measures to protect their valuable inventory during future riots. After all, that the growing group of protesters would show up every week had become almost a certainty due to the police violence. They now had 2 reasons to demonstrate. The Covid measures and the unnecessary and excessive police violence.
As a precaution, all shopkeepers barricaded their stores with large concrete blocks, sea containers, or they closed the windows with wood. If you now walk down the P.C. Hooftstraat during the day you don't see shiny cars or lavishly displayed shop windows with the most expensive brands. You see some graffiti on the facade of a few shops, but for the rest, it looks more like a war zone.
Photography by Michael Klinkhamer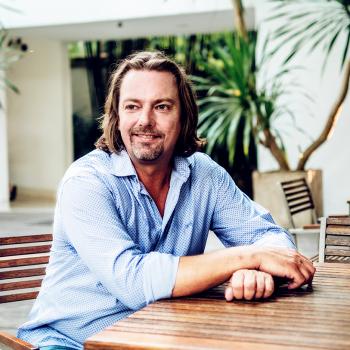 Ben Steenstra
02-03-2021 3 mins read
Related articles
Show more
Related Local people
Glenn van den Bosch

Photographer, editor, writer & entrepeneur

US$ 0,30 pm

Josefina Del Mar

Photographer

US$ 0,20 pm

Tshiamo Lehobye

Photographer/Model

US$ 0,06 pm

Clarement De Jager

Student&photographer

US$ 0,06 pm

Karim EL MASTOURI

travel, photography

US$ 1,22 pm

Robin Grevelle Morriss

Teacher & Freelancer

US$ 0,42 pm
Show more