Find your online local guide
We're the ONEs to guide you from a distance using our camera to show you around. Do you want to scout that ONE specific location or looking for a place to stay? We are the online local guides that can show you through live video interaction.
It's easy to find your personal local guide. Scroll the list or simply fill in your needs in the search bar. You can also find us at the map. And once you select ONE of us, we're just ONE call away to be at your assistance.
Traveling to an unknown location can result in many unexpected surprises without the help of a local guide that knows the ins and outs of your next destination. At TheONE local guides want to prevent you from these unpleasant surprises by showing you the location upfront via live video interaction. They share their local knowledge and tell you the do's and don't within their culture.
Connect to online local guides in any major capital in the world and ask them any question. Local guides know the best restaurants, hotels, beaches and much more that you won't find in traditional travel guides or sponsored blogs. Most online local guides live in or very near the place they can tell you all about and while they show you around via live video you can almost smell the culture.
Download TheONE expert App and you always have your local contact person in your pocket. Easy, cheap and the best way to feel safe in a foreign country. Your online local guide is always just ONE call away and you never pay to much because you pay per minute and the first minute is free.
Connect with an online local guide today! These are the benefits:
Instant contact with an experienced and motivated local guide via live video chat! No appointment needed.
Pay per minute for as long as you need tips and advice.
No unexpected surprises at arrival.
Connect to a local guide that speaks your language. (English, French, Spanish, Dutch, German, Thai, and many other languages).
Always a contact person at the location.
Know all the ins and outs before your departure.
Want to know all about your next destination? Do it the easy way by an online local guide.
We all know that travel booklet are outdated and not as accurate as the information that real people can give via live video chat. Stop wasting time on reading hours on blogs that are sponsored by the rich travel industry. Go direct to the source and call your online local guide. This is what it can bring you:
Advice about the best restaurants, musea, and nightlife places
All information about the best hotel and facilities with upfront scouting via live video chat
Information about hospitals, police and government regulation
Get to know the best beaches
Stop Googling and ask what you want to know. Is the place save? Your online local guide knows it all. Fly or drive to your next holiday destination without any worry. Your local guide will take care of you when you are in need.
TheONE Online Local Guides Are Available In Almost Every City!
It doesn't matter where you will travel next, there is most certainly an online local guide available to assist you from a distance. Do you travel to Europe, South America, Asia, Australia or North America? Find the best match and start asking tips. You only pay as long as your call takes and never more.
Online local guides in Europe. For example: Rome, Amsterdam, Berlin, Paris, London, Barcelona, Madrid, Stockholm, Oslo, Budapest, Praag, Dubrovnik, Istanbul and many more cities..
Online local guides in Asia. For example: Bangkok, Bali, Delhi, Singapore, Moscow, Tokio, Hong Kong, Jakarta, Kuala Lumpur and many more places..
Online local guides in Africa. For example: Johannesburg, Accra, Kenia, Ghana, Zimbabwe, Cape Town, and many more places...
Online local guides in North America USA or Canada. For example: Washington, New York, Boston, Chicago, Dallas, Las Vegas, and many more cities.
Online local guides in South America. For example: Peru, Argentina, Buenos Aires, Lima, Guatemala, Antigua, and many places...
Online local guides in Australia. For example in Sidney and many places... Avoid nasty surprises and call your online local guide now to be best prepared for your next travel destination. Download TheONE expert app to connect with your local guide at any given time 24/7. It's easy, safe, fun and you get the most up to date information.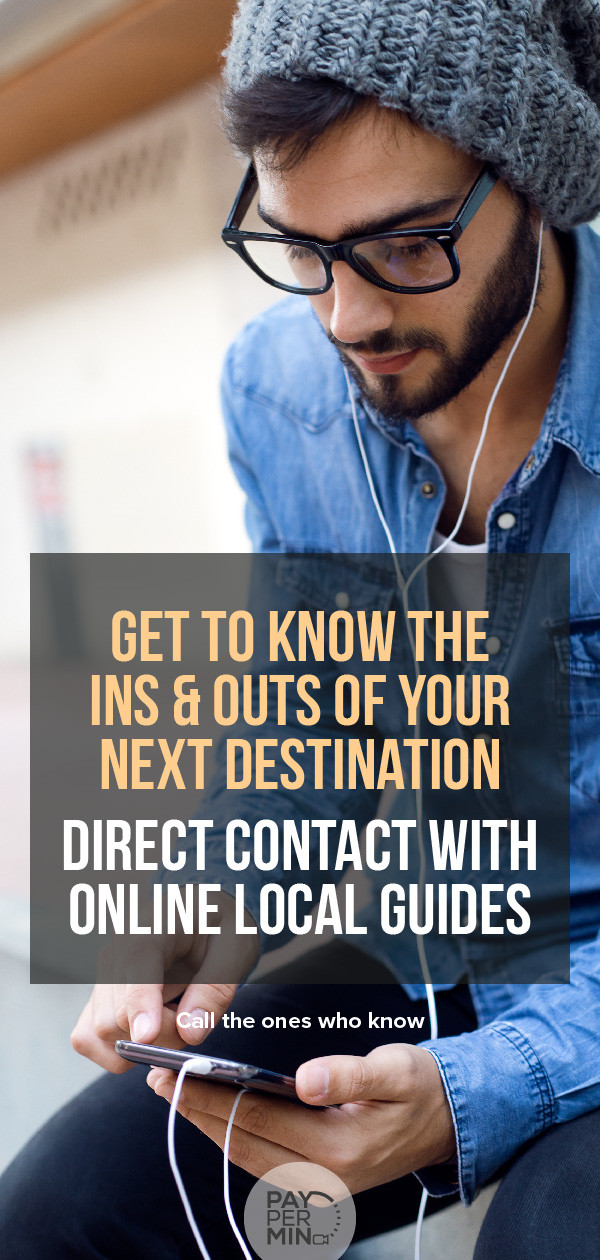 get the one in your pocket - download now